Network:

HBO

Series Premiere Date:

Jun 24, 2012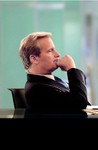 Starring:

Sam Waterston

,

Alison Pill

,

Olivia Munn

Summary:

The second season of the drama picks up with ACN's News Night covering the capture of Muammar Gaddafi's Tripoli compound, with Jim reporting on the Romney campaign, and Neal looking into the Occupy Wall Street movement. Meanwhile, Will McAvoy (Jeff Daniels) is in trouble for calling the Tea

The second season of the drama picks up with ACN's News Night covering the capture of Muammar Gaddafi's Tripoli compound, with Jim reporting on the Romney campaign, and Neal looking into the Occupy Wall Street movement. Meanwhile, Will McAvoy (Jeff Daniels) is in trouble for calling the Tea Party the American Taliban.

…

Expand

Genre(s):

Drama
Creator:

Aaron Sorkin

Season 2 premiere date:

Jul 14, 2013

Episode Length:

60
Few TV dramas are as thought-provoking or daringly opinionated. Sorkin doesn't always get everything right. Who the hell does? But he writes with purpose, force and conviction, sometimes with a heavier hand than necessary.

Edgier, more sharply drawn, while that Sorkian chatter remains at a very high boil.

Yes, there's the same theatrical, slightly on-the-nose symbolic imagery, the recurrence of familiar narrative structures like legal depositions, and the grandiloquent speechifying of a comfortably centrist liberalism that sounds more progressive than it acts. Yet for those attuned to the Sorkin style, those excesses have their own kind of virtue, and season two of The Newsroom salvages the promise of becoming something urgent and vital.

There are new faces this season, and two of the better additions aren't even journalists. Most important, the narrative this time around is driven by an overarching story line--a libel suit--that pulls viewers past the rocks and eddies of liberal piety. This revamped version of The Newsroom is no less preachy, but it's a lot more fun to watch.

The Newsroom manages to be both precious and irritating at the same time, and Sorkin's characters still have that habit of talking over each other, which might be realistic, but makes it hard for viewers to understand what the heck they're sparring about.

Though The Newsroom, like "Studio 60 on the Sunset Strip" before it, is mostly Bad Sorkin on display, there are also those occasional flashes of Good Sorkin that make it worth sifting through the rest of the mess to find.

Ultimately, one needn't be a purveyor of snark to view The Newsroom as a disappointment--too smart to be dismissed, but so abrasive as to feel like Media Lectures for Dummies.
This is a great show. The second season had a bit of a rough history but as far as I can tell, the show is going great. Still funny and still

This is a great show. The second season had a bit of a rough history but as far as I can tell, the show is going great. Still funny and still extremely smart, The Newsroom is a fast paced show in which you must pay close attention. Also, to those who say that the show is "unrealistic", they should go watch the evening news. One of the better shows airing now.

…

Expand

Brilliant shows. Very interesting to see news stories reported in a way that everyone should want. And the guy below that said the stories

Brilliant shows. Very interesting to see news stories reported in a way that everyone should want. And the guy below that said the stories aren't believable is a moron. The stories are nearly all actual real stories. Not based on real stories, ACTUAL stories. The only story that isn't real is the Genoa story, but it is based on the actual CNN story from the 90's that turned out to be extremely wrong.

…

Expand

Season 2 is absolutely fantastic. More twists, a lot more drama, amazing acting, and some great news. I gotta give it to Aaron he never lets me down.

The first season of the show was fantastic. Aaron Sorkin did a great job bridging the gap between season one and season two. My only critique

The first season of the show was fantastic. Aaron Sorkin did a great job bridging the gap between season one and season two. My only critique is that a lot of major events happened back to back with not too much time to digest everything. However, it IS the first episode. That's an aspect I could have predicted. Overall, great show. I urge everyone to keep watching.

…

Expand

Big step up from season 1. This is fast becoming my favourite show- great characters, provocative ideas and it doesn't take itself too

Big step up from season 1. This is fast becoming my favourite show- great characters, provocative ideas and it doesn't take itself too seriously. Yes it hits hard at right wing America but as an Aussie I don't mind them taking a few hits. Sorkin is fast becoming the best writer on television if he hasn't already. Can't wait for season 3.

…

Expand

What separates The Newsroom apart from almost all other shows on television? The writing. And with season two, Sorkin's characters speak with

What separates The Newsroom apart from almost all other shows on television? The writing. And with season two, Sorkin's characters speak with enough loaded dialogue and enormous wit to run the entire series alone based on the words coming out of their mouths. It could be badly acted and terribly directed, but that's certainly not the case here. Apart from some structural flaws when it comes to the story, this second season runs like clockwork.

…

Expand

Quippy fake recycled aaron sorkin crap! Every character has the same lines, relationship and extreme level of glibness. The plot is not

Quippy fake recycled aaron sorkin crap! Every character has the same lines, relationship and extreme level of glibness. The plot is not believable, but some of the acting is okay.

…

Expand