Network:

HBO

Series Premiere Date:

Jun 24, 2012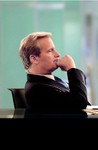 Creator:

Aaron Sorkin

Season 3 premiere date:

Nov 9, 2014

Episode Length:

60
Amid all those speeches, there's beauty, passion, heart and brains in The Newsroom. There's also humor, even more than ever in Sunday's opener.

Season 3 begins strongly and is a joy to behold--with heightened stakes.

The Newsroom returns for a truncated six-episode final season, it appears that less may be more--as in, more absorbing and more entertaining, with less irritation from slapstick rom-com subplots that tend to make smart people (especially the women) look insultingly stupid.

The Newsroom has never been entirely sure about its intentions, failing to carve out a unique identity. While a certain haphazard uncertainty may be a fitting quality for a series about our own fractured political and media landscape, and where the actions of good people are paralyzed by the need for content production, Sorkin's own sputtering pen suggests that such imprecision was not his aim.

By the third hour, I can't say I was in love with The Newsroom at last. But I felt like I was finally seeing the better version of itself that it could have been.

The Newsroom feels largely the same as it did last year, despite Sorkin's claim that this season would make up for the flaws of the last two. That is to say it's both really good and remarkably aggravating—sometimes in the same line of dialogue.
This show is about the journalists that haven't sold their soul to Fox News and it's hysterical screed that the1% of population they represent

This show is about the journalists that haven't sold their soul to Fox News and it's hysterical screed that the1% of population they represent matters to anybody else.

…

Expand

The Newsroom es sin duda una de las mejores series tv de los últimos años y todos sus capítulos del primero al último son una obra maestra con

The Newsroom es sin duda una de las mejores series tv de los últimos años y todos sus capítulos del primero al último son una obra maestra con momentos inolvidables.
Los personajes son fantásticos y todos los actores están geniales, los diálogos son inteligentes, y los guiones cuentan historias de máxima actualidad vinculadas a noticias reales recientes y todo contado a una velocidad de vértigo. La tercera y última temporada es al igual que las anteriores una genialidad, y en tan sólo 6 capítulos Aaron Sorkin es capaz de desarrollar de forma magistral una trama alrededor de temas del mayor interés, y no sólo eso sino que también es capaz de cerrar de forma magistral todas las líneas argumentales. Una serie para guardar entre mis favoritas de todos los tiempos.

…

Expand

Quite possibly one of the greatest shows ever made. This is an entertaining look at a group of the closest thing reality allows to

Quite possibly one of the greatest shows ever made. This is an entertaining look at a group of the closest thing reality allows to superheroes. The characters are believable, while also being inspiring. It was a wild ride through an emotionally charged alternate history where a group of people decided that Americans should be informed.

…

Expand

The Newsroom's greatest season by far, as the characters we come to know, love, and understand begin the rest of their lives and the series

The Newsroom's greatest season by far, as the characters we come to know, love, and understand begin the rest of their lives and the series reaches a predictable, though satisfying, conclusion.

…

Expand

Personally, I think the show is a very different drama, with plots that are different and unique to other - At this time - dramas e.g. CSI,

Personally, I think the show is a very different drama, with plots that are different and unique to other - At this time - dramas e.g. CSI, The Good Wife and Grey's Anatomy. It is a slightly more articulated drama say NCIS LA or others (nonetheless, these shows have a large audience). I would highly recommend you watch this show from Season 1 onwards. Season 2 is where things get really good and I'm optimistic for season 3 - the last, and hopefully best season.

…

Expand

The Newsroom's greatest season by far, as the characters we come to know, love, and understand begin the rest of their lives and the series

The Newsroom's greatest season by far, as the characters we come to know, love, and understand begin the rest of their lives and the series reaches a predictable, though satisfying, conclusion.

…

Expand

I like the story lines for this show, and I think the acting is great. But, I'm turned off by all the smooth pat dialogue delivered in a

I like the story lines for this show, and I think the acting is great. But, I'm turned off by all the smooth pat dialogue delivered in a condescending tone. All the characters are portrayed as "fighting the good fight" with unquestionable moral integrity. They all share a solid moral compass which guides their every move. When they do make a mistake, they instantaneously recover and move to an even higher moral level. As a morality play it fits the bill, but I would rather see realistic grayness in decisions, actions and opinions.

…

Expand