Please enter your birth date to watch this video:

You are not allowed to view this material at this time.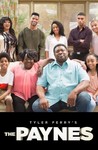 Episode Details & Credits
OWN |
Air Date:
February 2, 2018
Summary:
Nyla fears that her actions will leave her with life-altering consequences. Meanwhile, Ella attempts to save the day.
Seasons & Episodes
Season 1

Season 1 Overview

Air Date: January 16, 2018

S1:E38. Payneful Choices

Air Date: November 30, 2018

S1:E37. A Giraffe and A Bull

Air Date: November 23, 2018

S1:E36. Social Media'd

Air Date: November 16, 2018

S1:E35. Payneful Partnership

Air Date: November 9, 2018

S1:E34. A Payneful Proposition

Air Date: November 2, 2018

S1:E33. A Conundrum

Air Date: October 26, 2018

S1:E32. Payneful Business

Air Date: October 19, 2018

S1:E31. Hostile

Air Date: October 12, 2018

S1:E30. A Payneful Confrontation

Air Date: October 5, 2018

S1:E29. Syncopal

Air Date: September 28, 2018

S1:E28. A Payneful Hunch

Air Date: September 21, 2018

S1:E27. No Sticks or Bricks

Air Date: September 14, 2018

S1:E26. No Room For Payne

Air Date: September 7, 2018

S1:E25. An Impasse

Air Date: August 31, 2018

S1:E24. The Outsiders

Air Date: August 24, 2018

S1:E23. Girl Talk

Air Date: August 17, 2018

S1:E22. Home Alone

Air Date: August 10, 2018

S1:E21. Payneful Situations

Air Date: August 3, 2018

S1:E20. A Payne Family Secret

Air Date: July 27, 2018

S1:E19. Making Her Honest

Air Date: May 4, 2018

S1:E19. A Payneful Bounce

Air Date: July 20, 2018

S1:E18. Secret Lovers

Air Date: April 27, 2018

S1:E16. Date Night

Air Date: April 27, 2018

S1:E15. Keep the Payne Away

Air Date: April 13, 2018

S1:E14. A Payneful Cry

Air Date: April 6, 2018

S1:E13. A Payneful Dispute

Air Date: March 30, 2018

S1:E12. Payneful Repairs

Air Date: March 23, 2018

S1:E11. Making Repairs

Air Date: March 16, 2018

S1:E10. Lynn's Punishment

Air Date: March 9, 2018

S1:E9. The World Wide Payne

Air Date: March 2, 2018

S1:E8. A Payneful Night

Air Date: February 23, 2018

S1:E7. Better Than Nothing

Air Date: February 16, 2018

S1:E6. The Waiting Game

Air Date: February 9, 2018

S1:E5. A Fugitive In Payne

Air Date: February 2, 2018

S1:E4. Cleaning Up The Payne

Air Date: January 26, 2018

S1:E3. A Confrontation of Payne

Air Date: January 19, 2018

S1:E2. Revelations of Payne

Air Date: January 16, 2018

S1:E1. A Surprise for the Payne's

Air Date: January 16, 2018