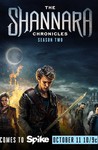 Starring:

Austin Butler

,

Manu Bennett

,

Aaron Jakubenko

Summary:

The adaptation of the fantasy book series by Terry Brooks set thousands of year in the future follows Elvin Princess Amberle (Poppy Drayton); Human Rover Eretria (Ivana Baquero); and Wil (Austin Butler), a Half-Elf, Half-Human, seek to stop a Demon army from destroying the world.

Genre(s):

Drama

,

Action & Adventure

,

Fantasy
First rate production value, interesting characters and an intriguing story make for a world well worth escaping to.

Some of the romantic elements are a cheesy, and the exposition is really clunky at times, but for the most part the show is continually compelling and complex.

The series is sassier than the book.... Moving pictures require something different; messianic folderol is best served there with a little sex, and a little seltzer. That has been provided.

The world-building is imaginative and impressive, but the mythology is exhausting to keep up with, especially when the reward is basically just a romance-novel version of The Lord of the Rings.

The fact that the mostly inert The Shannara Chronicles is utterly familiar on both levels is a reminder that a truly vibrant fantasy story requires some sort of invention.

MTV's big swing at epic fantasy is a lot of hokey bombast, wasted on a cast of callow babes in the exotic woods. [4-17 Jan 2015, p.15]

The Shannara Chronicles is a lot of hooey with hotsy young actors.
The shannara chronicles is a great show and would love to see what happens next in a second season! I have heard that it is similar to game of

The shannara chronicles is a great show and would love to see what happens next in a second season! I have heard that it is similar to game of thrones and plan on watching it also!

…

Expand

This is most definitely my new favorite show. It has action, romance, fantasy, a post apocalyptic world where faeries and other creatures of

This is most definitely my new favorite show. It has action, romance, fantasy, a post apocalyptic world where faeries and other creatures of lore have taken over the earth, and the writing and cast are all beautiful. It is like a cross between game of thrones and the Lord of the Rings. It's simply amazing! I so hope they do a second season...

…

Expand

This show is sure awesomeness from acting to fashion and music , forget about the 100 or that teenager who run this an awesome production

This show is sure awesomeness from acting to fashion and music , forget about the 100 or that teenager who run this an awesome production , and every episode amaze me by the magical environment and the music , its like you will watch lord of the ring every week . TNX MTV

…

Expand

Keep in mind I've only watched the first two episodes. Normally I wouldn't review something so soon, but in this case I feel like I have an

Keep in mind I've only watched the first two episodes. Normally I wouldn't review something so soon, but in this case I feel like I have an accurate idea of how things are.

I had low expectations for this show, simply because MTV was running things. In that regard, it quite surprised me that it actually has some good moments. But it has definitely been MTV-ified! Many of the characters act like hopeless, love-struck teenagers with half a brain cell in their heads. The dialogue can go from serious conversation to idiotic teasing/flirting in jarring ways. And the number of teen pregnancy jokes just in the first episode had me cringing! So out of place. Hell, even Allanon the druid has a soppy love story! WTF?

The degree of acting capability is all over the place. The choice of Manu Bennett for Allanon seems out of place at first, but I ended up liking it. He's a decent actor. Always good to see John Rhys-Davies too! However, many other casting choices seem based more on getting hot young bodies rather than skilled actors. Of the main trio, only Ivana Baquero (Eretria) seemingly has some decent acting capabilities. I found both Austin Butler and Poppy Drayton (Wil and Amberle) severely lacking in that they overact quite often and that breaks the realism (doubly important in a fantasy!).

It's simply too much of a teen drama for my liking. If that's what they wanted, why buy-out a book license and butcher the source material? If it wasn't for that, I'd probably bump it up to a 7/10.

There are good aspects to the show. I find a lot of the concepts interesting and the directing seems capable, if not great. The scenery is spectacular...I imagine they filmed in New Zealand. Special effects are surprisingly well done for a low budget tv adaptation.

But god damn! The cheesy dialogue and abundant hormones in this series is going to kill it if it doesn't change! It feels kind of like Legend of the Seeker, which was also based off a book series by a Terry (Goodkind). That show was less of a teen drama, but became far too repetitive and wasn't up to modern tv standards. Shannara better improve in season 2 if it wants to stick around. There is interesting content there...they just need to make better use of it and treat the content more seriously and less as a backdrop for grabbing the attention of horny teenagers.

…

Expand

While the CGI & cinematography are stunning this is turgid fare from Millar and Gough. While I must admit that I found Brook's books to be two

While the CGI & cinematography are stunning this is turgid fare from Millar and Gough. While I must admit that I found Brook's books to be two dimensional at best, even they are done an injustice by MTV's adaptation of his work. The problem is not the story per se, neither is it the visuals the problem is the approach. The same breathless acting "style" and constantly over the top level of dramatic conflict that dominates YA TV series like the OC, Gossip Girl & Pretty Little Liars overshadows everything in this series. This in all fairness should not be unexpected given that it is a MTV production and aimed at exactly the same market as the OC and 90210. In other words MTV want it this way!

From the first scene the boxes get ticked one by one. Female heroine to rival Katniss Everdeen from The Hunger Games (because that was a hit) - check. Over-protective boyfriend that she needs to dump to have her own life (a generic constant of teen drama ) - check. A gormless reluctant protagonist - because wanting to do good is always a bad sign - check. A spunky Tom Boy character to offset the Princess - check.

The Shannara Chronicles is a very uneasy mix of the film & TV adaptations of The Hunger Game & Game of Thrones with Gossip Girl and the Star Wars Prequel trilogy. It lacks nuance, it lacks variation in tempo & it lacks actual suspense. What it has is stunning CGI, dialogue so turgid it could coagulate blood, & a melange of Brook's material that manages (however unbelievably) to make its characters even less three dimensional.

The show has the same potential that Smallville had in its final 3 seasons to become something great, but given Gough & Millar's refusal of that potential with Smallville I have little hope The Shannara Chronicles will realize its own. Mediocrity abounds in this genre, especially on TV but since the high points of Jackson's Lord of the Rings and Hobbit trilogies and Game of Thrones on TV, the standards for Fantasy on screen have changed. The Shannara Chronicles is unfortunately a throw back to an era when the mere mention of elves or trolls was good enough, when acting could be as wooden as a 4x2 and narratives little more than a walk-through of a Dungeon's and Dragons game.

…

Expand

Well.... here goes.

I read The Sword of Shannara some 20 years ago around the age of 14. Loved it, but didn't end up re-reading it untilWell.... here goes.

I read The Sword of Shannara some 20 years ago around the age of 14. Loved it, but didn't end up re-reading it until recently. At about the halfway mark I heard of this series, and sought it out to watch it with low expectations due to the MTV tag.

Now I have watched it, and trying to get back to the second half of the book is quite difficult - especially because the show's portrayal of Allanon is SO different to how I pictured him in my mind. But that is quite subjective, so I can't hold it against the show. I hate to bring up "I read the book and this isn't as good", but there it is.

More objectively - as t's been said in many reviews this is a teen angst tale of nonsense, and it's a shame that Terry Brooks is tied so closely to it yet couldn't influence it to be... good. The characters are whiny, weak, and unbelievable on the whole. I was expecting the cast to glance at the camera throughout, checking they were doing alright. Even those few who have proven themselves in big-name big-screen films struggle to excite here.

The script contains every cliche you can think of - "Do you ever wish I was dead instead of my brother? I do, every day." Hackneyed scriptwriting of the worst degree all through. There is nothing original about this story whatsoever, and the setting of the four lands is wasted.

The production values vary from terrible to alright. The CGI effects can be quite nice looking, but at other times (especially blood - why after all these years can they still not make blood look real??) they break the viewer's involvement in events. There is a sheen over everything, leading to a feeling of polish that doesn't fit well with the genre. A pervading hard-lighting effect attempts to hide the clearly man-made nature of the sets and cheap clothes, adding to this feeling of excessive polish and taking away from believability of the setting. Several times (especially in expositional shots involving demons dotted through the episodes) there is a distinctly 90s feel in the direction, with warping effects on the camera making it seem 20 years older than it is.

Clearly I am not the target market for this show (odd - being a fan of the books, you'd think I'd be exactly the target audience), but I hope they scrap the whole thing and do no renew it for a second season. They need to get the message that it is possible to make something far better.

…

Expand

Everyone I know or know of was a huge fan of this show including me.Until they read what happens in the book the fact that Wil and The Rover

Everyone I know or know of was a huge fan of this show including me.Until they read what happens in the book the fact that Wil and The Rover get married and have kids and not the princess basically turned all heads away.What was a show everyone at school talked about went to a "You still watch that" type of show.I mean this isn't your classic happy ending and crowds may want things different and spicey but not a show you watch and just feel disappointed completely.If they made it clear that Will and the princess would be together instead of the rover I feel it would bring some fans back but at this stage you have to get rid of the rover or this show is Ganna go down hill fast....

…

Expand