Please enter your birth date to watch this video:

You are not allowed to view this material at this time.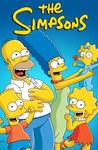 Episode Details & Credits
FOX |
Air Date:
February 14, 1991
Summary:
Marge's sister Selma seeks a husband, so Marge orders Homer to help in finding one. Things go wrong though, when Homer invites Principal Skinner over for dinner and Skinner instead falls for Selma's twin sister Patty.
Genre(s):
Comedy

,

Animation
Seasons & Episodes
Season 33

Season 32

Season 31

Season 30

Season 29

Season 28

Season 27

Season 26

Season 25

Season 24

Season 23

Season 22

Season 21

Season 20

Season 19

Season 18

Season 17

Season 16

Season 15

Season 14

Season 13

Season 12

Season 11

Season 10

Season 9

Season 8

Season 7

Season 6

Season 5

Season 4

Season 3

Season 2

Season 2 Overview

Air Date: October 11, 1990

S2:E22. Blood Feud

Air Date: July 11, 1991

S2:E21. Three Men and a Comic Book

Air Date: May 9, 1991

S2:E20. The War of the Simpsons

Air Date: May 2, 1991

S2:E19. Lisa's Substitute

Air Date: April 25, 1991

S2:E18. Brush with Greatness

Air Date: April 11, 1991

S2:E17. Old Money

Air Date: March 28, 1991

S2:E16. Bart's Dog Gets an F

Air Date: March 7, 1991

S2:E15. Oh Brother, Where Art Thou?

Air Date: February 21, 1991

S2:E14. Principal Charming

Air Date: February 14, 1991

S2:E13. Homer vs. Lisa and the 8th Commandment

Air Date: February 7, 1991

S2:E12. The Way We Was

Air Date: January 31, 1991

S2:E11. One Fish, Two Fish, Blowfish, Blue Fish

Air Date: January 24, 1991

S2:E10. Bart Gets Hit by a Car

Air Date: January 10, 1991

S2:E9. Itchy & Scratchy & Marge

Air Date: December 20, 1990

S2:E8. Bart the Daredevil

Air Date: December 6, 1990

S2:E7. Bart vs. Thanksgiving

Air Date: November 22, 1990

S2:E6. Dead Putting Society

Air Date: November 15, 1990

S2:E5. Dancin' Homer

Air Date: November 8, 1990

S2:E4. Two Cars in Every Garage and Three Eyes on Every Fish

Air Date: November 1, 1990

S2:E3. Treehouse of Horror

Air Date: October 25, 1990

S2:E2. Simpson and Delilah

Air Date: October 18, 1990

S2:E1. Bart Gets an F

Air Date: October 11, 1990

Season 1