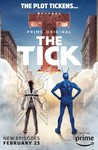 Starring:

Jackie Earle Haley

,

Valorie Curry

,

Brendan Hines

Summary:

Accountant Arthur Everest (Griffin Newman) discovers the city is owned by a supervillian (Jackie Earle Haley), but the only person who believes him is a superhero called the The Tick (Peter Serafinowicz) in this latest adaptation of Ben Edlund's comic.

Genre(s):

Comedy

,

Action & Adventure
Creator:

Ben Edlund

Season 1 premiere date:

Aug 25, 2017

Episode Length:

30
Please enter your birth date to watch this video:
You are not allowed to view this material at this time.
There's an exploration of bureaucracy in the world of superheroes that implies a whole separate David Simon-worthy spinoff. There's Serafinowicz, a true delight. And just when I was starting to get bored with how every episode ends on a cliffhanger, episode 6 ends with someone yelling "CLIFFHANGER!"

The series enjoys deconstructing superhero tropes but in its own offbeat way. You will probably need a few episodes to get into "The Tick, but the first part of the first season builds up nicely. By Episode 6, the series is all powered up.

Edlund's latest run at the big blue lunkhead and his nebbish sidekick Arthur isn't quite a "dark and gritty" reboot, thank jumping Jehoshaphat, but it's tonally and structurally unlike any other.

The Tick shows its spirit. The half-hour action comedy moves briskly as Arthur struggles to shed that super-suit that comes with awesome powers and responsibilities he so does not want.

All of this is played for laughs, but the kind of laughs Edlund goes for may be challenging for some viewers. It's silly, of course, but mostly, the show is droll. There are few, if any, sidesplitting moments and you have to listen carefully to catch some of the deadpan moments. ... Any time you have Jackie Earle Haley playing a supervillain, you are in good, lethal hands.

The Tick is never boring, and viewers young enough to not remember the other iterations may find it fresher than I did. I just wanted something a bit sharper and funnier, something that felt as new as the original live-action TV show.

So there are moments, lines and characters that work. But in the big picture, this Tick's core problem is that cape-oriented meta-commentary and deconstructions of superhero tropes are now pretty common, and these six installments take too long to get where they're going.
This might be the best show currently on Amazon. Everything works in this show: the fun, cartoony characters, the action sequences, the plot.

This might be the best show currently on Amazon. Everything works in this show: the fun, cartoony characters, the action sequences, the plot. The only annoying thing is the main character's cowardice. But it's a necessary plot element. The casting for the Tick himself was excellent.

…

Expand

this is really really good s**t, one of the best superheroes seria ive ever seen.

I really enjoyed the darker tone, played out in this iteration of The Tick. I've always enjoyed my hero's a little darker, so if you're

I really enjoyed the darker tone, played out in this iteration of The Tick. I've always enjoyed my hero's a little darker, so if you're looking for more of the light-hearted tone from the 90's cartoon, you might be disappointed in the new direction. The humor and goofiness still exists, just within a more grounded version of reality.

…

Expand

Intelligent, creative dialog peppered with subtle, dry humor, the writing in the first season held my interest. The actors are well cast, the

Intelligent, creative dialog peppered with subtle, dry humor, the writing in the first season held my interest. The actors are well cast, the most critical being the Tick, played by Peter Serafinowicz. He delivers on the Tick's childlike wonder and excentism without overacting. The villains are well done in that they are not caricatures of evil to be reviled but instead are likeable characters themselves just with different (antisocial) interests.

…

Expand

A very subtle start for the first 2-3 episodes but the quirky heroes and villains really grew on me. I'm sad that it's only 6 episodes at

A very subtle start for the first 2-3 episodes but the quirky heroes and villains really grew on me. I'm sad that it's only 6 episodes at 30minutes each but still fun.

…

Expand

It's a very good watch for those who didn't see the cartoon. The characters are great, but it's somewhat cliche, and the humor is pretty

It's a very good watch for those who didn't see the cartoon. The characters are great, but it's somewhat cliche, and the humor is pretty mediocre. So on that note it's not as good as it set out to be. But production wise, and content wise: the plot is amazing, and there are even a few 4th wall breaks, which are always welcomed in my book. Anyway, overall this a pretty decent TV series.

…

Expand

People hate Marvel Inhumans, but like this?? WTF people, this has even worse acting, dialogue, costumes and the action is worse, and I find it

People hate Marvel Inhumans, but like this?? WTF people, this has even worse acting, dialogue, costumes and the action is worse, and I find it even an inch funny.

…

Expand