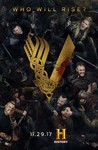 Starring:

Jessalyn Gilsig

,

Kevin Durand

,

Donal Logue

Summary:

Ragnar Lothbrok (Travis Fimmel) defies local Viking chief Earl Haraldson's (Gabriel Byrne) orders and sets out to plunder lands to the West.

Genre(s):

Drama

,

Action & Adventure
Creator:

Michael Hirst

Season 1 premiere date:

Mar 3, 2013

Episode Length:

60
Please enter your birth date to watch this video:
You are not allowed to view this material at this time.
Vikings enthrallingly captures the world of Norsemen and oarsmen, circa 793 in the Eastern Baltic but soon heading West to England.

While they are every bit as wild and woolly as the historical figures of Norse sagas, such is the power of Vikings that we come to know and even root for them, so enthralling are they and almost everything else here.

History's first scripted series is a headlong tumble into an irresistible and surprisingly neglected genre. [18 Mar 2013, p.41]

While it's clear that Vikings isn't going to be Game of Thrones, it's a series that increases its entertainment value and interest level as it goes along.

Vikings is a mini-series about a band of professional pillagers with a disregard for human life and a relentless focus on gratifying material desires. So it is somewhat surprising that it is also a refreshing study in restraint.

What those two shows [The Tudors and The Game of Thrones] have, and Vikings dearly lacks, is real intrigue.

Mostly, though, Vikings is disappointing because so much of the component parts are good but are ill served by flabby direction and a gassy script.
This is a brilliant show. I was put off watching it a while ago because of the GOT lite tag I'd seen in some lazy review until a friend

This is a brilliant show. I was put off watching it a while ago because of the GOT lite tag I'd seen in some lazy review until a friend recommended it recently. Trust your friends! There's nothing lite about it. It's all story and action without the laborious and pretentious intrigue building of some other shows. Great acting and fascinating characters make it easy to watch.

…

Expand

I adore this new show, The Vikings. It makes you learn some history and the scenery is gorgeous. Also, love the cast! Travis Trimmel is

I adore this new show, The Vikings. It makes you learn some history and the scenery is gorgeous. Also, love the cast! Travis Trimmel is wonderful as Ragnor and his wife is a fierce warrior. It transports you back into the 8th-11th centuries of Viking existence and reign.

…

Expand

An interesting mix of drama and history, that seems to well illustrate the differences between these ancient pagan warriors beliefs and

An interesting mix of drama and history, that seems to well illustrate the differences between these ancient pagan warriors beliefs and modern day morals. The plot is nothing radical, but its solid, well written and well acted add in some beautiful scenery and a little action and your onto a winner.

…

Expand

Vikings is a historical drama and adventure TV series directed and written by Michael Hirst ('The Tudors','Elizabeth'), for the television

Vikings is a historical drama and adventure TV series directed and written by Michael Hirst ('The Tudors','Elizabeth'), for the television channel History.
It premiered on March 3rd 2013, with 6.21 million U.S viewers for the first episode 'Rites of Passage'. It currently has a full one season, that includes nine 42-44 minutes episodes, and season 2 in process (which will include 10 episodes and will release somewhere in 2014).

The show is based on a very annoyed and skilled Viking, named Ragner Lothbrok, who is played by Travis Fimmel ('Restraint', 'The Experiment').
His Earl is perhaps not the best example of a true Viking. Many of his people are fed up with the fact that each year the Earl commands they raid to the east, to the lands they know. A safe and easy way, but one that sends them to raid people as poor as they are. Ragner, a farther of two and a loving husband, wants more than just enough money to get his family by. He is tired of it all, and so without gaining the permission of the Earl, he gathers a crew and builds a sturdy ship that will take them West. To a land rumoured of riches and gold.
But what will happen if he gets more than he bargained for? What if all his actions lead to him becoming.. something far more than just a legend?

I'd say this show is not exactly 'historically accurate', or as accurate as it can get.
There are some major mistakes that I think are extremely important to correct, and are a big part of the Viking history -like the horned helmets the Vikings wore. That element is forever absent.
But the actions, or ways, of the Vikings did manage to overlook that issue, and it made the characters and the show seem shockingly real.
The director/writer gave a fabulous and excellent effort though.

The actors and actresses are brilliant, I think only the best of the best can play in films or tv shows like this one, and these definitely did not disappoint.
The Vikings are north Germanic people so the actors obviously had to learn their accents and even sometimes bits of another language, and they did it remarkably well. Not once did I hear, or perhaps notice, their accents slip. They were always the same and I just can't believe how outstanding they were!

The cinematographer did a good job with filming, especially during battle scenes (I was actually quite shocked at how realistic the scenes looked). The camera was kept straight, occasionally went a bit all over the place and shaky, but I barely noticed. The music and costumes suited everything perfectly and I was pleased.

Overall, Vikings is a really, really good new historical TV series that I think you will love if you're a fan of Game of Thrones, and movies like Braveheart and Conan The Barbarian.
Though I highly advice you to at least watch 2-3 episodes to really get into it. The series is also 14+ due to violence and adult content, so if you're uncomfortable with that this is not something for you.
But I personally love watching things like Vikings and nothing bothered me. The characters are great, and trust me, they will all find their way into your heart before you realize.

…

Expand

Vikings has an informative sense and compromise with reality that Game of Thrones doesn't have.

This review contains spoilers

, click expand to view

.

A fictional follow-up of an even more fictional viking called Ragnar, watch him as he goes into high adventure and becomes king by his own head, included are exaggerated characters(99% of the show) with 21st century liberal views of the world, militant feminism(in the sense that even the mythical sagas don't have as many woman warriors that get beaten, bruised and/or killed, as this show) and sexy vikings. Overall interesting to watch and better than most TV series out there.

…

Expand

Inauthentic soap-opera trash - Vikings were democratic. I had so much hope from this, mostly from the starting theme song, but alas the

Inauthentic soap-opera trash - Vikings were democratic. I had so much hope from this, mostly from the starting theme song, but alas the starting theme is the only thing good about it. The History channel fails at everything. I also like that they only cast actual Scandinavians as the bad guys and Anglo-saxons for the characters meant to be liked. I was also amused by the French accents and stereotypes.

…

Expand