Network:

ABC

Series Premiere Date:

Feb 27, 2017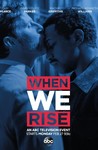 Summary:

The miniseries written and created by Dustin Lance Black focuses on the LGBT movement from its beginnings in the 1970s to the present with LGBT activist Cleve Jones (Guy Pearce); women's rights leader Roma Guy (Mary-Louise Parker); her wife, social justice activist Diane Jones (Rachel

The miniseries written and created by Dustin Lance Black focuses on the LGBT movement from its beginnings in the 1970s to the present with LGBT activist Cleve Jones (Guy Pearce); women's rights leader Roma Guy (Mary-Louise Parker); her wife, social justice activist Diane Jones (Rachel Griffiths); African-American community organizer Ken Jones (Michael K. Williams); and transgender-activist Cecilia Chung (Ivory Aquino).

…

Expand

Genre(s):

Drama

,

Movie/Mini-Series
Show Type:

Mini-Series

Season 1 premiere date:

Feb 27, 2017

Episode Length:

120
When We Rise is an enriching, bonafide TV event of the first order and also powerful enough to change more than a few entrenched minds.

Though the star power doesn't arrive until the last two episodes, it's the first half of When We Rise that is riveting. The early years are passionate and filled with urgency, mirroring the excitement and promise of an era still basking in the glow of the optimistic '60s.

[The first two installments] are Rise's best, most concise episodes, yet even they try to do too much, falling prey to an "and then this happened" narrative, a slew of distracting (and often badly bewigged) cameos and a rushed pace that is particularly ill-suited to the segment on the AIDS crisis.

Important television, but also wildly, maddeningly uneven TV, too.

The drama grows more plainly mature in the last few volumes, but the sheer amount of what Lance Black and the creative team are biting off here ends up limiting just how knowledgeable, sincere, and convincing the series comes off as.

The narrative strains to fit in dramatic moments, but time restrictions squeeze out poignancy and power. And every episode hews to the blunt screenwriting aesthetic that defines most broadcast fare: heavy on exposition, and willing to sacrifice confusing or ambiguous emotional moments for the sake of clarity.

It sets out to be the comprehensive historical record of gay rights in America, but its unwieldy structure and clumsy writing make it more of a footnote.
When we rise is an important and authentic miniseries that is able to convey a message of hope to the new generations. I really liked it, well

When we rise is an important and authentic miniseries that is able to convey a message of hope to the new generations. I really liked it, well directed by Gus van Sant, Dee Rees, thomas Schlamme and DLB.

…

Expand

When We Rise is such an important show wow. it's just so wonderfully made and written. loved Michael k. William and Mary Louse Parker. do

When We Rise is such an important show wow. it's just so wonderfully made and written. loved Michael k. William and Mary Louse Parker. do yourself a favor and watch it.

…

Expand

It feels relevant and that's the most important thing. Viewers should tune in to the mini-series because there are only a few shows (including

It feels relevant and that's the most important thing. Viewers should tune in to the mini-series because there are only a few shows (including when we rise) that portray matters which need a necessary conversation.

…

Expand

Heartbreaking, inspiring, outstanding. Stellar performances from so many of the cast it's hard to choose a standout, but Michael K Williams

Heartbreaking, inspiring, outstanding. Stellar performances from so many of the cast it's hard to choose a standout, but Michael K Williams gives a particularly powerful performance as Ken Jones.

…

Expand

There was not a dry tear in my eye during any of these episodes. It hit me in the gut, repeatedly, To see gay couples portrayed in such a

There was not a dry tear in my eye during any of these episodes. It hit me in the gut, repeatedly, To see gay couples portrayed in such a positive light, then ripped apart by the epidemic and social upheaval...it was devastating.

The series at its best hit an emotional chord while providing enlightenment to America's rich LGBT history. At it's worst, it was rushed and muddled (through the second half) but the emotional punches kept coming. It's hard not to take away from it a renewed sense of understanding for this older generation, who as a Millennial, knew little about.

…

Expand

'When We Rise' is a very important television exercise that speaks louder than its mind. Gus Van Sant's directing is compelling and the

'When We Rise' is a very important television exercise that speaks louder than its mind. Gus Van Sant's directing is compelling and the characters seem very interesting throughout the episode. It still needs some polishing here and there but it is definitely worth a look.

…

Expand

Liberal leftwing media needs to figure out that having shows like this thrown down our thought for a week will not work. I support LGBT, but

Liberal leftwing media needs to figure out that having shows like this thrown down our thought for a week will not work. I support LGBT, but this is not a way to do it. Much of America is tolerant and respectful of people's rights. People are tired of parades and disrespectful protesters. ABC, NBC, CBS, CNN & California need to just stop trying to destroy our country's moral values.

…

Expand