Publisher:

Capcom

Release Date:

Mar 30, 1996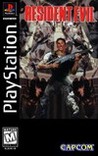 Summary:

Raccoon City has been completely overrun by mutant beasts and bloodthirsty zombies. You are a member of S.T.A.R.S.--a rescue squad sent into the community to investigate the ominous mansion at the core of the disaster. Take the role of operative Jill Valentine or Chris Redfield and uncover t

he secrets behind a radical, genetic research facility. With an array of weapons to master and horrors around every corner, the ultimate test may be just to make it out alive.

…

Expand
Developer:

Capcom

Genre(s):

Action Adventure

# of players:

1 Player

Cheats:

On GameFAQs

Rating:

M
This is exactly the kind of revolutionary title that we applaud. Sure, others like it will come along, some will even surpass it, but hats off to Resident Evil for getting there first.

Long the lord of Street Fighter, Capcom's clearly taking a new tack with this killer game, and the results are outstanding. Resident Evil stands tall as a topnotch second-generation PlayStation game that's well worth the green.

Capcom has produced the perfect interactive movie. RE is horribly, horribly addictive -- it tests your reflexes, satiates your bloodlust, stretches your mind (and temper) and leaves you both thrilled and drained.

The (thankfully) isolated cinematic sequences showing the interactions of the S.T.A.R.S. team members... are filled to the vomit-line with some of the most hokey, badly-translated, drama-killing, god-awful voice acting ever burned onto a disc. Oh well.
Resident Evil is a masterpice ;) It's scary, hard to beat (the first time :P) and the story is good. It's noting like like resident

evil 4 and 5. there it's just about killing zombies. There is no puzzles to solve and you get plenty ammo. But in resident evil 1 you need to think and solve pussles, not kill every zombie, and take time to explore the house. :) I don't say everything is perfect, but the game is very old. so what can you expect? they made a remake of the game to gamecube, but i never traid it. I just hope they start make games like this again.

…

Expand

Still got charm, even after resi4.

For when it came out it was a great game and truly set the genre for decades to come. Graphics were good and very detailed and looked really n

ice on the PS1. Sound, music and lighting set the atmosphere perfectly. This is the root of survival horror and it shows (the good and the bad.) While it has since become a bit iconic the voice acting is just terrible, even then. I've heard fan made re-recordings that were better and more professionally done. But voice acting aside the gameplay is just first rate. Overall: Truly a classic, in the B-horror movie kind of way. It hasn't aged well and would rather defer to the Gamecube remake if you want to experience the game.

…

Expand

Horrible graphics, controls and worst of all gameplay. If you are looking for a classic horror title get Silent Hill.