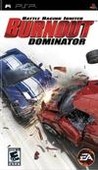 Summary:

Burnout Dominator is the next installment in the legendary Burnout series, loaded with intense racing action and dozens of retina-searing World Tour events. Burnout Dominator challenges gamers to face off against a series of hot-blooded rivals in brutal tests of aggressive driving techniques

where performing burnouts gives you the advantage and multiplies your score potential. For the ultimate nerve-wracking experience, Burnout Dominator takes you to the very edge of control, punishing the smallest mistakes and rewarding drivers for taking outrageous risks. [Electronic Arts]

…

Collapse
Developer:

Criterion Games

Genre(s):

Arcade

# of players:

1-6

Cheats:

On GameFAQs

Rating:

E10+
Everything about Dominator's gameplay just feels right. The welcome return of burnouts has infused an even greater sense of recklessness to a game that certainly wasn't lacking it to begin with.

Some may argue that this is a step backwards, but for what it is Dominator proves to be a highly competent racer with plenty of replay.

The racing is just as adrenaline pumping as it's ever been, and possibly even more so than what we saw in Burnout Revenge as you need to be afraid of traffic once again. However, the lack of standard features and modes like Crash are a rather big disappointment.

Though Burnout fans might be disappointed to learn there's no substantial revision to the play mechanics, Dominator's fast-paced events and score-based challenges are a perfect fit for a handheld system, making it one of the best looking, best playing racing titles on PSP.

It doesn't pack quite the "wow" factor that we saw in Legends, but it's still a more-than-competent racer, and one that's a remarkable demonstration of the PSP's capabilities.

Still, if this sort of no-nonsense adrenaline-fueled racing appeals, you won't find much to match it on the PSP.

It doesn't matter how good the rest of a game is, though, if the controls betray you just when you need them most. [May 2007, p.55]
This game is one of the best PSP titles EVER! The graphics are - even if it was for a 'real' console - fantastic and the gameplay

is just amazing. And last but not least, the World Tour is not too short :) If this game had online multiplayer, it would be PERFECT, but it gets a 10 from me anyway .

…

Expand

Excellent game. Best sense of speed, amazing sound, robust controls and top notch production quality makes this a must buy for any PSP racing fan.

What an amazing achievement! A big improvement over Burnout Legends (which was already awesome). The track design is, simply put, PERFECT!

Long straightaways for maximum burnout chains rule the day here. Graphics are STUNNING! I am currently renting this game and I think I may have to buy it now. The best burnout game I have ever played and I have played them all.

…

Expand

It's a very polished and well presented game, but it's become a run-of-the-mill racer and lost a lot of its uniqueness, namely the

crashes. Instead, uninteresting events like "Near Misses" take its place. There seems to be very few unique tracks and you often feel as if you're rotating between two or three maps for the entire game. The cars are still unlicensed, which is not an issue if they could design unique enough cars instead of having every car behave nearly identical except for the top speed. In the end, it's still a fun game and looks very nice, but it's lost the "magic" prevalent in past installments.

…

Expand

The burnout games have gone downhill since the best ever burnout game, Burnout 3, I think that they should give up now.