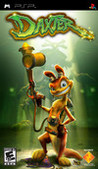 Summary:

Daxter is centered around the world of the lovable orange ottsel made popular in the Jak and Daxter franchise. The story unfolds as Daxter searches for Jak, who was imprisoned during the events that led to the start of "Jak II." Daxter, now on his own in an unfamiliar place, quickly realizes

that being small and furry won't help his chances of survival. To help stamp out a mysterious metalbug infestation, Daxter takes on a job as a pest exterminator, enabling him to explore parts of Haven City in an effort to collect the clues that will lead him to Jak. Daxter allows gamers to play from his perspective offering a distinctive set of moves with agile abilities that allows players to climb walls, creep up on enemies, fit in small places and maneuver vehicles. Taking a job as a pest exterminator, to fight an ongoing invasion of metal-bugs, Daxter comes equip with gadgets to rid the city of these metal nuisances. Get close up and personal by using your flimsy bug swatter to squash an army of attacking insects or your spray gun to hover around a variety of environments while picking up various upgrades. [SCEA]

…

Expand
Developer:

Ready at Dawn

Genre(s):

Platformers

# of players:

24 Online

Cheats:

On GameFAQs

Rating:

E10+
It feels, moves and looks like a "Jak" title, and any fan of the series will have a blast taking this new title on the road.

Daxter, developed by Ready at Dawn Studios, is far closer in spirit to the original game than "Jak II" or "Jak 3," with wacky humor and imaginative puzzles and action that are challenging without being torturous.

Daxter isn't the best platformer you'll ever play, but on a system where the genre is so often done poorly, it manages to stand out. Definitely worth a play, whether you're a fan of the series or not.

When you first take a gander at Daxter, you see a beautifully recreated Jak & Daxter game on the portable Playstation. Some thousand bug squishings later, you'll realise that looks can be extremely deceiving.
Daxter is the best game Ive played for the PSP.Not only are the graphics good but the gameplay is too. The controls are great and are real eas

y to get into. And it only cost 5 bucks! I just wished the storyline was a little better but its still a great game

…

Expand

I only paid around $15 Australian for this, and I certainly got my money's worth. The story and humour aren't stellar, but the visuals and gam

eplay are the big achievements and more than make up for the other shortcomings. Quite a bit of fun, but it's unlikely to resonate with you afterwards, nor is there any replay value.

…

Expand

The game and plot were kinda fun, but I tought it was a little short and too easy.

I sold this game for less than 9 Dollars. The graphics are good enough, no better than the very first PSP releases. It has nothing on Ratchet

and Clank; you really feel like you are nothing more than a furry side-kick, squishing bugs and achieving nothing. That being said the bosses were great fun... All two of them. The extra dream levels were also entertaining, all 5 minutes worth. The remainder of the title leaves a soulless, claustrophobic, dungeon crawler of a game with a slap of okay humour. I used the money to buy a screen protecter. A much better investment for when a real platformers hit the PSP.

…

Expand