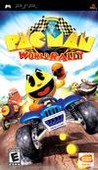 User Score
tbd
No user score yet- Awaiting 3 more ratings
Summary:

In Pac Man World Rally, players can race through a variety of environments from Pac Man World as Pac Man, Pac Jr. and other characters from past Namco classics. Players kart race for the win or fight it out in colorful Battle Arenas with special weapons, power ups and variety Pac-Man powers.

The game also features the Prince of all Cosmos from the award-winning Katamari series as an unlockable character. Making a debut in his first kart racing game, the Prince can be unlocked by winning a Gold Trophy in all Circuit Cups within the EASY difficulty setting. [Namco Bandai]

…

Expand
Developer:

Smart Bomb Interactive

Genre(s):

Racing

# of players:

1-2

Cheats:

On GameFAQs

Rating:

E
It might not be the deepest racing game on the PSP but it certainly is one of the most fun.

Nice to see the old yella fella in a decent game for a change. A great kart racing experience. [May 2007, p.86]

No replays, soft collision, and pesky bombs aside, PMWR is a fair rally game, and possibly the most brand-drenched racer ever. [Aug 2006, p.64]

Pac-Man World Rally is a paint-by-numbers kart racer with almost zero in the way of unique qualities or challenges.
I was excited to get this, thinking it would be the mario kart for psp. which in a way it is, but extremely watered down. It takes no talent

to beat this game whatsoever. i beat the game in like 25 minutes. Easiest game available for PSP. Great for young kids though. This game is not overall boring, but was not what i expected and the lasting appeal is maybe a week.

…

Expand