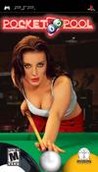 Summary:

Grab your stick and get ready to shoot pool with some Honeys! Shoot 13 different types of pool with some of the hottest honeys in the bar. Pocket Pool features a dynamic 3D engine that simulates realistic pool play from almost every angle. Start off in a honky-tonk and work your way up to

Grab your stick and get ready to shoot pool with some Honeys! Shoot 13 different types of pool with some of the hottest honeys in the bar. Pocket Pool features a dynamic 3D engine that simulates realistic pool play from almost every angle. Start off in a honky-tonk and work your way up to the mansion or yacht – and when you win, boy will you be rewarded. Wins unlock sexy videos and pictures of the glamorous Dream models – plus more surprises! What are you waiting for? Rack 'em up! [from Eidos Interactive]

…

Expand
Developer:

Conspiracy Entertainment

Genre(s):

Miscellaneous

# of players:

1-2

Cheats:

On GameFAQs

Rating:

M
A better-than-expected billiards and snooker sim can be found under the somewhat sleezy, "Skinemax" softcore wrapping.

Ignoring all else in favor of the pool games themselves, Pocket Pool is a fun, pick-up-and-play pool title with more features and better controls than you'd expect, accessible to both pool fans and casual gamers alike.

There isn't much to get excited about with Pocket Pool. Not even the models and their cheesy videos are likely to scintillate you.

Not only does Pocket Pool miserably fail to deliver an enjoyable game of billiards, but its attempts at titillation are more depressing than anything else.

Pocket Pool is just another miserable attempt at using sex to sell a terrible game. While there aren't many billiard options for the PSP, pool fans should look elsewhere and avoid the embarrassment of their girlfriend catching them playing with it.

Pocket Pool largely fails as a billiards simulation, and completely fails as a source of titillation. Go to the local pool hall and talk to some flesh and blood women instead.

If Pocket Pool developer Hyper-Devbox were really smart, it would stop beating around the bush and come up with an Official PSP Porn Viewer, with all the bells and whistles you'd expect from iPhoto. Masquerading this nonsense around as a game that people are expected to pay money for when pool halls are cheap, photos of women are free, and good PSP games are plentiful -- well, it's embarrassing for everyone involved.
I've got to say, I've been greatly enjoying playing Pocket Pool this week (Target accidentally sold me a copy ahead of the street

I've got to say, I've been greatly enjoying playing Pocket Pool this week (Target accidentally sold me a copy ahead of the street date.) I spend at least an hour a day playing Pocket Pool. None of my friends own a PSP, so I'm just playing Pocket Pool by myself, but it's still a blast.

…

Expand

the game is just bad. the physics are awful, a ball moving at an angle can bounce off the side at the wrong resulting angle, and momentum can

the game is just bad. the physics are awful, a ball moving at an angle can bounce off the side at the wrong resulting angle, and momentum can be transfered perfectly from one ball to another. like the other reviews said, things don't make sense. not enough time was put into helping the gamer have fun. games made from movies are better than this game. don't waste your time (or money) on this, even for the pics.

…

Expand
| | |
| --- | --- |
| | #68 Most Discussed PSP Game of 2007 |