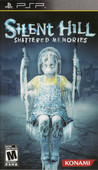 Summary:

While the game shares its twisting plot with the original PlayStation game, Silent Hill: Shattered Memories takes a different path in many, many ways. Characters can be approached but offer different responses and be found in different places, while new clues and gameplay paths can be follow

ed. The title follows Harry Mason, as he attempts to unravel the mystery of his missing daughter, Cheryl. A broken man, Mason's investigations lead him to the mist-shrouded, snowy streets of Silent Hill: a malevolent town where the shadows play host to a wealth of evil, misshapen creatures. Also new to Shattered Memories is a psyche profile element, which monitors every aspect of player's reactions - from where they explore first, items that have been examined, and their reaction to those they meet. Small visual elements will also be altered slightly, adding to the oppressing atmosphere where nothing is what it seems. The psyche profile will adapt Harry's actions as and when he meets normal-looking people or the game's many inhuman denizens. [Konami]

…

Expand
Developer:

Climax Group

Genre(s):

Action Adventure

Cheats:

On GameFAQs

Rating:

M
This wonderfully crafted psychological drama does not only offer a story on a level rarely seen in videogames, it also boasts an excellent audiovisual presentation and an eye for detail. The few minor flaws in the core gameplay don't hurt the experience at all.

Silent Hill is a great reimagining of the first game in this franchise.

Silent Hill Shattered Memories will probably feel like a shallow version of the series to veteran players. But as a standalone title it represents a niche that is intelligent, thoughtful and meaningful.

An atmospheric masterpiece with many endings and a big amount of goose bumps all over your neck! But be warned, the game lasts for eight hours at maximum – and you're going to hate the creepers really soon.
Probably the best storyline ever made. The best PSP game ever!!!
Harry Mason is back!!
All the loliness, snow, darkness, sorrow, cold, and fear are back....Silent Hill is back.
If you want to live one of the best experiences ever made in all the story of videogames, play this game.
If you want a bad shooter with no story, this is not your game.
Shattered Memories it's an amazing experience.
Shattered Memories is a must have.
Shattered Memories is a MASTERPIECE.
Shattered Memories is Silent Hill.

…

Expand

Let me preface this by saying this is the first Silent Hill game I've played, so I don't know anything about the storyline or how t

he original games played. This game is supposedly more of a re imagining of the first Silent Hill, which probably scares fans, but to someone like me who is only judging the game independent to any series to which it may belong, I have to say it was excellent. This game played more like an interactive story. It was very creepy, atmospheric, and compelling. There are basically three modes to play: Cinematic, Exploration, and Nightmare. Cinematic drives the story along, and can be either straight cut scene or interactive cut scene. Exploration is standard adventure game fair, where you explore the world and solve puzzles here and there. Nightmare is a more action-packed derivative of exploration mode, where you run from monsters through a warped maze of reality. Exploration mode is full of little details and extra touches that really show this game was a labor of love for the producers. The game rewards you if you take your time and really explore the world. The cell phone is a very important device to unlocking more clues and background into the game, and it was always entertaining to find a new phone number to try out. The gameplay seems to be influenced by the unique Wii controller, but plays fine on a PSP. The game is not difficult, but since it feels more like an interactive story, difficulty would only get in the way of pacing. Nightmare mode is fast and frantic, and sometimes irritating when you find yourself running in circles. However, it never crosses the line into becoming frustrating. These sections provide a tense contrast to the more cerebral, dreamlike nature of the other modes. The interactive cinematic moments with the psychiatrist were my favorite. They really break up the gameplay into chapters, and I felt myself playing on just to reach another session with the doctor. After beating the game, you will receive a profile based on your decisions in game. It's pretty cool, and certainly more than most games offer upon completion. The cinematics were well-acted by the voice actors and animators. This was a top-notch production. Because of this game, I'm going to play the other games in the series.

…

Expand