Publisher:

SCEA

Release Date:

Nov 7, 2006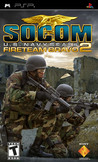 Summary:

Command a secret subset of the most elite and deadly fighting force on the planet as players defend America and her allies through broad combat experiences including new non-linear mission progression, over 40 authentic real world weapons and a huge area of operation spanning multiple

Command a secret subset of the most elite and deadly fighting force on the planet as players defend America and her allies through broad combat experiences including new non-linear mission progression, over 40 authentic real world weapons and a huge area of operation spanning multiple terrain types and environments. As the SEAL commander, the player is supported by an AI teammate executing traditional SOCOM team-based tactical, stealth and action gameplay. Multiple players once again be able to form clans and take on their friends for team based high-action gameplay in SOCOM U.S. Navy SEALs: Fireteam Bravo 2 via a Wi-Fi connection. Up to 16 players in close proximity in Ad Hoc mode and online in Infrastructure mode can compete wirelessly through 3 new game types across all new multiplayer maps and original SOCOM U.S. Navy SEALs: Fireteam Bravo maps. Fireteam Bravo 2 is complete with a variety of new gameplay features including new non-linear mission progression, which allows players to choose which mission to tackle next and also provides players with the ability to go back to previous mission areas when enemy activity resurfaces there. Additionally, a new persistent performance rating system tracks the player's success and failure throughout the campaign. By completing mission goals, discovering bonus objectives, and rescuing civilians, the player earns "Command Equity" points that can be used to add new weapons to the armory or purchase in-game air strikes and supply drops. They also increase their "Local Influence" rating, which will give them access to black market weapons and intel from locals. [SCEA]

…

Expand

Developer:

Zipper Interactive

Genre(s):

Modern

# of players:

16 Online

Cheats:

On GameFAQs

Rating:

T
This title raises the bar for quality and polish for games on the PSP today. [Jan. 2007, p.92]

Not only a major improvement over the first portable SOCOM game but it is also the best game the series has produced thus far. With a wealth of juicy multiplayer options, a solid single-player mode and some surprising extras, this is a PSP game you will not want to miss if you love military action games or your PSP.

The real question is whether the game can rise above the hardware constraints, and the answer is yes. As a result, Fireteam Bravo 2 may be the premier shooter in the PSP's library.

While it may lack the "wow" factor of the original, SOCOM: U.S. Navy SEALs Fireteam Bravo 2 is a great shooter for the PSP in its own right.

Visually it does the job, albeit with a few minor quips here and there - but it does have a good frame rate to be thankful for, and that's imperative.

Intensely frustrating strategic military shooter, which could do with being massively simplified.
This game deserves a 10 because out of EVERY psp game ive played none of them come close. I play this game for hours on end and can pick it

This game deserves a 10 because out of EVERY psp game ive played none of them come close. I play this game for hours on end and can pick it up at any time and continue... and for most psp games this is not the case. I have to be in the right mood to play alot of the other ones. This game is a MUST have title for any psp owner.

…

Collapse

I have just got this game, and from what I have played online it is absoultely amazing, everything you would expect in a game on a portable

I have just got this game, and from what I have played online it is absoultely amazing, everything you would expect in a game on a portable console, online is extremely fast and smooth too, there is a nice array of servers where you can pick you're country, even a headset so you don't have to use the PSP on-screen keyboard and risk being killed, altogether a brilliant game.

…

Expand

The single player has actually been good so far. Creating your own player is crazy.

This game is a great shooting game. Its about as close as you get to a war without really being in one.

Wow, where to begin? This is easily one of the best titles on the PSP. It's a little rough around some edges, but the multiplayer is near

Wow, where to begin? This is easily one of the best titles on the PSP. It's a little rough around some edges, but the multiplayer is near perfect, and this game was definitely built for multiplayer. Unfortunately, as is the case for all games that put their effort into multiplayer, once people stop playing, the game effectively dies, and with the server shutdown, this game will definitely have fewer people playing. For this reason, despite the high score, I can't recommend this game to anyone but the most hardcore of fans. All the same, just about everything is a step up from FTB1, with only a few nit picky things a possible step backward. More weapons and equipment, more customization, more maps and the best maps of FTB1 carried along and improved to this title, on top of this FTB2 looks more like a PS2 game than its prequil who resembled more the PS1 generation. Singleplayer is not very fun. Among other obvious problems like boring story/missions and bad AI is the most unforgivable of offenses; you die once and you have to start the entire mission again! For this reason, even though the higher difficulties were more challenging and fun to test my skills, I found myself running through everything on easy because I was tired of wasting time replaying missions unnecessarily. Overall, this is one of the best multiplayer shooters on the PSP, so if you have a group of friends willing to come together and squeeze the last bit of fun out of Socom after the server shutdown, you can't go wrong with FTB2.

…

Expand

The guns are cool, and it is very rewarding when you beat a mission, but its just so boring. it really feels like you can only play for five

The guns are cool, and it is very rewarding when you beat a mission, but its just so boring. it really feels like you can only play for five minutes until you getted bored. The multiplayer is great.

…

Expand

This game is great! The online which i play all the time sucks. There are too many hackers. Hackers boot people out of a game if they chose

This game is great! The online which i play all the time sucks. There are too many hackers. Hackers boot people out of a game if they chose too. Now i have heard from a hacker that they can turn off your p.s.p which has happend to me about 20 times only when i play socom online. i do not recommend buyin this game if you wish to play online but the real game is GREAT!

…

Expand