Publisher:

SCEA

Release Date:

Nov 8, 2005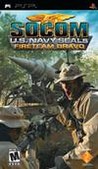 Summary:
SOCOM offers fans of the multi-million selling franchise all-new single-player and wireless multiplayer gaming missions in four different Areas of Operation (AO). Players are tasked with completing 14 unique, realistic international single-player missions, including Chile, which is a unique AO only available in the PSP release. As the SEAL commander, the player is supported by an AI teammate executing traditional SOCOM team-based tactical, stealth and action gameplay. After successfully completing a level, players can replay the mission in an entirely new way through the "Instant Action" option, with different objectives, enemy and object placement. In addition, multiple players are able to form clans and take on their friends for team based high-action gameplay in SOCOM Fireteam Bravo via a Wi-Fi connection. [SCEA]
| | |
| --- | --- |
| Rating: | M |
| Developer: | Zipper Interactive |
| Genre(s): | Action |
| Number of Players: | 1-10 Players |
| ESRB Descriptors: | Violence |
| Offline Modes: | Competitive |
| Connectivity: | Online, Wi-Fi |
| Online Modes: | Competitive, Team Oriented |
| Number of Online Players: | 16 Players Online |
Designer/Producer/Programmer credits provided by
GameFAQs
.
If you contributed to this game and feel you should be credited, please read our
FAQ
.
| | |
| --- | --- |
| | |
| | #10 Most Discussed PSP Game of 2005 |