Publisher:

Nintendo

Release Date:

Apr 28, 2017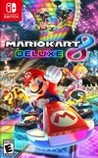 Summary:

Race and battle your friends in the definitive version of Mario Kart 8. Hit the road with the definitive version of Mario Kart 8 and play anytime, anywhere! Race your friends or battle them in a revised battle mode on new and returning battle courses. Play locally in up to 4-player

Race and battle your friends in the definitive version of Mario Kart 8. Hit the road with the definitive version of Mario Kart 8 and play anytime, anywhere! Race your friends or battle them in a revised battle mode on new and returning battle courses. Play locally in up to 4-player multiplayer in 1080p while playing in TV Mode. Every track from the Wii U version, including DLC, makes a glorious return. Plus, the Inklings appear as all-new guest characters, along with returning favorites, such as King Boo, Dry Bones, and Bowser Jr. Race your friends in the definitive version of Mario Kart 8, only on Nintendo Switch. Race as every character on every track from the Wii U version, including DLC characters and tracks. Pop some balloons in the revamped Battle mode, complete with Balloon Battle and Bob-omb Blast. Battle on new courses, like Urchin Underpass and Battle Stadium, or returning ones, such as GCN Luigi's Mansion and SNES Battle Course 1. Inkling Girl & Inkling Boy from Splatoon, King Boo, Dry Bones, and Bowser Jr. join the roster. Players can choose a new Smart Steering feature which makes driving and staying on the track easy for novice players and kids even at 200cc. Three new vehicles have been added, two are even inspired by Splatoon. Carry two items at the same time. Returning items include Boo, the item stealing ghost, and the Feather, which gives you a high jump in battle mode. Play your friends in local wireless multiplayer with up to 8 players. Drive through in 1080p HD quality in TV mode. Play on the go with handheld mode and play anytime, anywhere.

…

Expand
Developer:

Nintendo

Genre(s):

Other

,

Racing

,

Arcade

,

Automobile

Cheats:

On GameFAQs

Rating:

E
Much of this will seem like a given to Switch owners, but it's still completely relevant in terms of what validates picking up this version of Mario Kart 8. It's not only the "complete" and current experience, but one transformed by its hardware. Mario Kart 8 Deluxe is the definitive version as we're likely to know it from now on, and thanks to the nature of the Switch, it's worth every penny.

The definitive version of one of the greatest multiplayer games ever, with a vast array of courses, characters, and the best Battle mode since the SNES days.

Mario Kart 8 Deluxe is the definitive Mario Kart 8 experience. The question is, should you buy this game if you already own the game for the Wii U? Not necessarily. If you don't care for the revamped battle mode, new characters and all the DLC then by all means, don't buy this game. But, if you do care about these things or you simply don't own the game and want the best Mario Kart game ever created anywhere you want, this is the game for you.

It seems that Nintendo Switch was made for a game like Mario Kart 8 Deluxe. Racing is fun and multiplayer (8 local/12 online) is unbeatable. Nevertheless, the only improvements from the Wii U game are six new characters, new items and some battle modes, and that is not enough.

For a port of an older Wii U title, Mario Kart 8 Deluxe feels like a brand new game that everyone can enjoy. Whether this is your first Mario Kart or your eighth, there's enough here to satisfy your thirst for racing.

The greatest game in the Mario Kart series is back, now under the name of Mario Kart 8 Deluxe in a Nintendo Switch version that improves the original on several levels. If its large amount of content was not enough, the return of the battle mode as it was before and all the visual improvements bring the game up to today's standards.

For new (or lapsed) players, the possibilities will seem endless and energizing. For me, the idea of endless possibility started to feel like more of the same.
This is the best Mario Kart game to date! Superb courses, nice characters and super smooth game play with a stable 60 fps.
Also forThis is the best Mario Kart game to date! Superb courses, nice characters and super smooth game play with a stable 60 fps.
Also for time-trial fanatics there is enough to do with a Nintendo ghost to beat in every level and courses that let ypu master them in every detail, This is a no-brain er for every Nintendo Switch owner.

…

Expand

Easily my favorite game on the Switch. I didn't think anything would touch Zelda and boy was I wrong. The replay value is insane. The fun

Easily my favorite game on the Switch. I didn't think anything would touch Zelda and boy was I wrong. The replay value is insane. The fun in your living room with your friends is priceless. The controls are perfect. The 60 fps and 1080p graphics in docked mode is exactly what I was hoping for. What's the only thing I would want changed? I guess just to turn off auto-steering by default.

…

Expand

This time around they made the game truly addictive and replayable. If you were to compare it briefly to the wiiU version to say it's worth

This time around they made the game truly addictive and replayable. If you were to compare it briefly to the wiiU version to say it's worth buying it again I would say brighter and not fuzzy. What a difference between the two. I used to think the wiiU version was stunning and now it's painful to look at. Beyond that there are multiple battle modes, new players, new items etc.
They finally nailed it Love this game so much. See you online!

…

Expand

The game is really great. I've already owned Mario Kart 8 on the Wii U and all DLC but the Deluxe version with a new Battle Mode, characters,

The game is really great. I've already owned Mario Kart 8 on the Wii U and all DLC but the Deluxe version with a new Battle Mode, characters, double item slots and third drift boost etc. is still worth to double dip the game for me because it changes the game enough to make a huge difference. However I dislike "online" so far. It's the same Wii U experience with more disconnections, bad W-Lan solution integrated within the Nintendo Switch in handheld mode and online needs to be improved in MK8 Deluxe drastically to justify a payment per year for me. Right now it's far away from being good and this don't meet my expectations.

However local multiplayer is even greater with more opportunities playing and easy controls for casual family members are also an extreme good addition for MK8. The new items fit perfectly into the game and it's really amazing playing this game on the go. Beating times on your favorite courses traveling is so far very astonishing.

It's nearly the most perfect fun racing out there. Last thing that needs to be improved is online.

…

Expand

Ive played this game for over 30 hours now, and I can safely say this is a must have for any nintendo switch owner, whether you owned this

Ive played this game for over 30 hours now, and I can safely say this is a must have for any nintendo switch owner, whether you owned this game on the Wii U or not. I played the Wii U version for hours, and it is totally worth the re-purchase due to its portability, new battle stages, and other minor tweaks that make the game so much better. The only negatives I have is that I feel that the AI is way to easy, and I experienced communication errors a quite a few time while playing online.
Overall, this is a must buy for all switch owners.

…

Expand

Es un gran juego, básicamente es la versión de Wii U con los DLC y con unos añadidos extras como el super turbo rosa, el nuevo modo batalla y

Es un gran juego, básicamente es la versión de Wii U con los DLC y con unos añadidos extras como el super turbo rosa, el nuevo modo batalla y los personajes de splatoon. Jugabilidad excelente, juego adictivo para estar con los amigos, online estable. Buena resolución y rendimiento. Juego recomendado, no saca puntuación perfecta por ser un port de la consola pasada.

…

Expand

If you are any good at video games and have only a drop of joy in a skill full game THAN DO NOT BUY THIS It is insane how stupidly skill-less

If you are any good at video games and have only a drop of joy in a skill full game THAN DO NOT BUY THIS It is insane how stupidly skill-less this game is. All this is is a Random Number Generator. So just go to Google and look that up, You'll get the same joy out of those as of this game. Nintendo obviously just hate skill and to maintain their 'Family Friendly' image they add BS like Blue Shells which are only there to "Balance" the game to the great amusement of first-time players and the great frustration of anybody who has put more than 10 hours into this game and if you're not gonna do this then why on Earth would you buy this game for a whopping £50

…

Expand