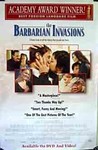 Starring:

Dorothée Berryman

,

Marie-Josée Croze

,

Rémy Girard

,

Stéphane Rousseau

Summary:

Director Denys Arcand revisits the situations and relationships that informed his international breakthrough "The Decline of the American Empire." Set 17 years after Decline, this film, like its predecessor, examines the varying politics -- economic, personal and sexual -- at play among a

Director Denys Arcand revisits the situations and relationships that informed his international breakthrough "The Decline of the American Empire." Set 17 years after Decline, this film, like its predecessor, examines the varying politics -- economic, personal and sexual -- at play among a group of friends, lovers and ex-spouses. (Miramax)

…

Expand
Director:

Denys Arcand

Genre(s):

Drama

,

Mystery

,

Comedy

,

Romance

,

Crime

Rating:

R

Runtime:

99 min
A brilliant entertainment, full of bemused skepticism and reckless, prodigal love -- for these people and their vanishing era and lives.

Although the specter of death hovers over the entire film, it is neither a grim nor a depressing experience. Arcand has injected a great deal of wit into the movie, and it meshes perfectly with the anticipated pathos.

The Barbarian Invasions might be called an idyll of death. Without excessive sentiment (but without slighting sentiment, either). [24 November 2003, p. 113]

The treatment of the subject isn't maudlin, thanks to a witty script and an enormously likable lead character, Remy (Remy Girard), who remains bullheaded and lusty to the finish.

Despite a slight tendency to be overly pleased with itself, this is a smart piece of work that got Arcand's screenplay an award at Cannes.

Like a family visit during the holidays. Tensions run high, not everyone is likable but being there's an uneasy comfort because everything is so familiar.

Shear away the film's pretensions, and it's a soap opera of assholes.
A beautiful film; very unhollywood; thoughful; and thank God, not something the Villlage Voice liked.

Intelligent and relevant without being inspiring, being somewhat diluted by itself.