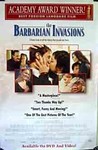 Starring:

Dorothée Berryman

,

Marie-Josée Croze

,

Rémy Girard

,

Stéphane Rousseau

Summary:

Director Denys Arcand revisits the situations and relationships that informed his international breakthrough "The Decline of the American Empire." Set 17 years after Decline, this film, like its predecessor, examines the varying politics -- economic, personal and sexual -- at play among a

Director Denys Arcand revisits the situations and relationships that informed his international breakthrough "The Decline of the American Empire." Set 17 years after Decline, this film, like its predecessor, examines the varying politics -- economic, personal and sexual -- at play among a group of friends, lovers and ex-spouses. (Miramax)

…

Expand
Director:

Denys Arcand

Genre(s):

Drama

,

Mystery

,

Comedy

,

Romance

,

Crime

Rating:

R

Runtime:

99 min
Dying is not this cheerful, but we need to think it is. The Barbarian Invasions is a movie about a man who dies about as pleasantly as it's possible to imagine; the audience sheds happy tears.

Where Denys Arcand's delightful 1986 comedy "The Decline of the American Empire" celebrated the good life, his profoundly funny sequel The Barbarian Invasions heartily toasts the good death.

As a film about intellectuals, The Barbarian Invasions can sometimes seem maddeningly scattered and contradictory.

A deeply felt celebration of the life force, as embodied in Girard's fierce performance as a man who may not have done all he could, but had an enviably great time on the way.

Like a family visit during the holidays. Tensions run high, not everyone is likable but being there's an uneasy comfort because everything is so familiar.

Shear away the film's pretensions, and it's a soap opera of assholes.
A beautiful film; very unhollywood; thoughful; and thank God, not something the Villlage Voice liked.

Intelligent and relevant without being inspiring, being somewhat diluted by itself.