Network:

NBC

Series Premiere Date:

May 30, 2014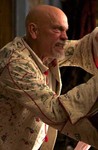 Starring:

David Hoflin

,

Richard Coyle

,

Claire Foy

Summary:

Pirate Edward "Blackbeard" Teach (John Malkovich) leads a group of thieves on the island of Santa Compana in 1729. After an attack on an English ship, the pirates capture Tom Lowe (Richard Coyle), a spy sent to kill Blackbeard and ensure a longitude chronometer doesn't fall into the pirate's hands.

Genre(s):

Drama

,

Action & Adventure
Please enter your birth date to watch this video:
You are not allowed to view this material at this time.
It's sophisticated, well-acted television for a warm-weather series.

It is filled with adventure on the high seas and sex and intrigue on dry land. And, yes, above all, it's fun.

By the time the three episodes available for review end, a plot is thickening suspensefully, Blackbeard is exhibiting still more interesting propensities, and nobody can possibly mind not being able to figure out which woman in the Commodore's court is doing what with whom.

All in all, Crossbones is about as believable as Casanova in a seminary. But there's some fun to be had and some Malkovich to behold.

The show is worth watching once to sample what Malkovich is up to, but it ultimately suffers from not following his performance to its logical conclusion and making the whole series a completely bonkers Blackbeard experience.

Even this adventuresome idiosyncratic actor [Malkovich] doesn't seem to be having much fun. [2 Jun 2014, p.46]

Malkovich has always possessed a rare gift for conveying a still sort of menace, but the series is too lifeless to capitalize on those talents.
Very good show! I love pirates, and this story of 'Blackbeard' is good. John Malkovich is a great pirate, always loved him as an actor and man

Very good show! I love pirates, and this story of 'Blackbeard' is good. John Malkovich is a great pirate, always loved him as an actor and man of adventure. This show gives 'Comadore' a side of sensitivity and emotion, yet he is ruthless and will skin you alive if you betray him. I love it and hope it stays on for another season or more.! :)

…

Expand

Love the show, hope it will continue. John Malcovick is wonderful. Great actor always and perfect as Black Beard. Keep it going please.

Love the show, hope it will continue. John Malcovick is wonderful. Great actor always and perfect as Black Beard. Keep it going please. Would like to see it continue into the fall and even longer.

…

Expand

Excellent show! John Malkovitch is really awesome! I think this will be the sensation of the summer! Each episode makes you want to see more.

Excellent show! John Malkovitch is really awesome! I think this will be the sensation of the summer! Each episode makes you want to see more. Watch it!

…

Expand

It's Malkovich so the show deserves time to find the right pulse. This show is entertaining and the writing is smart. Other than Malkovich,

It's Malkovich so the show deserves time to find the right pulse. This show is entertaining and the writing is smart. Other than Malkovich, the characters don't come across, at this time, as genuine. It appears this show is trying to hard to rise to the level of Game of Thrones. All involved need to step back a bit and allow the show to breathe on its own without trying to contrive. Stay with it though, I am, as I believe they may be able to pull the show together because they've got the right stuff, and well, again it's Malkovich!

…

Expand

First rate production values. Acting ranging from good to excellent. Malkovich's Blackbeard (more precisely Greybeard) draws its own new

First rate production values. Acting ranging from good to excellent. Malkovich's Blackbeard (more precisely Greybeard) draws its own new picture of the villain with oddly likable characteristics. Some professional critics have said that the show (I've seen only the pilot) is not as much fun as it should be. I tend to agree with that, but there is enough fun compared with some of the current summer network/cable offerings to make it worthwhile watching. And, of course, there is Malkovich!

…

Expand

So-So show with John Malkovich as Blackbeard. It is funny how two shows, with essentially the same premise, show up on two networks. Think

So-So show with John Malkovich as Blackbeard. It is funny how two shows, with essentially the same premise, show up on two networks. Think about how many Pirate television shows have you seen in the last 10 years? Anyway, this show is a little better than Black Sails, and Black Sails is pretty darn BAD! This show can at least hold your attention for more than 5 minutes.

…

Expand

John Malkovich's acting is pathetic.He talks like wearing dinosaur dentures.So Pilot episode mad with limited funds and lousy script.Casting

John Malkovich's acting is pathetic.He talks like wearing dinosaur dentures.So Pilot episode mad with limited funds and lousy script.Casting also pretty bad ,bunch of mediocre actors and actresses This can't out run Black sails tv series.It's a joke someone think they can make PG13 pirate TV series,without having sex violence and foul language.This will surely face axe after first season ,or highly doubtful that they may even air the shooted episodes in Season 1.

…

Expand