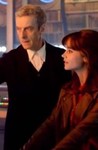 Starring:

David Morrissey, Kylie Minogue, Jenna-Louise Coleman

Summary:

Christopher Eccleston becomes the ninth actor to take on the role of the time-travelling title character in the BBC's latest incarnation (the first in 16 years) of its venerable sci-fi franchise, airing in the U.S. for the first time after becoming an unexpected hit in Britain last year.

Genre(s):

Drama

,

Action & Adventure

,

Science Fiction
Creator:

Robert Holmes, Malcolm Hulke, Bob Baker

Show Type:

In Season

Season 1 premiere date:

Mar 26, 2005

Episode Length:

45

Air Time:

08:00 PM
If you're looking for allegorical, intriguing science fiction, this isn't it. If you're OK with rapid-fire, light-hearted dialogue with an occasional dig at politics and culture, this "Doctor Who" is your cup of tea.

Silly, sophomoric stuff that is sure to please its television audience.

Some of the pop-culture humor and creatures owe a nod to "Farscape," but the camp level is high and can be mighty funny.

This remake achieves an Avengers-like balance of cheeky wit amid the cheesiness.

Despite a few missteps, there's much to recommend.

It's pretty decent hokum--fast, corny, genial, honest in its schlock.
As an American, British TV was irrelevant to me. That was until I stumbled on this masterpiece. About one year ago I discovered the TV show

As an American, British TV was irrelevant to me. That was until I stumbled on this masterpiece. About one year ago I discovered the TV show and soon watched every episode, eventually reaching Season 6, which I loved. If you are a fan of Sci-fi or just very intellectual story-telling, check this show out.

…

Expand

How can you not love this TV show?

It's simply perfect. The casting, the writing...everything. David Tennant will always be my favouriteHow can you not love this TV show?

It's simply perfect. The casting, the writing...everything. David Tennant will always be my favourite Doctor but the other 10 Doctors and John Hurt are great too. Jenna Coleman has quickly become my favourite companion; she's the perfect archetypal companion. Cheeky, smart and full of personality: everything you could possibly want in a companion.

As for eras, I particularly like the Moffat Era. It has a incredibly interesting dark fairytale tone that simply just suits Doctor Who. It's a tone that neatly sums up the 11th Doctor and Amy's relationship too. Steven Moffat has got it all right.

…

Expand

Doctor Who, especially the third season, has matured far past it's monster-of-the-week original premise. It's a been about choices

Doctor Who, especially the third season, has matured far past it's monster-of-the-week original premise. It's a been about choices and consequences, something lost on modern society, and our responsibilities to society in general, and in it's moments of detail, to those close to us. The Doctor has also matured, from a lucky bumbler, past Eccleston's "edgy" and angry doctor. He's more mature, his history and internal feeling are more of the story line, yat he keeps the boyishness we expect from the Doctor. He's deeper without being too mature, and that's refreshing. One viewing of "The Girl In the Fireplace" lets you know you're heading into deeper territories than before, and it becomes another step towards, the excellent season finale. Do watch it!

…

Expand

This is the best TV show ever. Every episode is something new, and unpredictable. Great dialogues, clever stories and actors. It deserve to be

This is the best TV show ever. Every episode is something new, and unpredictable. Great dialogues, clever stories and actors. It deserve to be CULT. It´s from episode to episode better.

…

Expand

Great Show Period. Doctor Who is such a great and captivating series. Who ever wrote the scripts and came up with the episodes has such an

Great Show Period. Doctor Who is such a great and captivating series. Who ever wrote the scripts and came up with the episodes has such an open, creative, and interesting imagination! WEEPING ANGELS ALL THE WAY!!!!!!!!!!!!!!!!!!!!!!!!!!!

…

Expand

Purely giving it red because I hat what Moffat has done to Doctor who. However if you would have asked me the same question some years back,

Purely giving it red because I hat what Moffat has done to Doctor who. However if you would have asked me the same question some years back, it would easily have acquired a green.

…

Expand