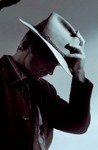 Starring:

Walton Goggins

,

Jere Burns

,

Timothy Olyphant

Summary:

Raylan finds more trouble in Harlan when Daryl Crowe (Michael Rapaport), Dewey's cousin from Florida, comes to visit. Meanwhile Boyd and Wynn have their own problems with people up north.

Genre(s):

Drama

,

Action & Adventure
Creator:

Graham Yost

Season 5 premiere date:

Jan 7, 2014

Episode Length:

60
Please enter your birth date to watch this video:
You are not allowed to view this material at this time.
Still standing magnificently tall in its fifth season, Justified more than justifies its place as one of television's best dramas. That's a crowded field, of course, but, in this critic's opinion, it is not just one of the best. It is THE best.

Raylan, despite his tendency to shoot people, is something of an old-fashioned hero, complete with white cowboy hat. Here's to the simple but effective balance, and to the complications that threaten to topple it.

Never fear. The Harlan County, KY of FX's Justified remains mostly dirty to the touch, a breeding ground for knuckle-draggers and a few somewhat higher forms of low-life.

Prone to slow starts and whiz-bang finishes, Justified opens its fifth year in midseason form.

The new season returns to the show's more familiar structure. But the character beats that played out last season--and in previous seasons, for that matter -- linger. The result is that the Harlan, Ky., and environs of Justified feels like a very familiar, lived-in place--in the best possible sense.

It's a funny scene [a pair of Canadian drug dealers visiting Detroit sing the praises of the Tim Hortons doughnut chain to a couple of guys from Kentucky who couldn't care less] but it also hurries the plot along and, so, in many ways it feels like a perfect melding of the minds of Detroit's Leonard and the Canadian-born Yost. Which pretty much sums up Justified, too.

The show pretty much picks up where it left off. Gone are the seasons when Justified would slowly run up to a serialized storyline with a few stand-alone episodes--I kind of miss those because the bad guys were so fleshed out for a TV show--instead jumping back into established storylines and jump-starting new ones..... The season premiere [is] a strong set-up episode.
This review contains spoilers

, click expand to view

. I am a huge fan of this show, and it is amazing to me that it seems to only get better every season. Obviously it is to early to tell how this season will stack up against the others as a whole, but if the first two episodes are any indication, it will be amazing as ever. Timothy Olyphant continues to be perfect in the role of Raylan Givens, and this is coming from an avid fan of Elmore Leonard's Raylan books. He has a sly charm, a great swagger and underneath his calm demeanor, a cold edge. The dialogue continues to be among the very best on TV, and is expertly showcased by Raylan Givens, Boyd Crowder (the amazing Walton Goggins), Art Mullen (Nick Searcy) and a personal favorite side character of mine, Wynn Duffy (Jere Burns).

I can tell everyone that if you enjoyed past seasons, season 5 continues to live up to that high standard. New additions to the cast have strong potential, and the guest star lineup this show manages to attract is in a league of its own. Early into season 5, we have appearances from Amy Smart, Xander Berkeley, David Koechner, Will Sasso, Dave Foley and many more great additions. Returning characters like Dewey Crowe and Wade Messer have expanded roles, which means plenty of delightful stupidity is sure to follow from each of them! The expanded Crowe family is introduced and seems like an interesting bunch to follow, especially the intriguing addition of Jean Baptiste, apparently a former member of the Haitian secret police who seems to specialize in making bodies disappear!

What else needs to be said? A great and varied cast of quirky characters that are sure to delight, some of the best if not THE best dialogue on TV, a wonderful back country atmosphere and setting, a great balance between light and humorous with darkness and violence, great writing, and wonderful plots that are always interesting and never convoluted or difficult to follow. Bottom line, Justified is an amazing show and if you have not yet seen it, be sure to give it a try. BTW, season one is very good, but it really hits its stride at the end of the first season and into season two, and it only gets better going forward!

…

Expand

I LOVE THIS SHOW. By far one of the funner and more enjoyable shows coming back. I should recommend this show to anyone and i really love this

I LOVE THIS SHOW. By far one of the funner and more enjoyable shows coming back. I should recommend this show to anyone and i really love this show. Just Amazing

…

Expand

Raylan and Boyd are back, and I couldn't be happier. Justified has the best regular and recurring cast on TV, and this season they even add on

Raylan and Boyd are back, and I couldn't be happier. Justified has the best regular and recurring cast on TV, and this season they even add on old pros like Dave Foley, Will Sasso, and David Koechner. It's basically heaven for those of us who love great line-readings, perturbed looks, and anything Elmore Leonard related.
Jere Burns is now a regular, and that's awesome...but once again, it seems like the show is going to have a hard time finding things to do for Rachel and Tim. But they have brought back Dewey Crowe, so I can forgive them for anything.
Now that Breaking Bad is over and done with, Justified is the best show on television.

…

Expand

The characters,especially Boyd Crowder, are some of the most interesting and complex I have seen in a TV series and the plot lines keep me

The characters,especially Boyd Crowder, are some of the most interesting and complex I have seen in a TV series and the plot lines keep me engaged and rarely veer off course. I love this show.

…

Expand

A very solid season through out but sadly ended on a rather predictable season finale. Still, It was far better than the previous season and

A very solid season through out but sadly ended on a rather predictable season finale. Still, It was far better than the previous season and it definitely helps that the show went back to it's roots and what made it so good in the first place.

…

Expand

never realized that I wanted a season to focus on Dewey Crowe's family, but evidently I did.

Just like prior seasons Justified isnever realized that I wanted a season to focus on Dewey Crowe's family, but evidently I did.

Just like prior seasons Justified is entertaining to watch. This time however the story is three factions and the mixing between them. One of them is of course our main star Raylen Givens, the tough Federal Marshall. The second is Boyd Crowder and his crew (which I am just as entertained if not more so by Boyd as by Raylan). The third and final is Dewey Crowe's family... and they were entertaining.

The backstabbing is upped a notch, the violence is pretty intense and the white knuckle moments are still there. It is true, that other than Boyd and Raylan, none of the new characters measure up to Margo Martindale (yes I am still beating her drum), but they were definitely entertaining.

Oh, and Wynne Duffy seemed to be in it more this season and I approve of more Mr. Duffy.

Pros: Still great acting and writing. .

Cons: Still no Margo Martindale, other than that things were great.

The final Season 6 is in the queue.

…

Expand

As much as I would love to see Justified succeed, Season 5 feels like the show is heading towards a dead end... the plot has turned incredibly

As much as I would love to see Justified succeed, Season 5 feels like the show is heading towards a dead end... the plot has turned incredibly dull and drawn out compared to GOT or Sherlock Holmes... the main actors are looking wary on set, and it shows in their delivery... Ava Crowder women prison scenes had potential, but poorly developed and acted.... the introduction of Crowe family was a mistake, especially the casting of Darryl, whose already been typecast as a weak minded character (e.g. Higher Learning)... as is Mexican cartel boss Mr. Yoon (who previously played silly Japanese sidekick in Heros, another horrible casting decision... the scandal involving Deputy Chief Art was nothing short of confusing and redundant... unlike Breaking Bad, season 5 of Justified has been nothing but downhill.

…

Expand