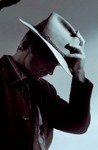 Starring:

Walton Goggins

,

Jere Burns

,

Timothy Olyphant

Summary:

The final season for the drama finds Raylan working on getting Ava and Dewey Crowe to turn on Boyd, who seeks one more big score. However, more trouble comes to Harlan in the form of formerly exiled gangster Avery Markham (Sam Elliott) and (Garret Dillahunt), a former Special Ops soldier

The final season for the drama finds Raylan working on getting Ava and Dewey Crowe to turn on Boyd, who seeks one more big score. However, more trouble comes to Harlan in the form of formerly exiled gangster Avery Markham (Sam Elliott) and (Garret Dillahunt), a former Special Ops soldier working security.

…

Expand

Genre(s):

Drama

,

Action & Adventure
Creator:

Graham Yost

Season 6 premiere date:

Jan 20, 2015

Episode Length:

60
Please enter your birth date to watch this video:
You are not allowed to view this material at this time.
Every conflict or showdown is emotionally or physically concrete yet at the same time metaphorical, the stuff of future legends. And the My Dinner With Andre and His Guns dialogue is so off-the-charts lyrical that you can hear the writers chuckling.

Justified remains as good as ever--and as tautly written, acted and directed, and deeply, completely pleasurable as the fifth season, and the one before that and... all of the other seasons, too, now that I think of it.

The first few episodes of the final season of Justified are about as pleasurable as TV gets.

Raylan's endgame, targeting childhood buddy-turned-criminal nemesis Boyd Crowder with the reluctant help of Boyd's jailbird fiancee, Ava is especially taut and entertaining. [19 Jan-1 Feb 2015, p.14]

Although the program isn't as showy or heralded as the network's other dramas, its sixth-season start reinforces a sense that Justified will be sorely missed when it rides into the sunset.

The storytelling immediately recharges the Raylan vs. Boyd conflict.

The confrontation between Raylan and Boyd, in the works since the series began, imbues the series with some of the urgency it has lacked in recent seasons while it wasted time in the backwaters of Florida and in Detroit high-rises. And yet as rejuvenated as Justified feels, it can still be uncomfortably enamored with Raylan's bad behavior.
A worthy final episode. I'd grown very fond of this cast of characters. Not a false step in the entire six seasons of pure gold. No spoilers

A worthy final episode. I'd grown very fond of this cast of characters. Not a false step in the entire six seasons of pure gold. No spoilers but there was a very satisfying acquisition of a new hat. I'll miss it!

…

Expand

This show has always been great, however, season 6 isn't even finished air yet and it's already my favourite season of this show so far. This

This show has always been great, however, season 6 isn't even finished air yet and it's already my favourite season of this show so far. This show is definitely the best show on TV right now.

…

Expand

Justified's final season was everything that I wanted it to be and more. It contained more of what I loved about the show. Great performances,

Justified's final season was everything that I wanted it to be and more. It contained more of what I loved about the show. Great performances, great writing, great direction and some of the best characters I've ever seen (even the really minor ones that have less than one episode of screen time are really interesting).

But what makes this probably the best season in the history of the show is how it well it resolved the story. I won't spoil it, just watch it for yourself

…

Expand

Season 6 was a long journey, from fascinating to boring to fascinating again. It closed up most of its loops and closed the series with just

Season 6 was a long journey, from fascinating to boring to fascinating again. It closed up most of its loops and closed the series with just enough embellishment. It was a brilliant ending and one Elmore Leonard would've loved. This was exactly the ending the series needed. The character arcs ended is satisfying ways. Season 6 was an incredible season in spite of its duller moments. It was the capstone this series deserved.

…

Expand

This final season of justified feels better and more to the point than the last one because of the inevitable forthcoming conclusion. When

This final season of justified feels better and more to the point than the last one because of the inevitable forthcoming conclusion. When both the Marshall and the Villain both have strong enough arcs to have their own shows pitting them against each other makes for a modern day southern classic masterpiece. The impending doom looming over both of them and the colorful supporting cast makes it all the more nerve wracking, in a good way.

…

Expand

Well it is in the can and over with and it ended on a very good note, barring one annoyance.

This season focused on Boyd and Raylan?sWell it is in the can and over with and it ended on a very good note, barring one annoyance.

This season focused on Boyd and Raylan?s struggle, but involved Sam Elliott playing Avery Markham and Mary Steenburgen playing Katherine Hale as new bad guys in a tug of war between multiple groups. We also had a lot of Wynn Duffy which I personally enjoyed.

The season was perhaps the best one to date. The acting still really good, and the fact that almost all the side characters popped up in this (or were put down as the case may be). It was a really good send off for the series.

The only issue I had was the last 20 minutes of the season finale. I won?t say what happened other than it moves forward a few years to give sort of an epilogue, but I think that is where it did a disservice to the series. Not everything needs to be wrapped up completely and sometimes its best to leave things where they end, takes away from the climatic end.

Pros: Acting, story and pace were all great.

Cons: Sometimes its best to not have an epilogue, just leave it where it stands after the final climax.

Made me want to watch Deadwood, maybe I will do that.

…

Expand

The first few episodes of the final season of Justified are about as pleasurable as TV gets. Good stuff, as always, maybe even better so far

The first few episodes of the final season of Justified are about as pleasurable as TV gets. Good stuff, as always, maybe even better so far this year. I'll be extremely sad to see this show go, although thrilled to see it go out still in tip-top form.

…

Expand