Network:

Netflix

Series Premiere Date:

Dec 12, 2014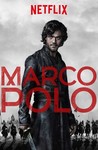 Summary:

The Netflix series explores the early days of Marco Polo's (Lorenzo Richelmy) time in the court of Kublai Khan (Benedict Wong).

Genre(s):

Drama

,

Action & Adventure
Season 1 premiere date:

Dec 12, 2014

Episode Length:

60
Please enter your birth date to watch this video:
You are not allowed to view this material at this time.
A fun, body-flinging, old-fashioned epic.... As Kublai Khan, British actor Benedict Wong gives an impressive performance, one of the best of the year: You absolutely believe his ruthlessness, his power and his calculating thoughtfulness. As Marco Polo, on the other hand, Italian actor Lorenzo Richelmy, who looks like a more lyrical Emile Hirsch, mostly has to be put up with.

Marco Polo's pilot blows. The premise is stale, a riff on the Western-white-guilt stranger-in-a-strange-land-goes-native genre.... Somewhere in the middle of episode 2, though, Marco Polo becomes surprisingly watchable. The filmmaking becomes bolder.

Marco Polo flits between storytelling styles without completely tying them together as successfully as "Game of Thrones" does.... By the fifth and sixth episodes the action picks up, the intrigue deepens and the stakes some higher.

While Marco Polo possesses scope, scale and an inordinate amount of exposed skin, the series exhibits only a sporadic pulse. That leaves a property that can be fun taken strictly on its own terms, but deficient in the binge-worthy qualities upon which Netflix's distribution system has relied.

Creatively, it's just a middling mess--something so average that a basic cable channel could have duplicated it without all the foreign travel for about $84 million less.

Clearly what Netflix hopes you'll see a big-bucks, prestige entertainment along the lines of that HBO fantasy epic, but in truth, Marco is far closer to one of those cheesy international syndicated adventures.

Marco Polo might best be utilized as a sedative or sleeping pill. All those dark to pitch black exteriors and interiors seem guaranteed to prompt an onset of heavy eyelids if not a complete conk-out. And if that doesn't get you, the ponderous pace almost certainly will.
Truly a superb show. The expensive production really shines in both CGI of structures, sets, costumes, sound, cinematography, and all other

Truly a superb show. The expensive production really shines in both CGI of structures, sets, costumes, sound, cinematography, and all other aspects that I could discern. There is a perfect balance of complex geopolitical scenes that highlight the culture and politics of the Mongols in the 13th century and also a tasteful amount of action.

This is another diamond in the rough drama series that rewards paying attention and where one will pickup more detail on future re-watches. But also one can watch it casually and still understand the plot.
Absolutely no characters seemed one dimensional and they all had colorful and dynamic backgrounds and interesting traits.
Sex scenes are also tastefully done unlike many TV-MA shows where they seem like filler and run on for way too long.

Cinematography: 5/5 - The colorful sets and outdoor scenes alike are breathtaking and really pull you in. I was fully absorbed within the first 10 minutes of watching.

Acting: 4/5 - I found the acting on the level of Game of Thrones and other hit drama series.
Plot: 5/5 - The most important aspect of any drama movie or TV series is the plot, in my opinion, and this does not disappoint. It goes into the complex geopolitics of the Mongols and explores it without dragging on, seeming like filler, or becoming boring.

Picture Quality: 4/5 - I watched in Super HD on a 40" display and did not notice any macroblocking or other common artifacts associated with bitrate starvation.
The only nitpick I have is the aspect ratio not being 16:9 as all other modern TV series are. However, the black bars are extremely minimal and nowhere near as big as movies often have so it was not distracting.

Audio: 5/5 - I only have a 2.0 sound system so I listened to the Stereo mix which sounds very different than the Dolby DD+ 5.1 mix - on my 2.0 system the Stereo mix sounded like it was optimized specifically for 2.0 systems rather than a cheap downmix from 5.1.
The musical score really adds to the tone and feel of the show and I find the quality of the compositions to rival John Williams or other big names in film.

…

Expand

I made an account just to review this because of the critics rating, this show was amazing. First two or three episodes maybe start off slow

I made an account just to review this because of the critics rating, this show was amazing. First two or three episodes maybe start off slow but that made it that much better, Marco is played wonderfully, the king, the chancellor everyone just perfect. it makes sens that it took 90 million to produce this amazing show

…

Expand

I was really enjoying the show and had watched the two seasons. What a pity that they have pulled the plug as the ratings were not good. I

I was really enjoying the show and had watched the two seasons. What a pity that they have pulled the plug as the ratings were not good. I guess the ratings have improved since then. Netflix should reconsider their decision.

…

Expand

This is my 1st review. Why was I compelled to go to the trouble of reviewing Marco Polo? Like many other user reviews, to help correct the

This is my 1st review. Why was I compelled to go to the trouble of reviewing Marco Polo? Like many other user reviews, to help correct the injustice that was the critic reviews.

Cinematography amazing, actors were fantastic, elements of history related to the time and region made it all the more interesting. Action scenes, especially in season finale, were great.

Bottom line: it was engaging. For about 50% of the TV series I try, I lose interest at about the 2nd episode and stop watching. Not the case with Marco Polo. I watched all 10 episodes in a week. Critics felt the story line was weak. I evidently disagree.

…

Expand

highly recommended if you are looking for drama
pros: Great drama, good politics, enjoyable characters.
cons: lack of action scenes untilhighly recommended if you are looking for drama
pros: Great drama, good politics, enjoyable characters.
cons: lack of action scenes until the very last episodes.

…

Expand

I'll say this: I'm very picky about the shows I invest my time in. This is one of those rare shows. There's just something about it. Maybe

I'll say this: I'm very picky about the shows I invest my time in. This is one of those rare shows. There's just something about it. Maybe it's the lavish set pieces and costumes or its Eastern flavor or the sweeping landscape backdrops. Whatever it is, it got me watching and talking and telling my friends to give it try. Sure, it borrows liberally from Game of Thrones but I found the captivating beauty and sheer scale of this production far outweighs the occasional imitative annoyances. Seeing the workmanship in crafting this epic alone is worth the price of admission. So give it try. You won't be disappointed.

…

Expand

This show makes me sick. It is just knockoff Game of Thrones, orientalism version. The tragedy is the show is not based on fantasy fiction.

This show makes me sick. It is just knockoff Game of Thrones, orientalism version. The tragedy is the show is not based on fantasy fiction. But you know nothing Jon Snow... This show is joke. I am so disappointed in Netflix.

…

Expand