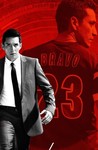 Starring:

Tanc Sade

,

Nicky Whelan

,

Alfred Molina

Summary:

DEA agent Tony "Matador" Bravo (Gabriel Luna) is recruited by the CIA and goes undercover as a professional soccer player with the L.A. Riot soccer team owned by billionaire Andres Galan (Alfred Molina).

Genre(s):

Drama

,

Action & Adventure
The show is fast-paced and sexy, but perhaps its secret weapon is the authenticity of Tony's character as a young Latino resident of the working class, largely Mexican American Boyle Heights area of Los Angeles.

The flavor is high-style retro-modern, high-style B-picture.

The show is a compendium of high-octane clichés, just clever enough that you can't call it stupid and just stupid enough that you can't call it clever.... There are three saving graces. One is the premise, which is enjoyably ludicrous.... The second saving grace is the multicultural cast and international flavor.... The third saving grace, certainly not to be underestimated, is Luna, who's got a marvelous Everyman quality.

Matador is definitely B-level--serviceable dialogue, not-quite-cartoonish characters, gimmicky editing--but it's not grindhouse.

Matador has the potential to be really fun, once the place-setting of the first episode is out of the way. But the show won't unlock that potential unless it fully buys into how ridiculous it can truly be.

The show plays like a slapdash effort, conceived less by creative spark than as the product of focus-group testing, with a dash of nostalgia thrown in.
I think the critics got it right here. Yes it comes off as a B-movie type of show but it absolutely has so much joy and revelry in the acting

I think the critics got it right here. Yes it comes off as a B-movie type of show but it absolutely has so much joy and revelry in the acting & the directing & the writing that you just can't help but have fun with the show. Alfred Molina is great and that the lead actor who plays bravo is extremely talented. Even the mail CIA handler is perversely funny. This is the second show on the El Rey network that I have watched after from dusk till Dawn and I'm really loving it. I'm so glad I found this channel.

…

Expand