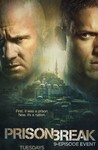 Starring:

Michael Rapaport

,

Jodi Lyn O'Keefe

,

William Fichtner

Summary:

Michael is reunited with Lincoln, as well as a couple of familiar faces, as they seek to rid themselves of The Company once and for all.

Genre(s):

Drama

,

Action & Adventure
Please enter your birth date to watch this video:
You are not allowed to view this material at this time.
Three major characters are killed tonight within the first hour of a pretty stellar premiere.

Now it must find a way to become more than a routine action drama pitting plucky good guys against amoral, robotic bad guys. It's got the characters who can do that, though, and it's also streamlined its story enough so even a new viewer can figure out what's going on from tonight's back-to-back premiere episodes.

It's especially good when the mission is as preposterous as this one. True to Prison Break form, the new season is laid out as a series of tasks, the retrieval of The Company's most vital information, stored on what is essentially a digital black book (as opposed to hole).

The frantically violent mayhem, including a tasteless cannibalism gag, is paced swiftly enough that you can almost ignore the silliness of a show that isn't above resurrecting characters long thought dead. Still, it beats last year's miserable detour in a Panamanian sweatbox.

I only made it through the first hour and then I gave up.
One of the best shows on tv.

Ammmmaaaaazzzzinngggg!!!!!!!!!!!! I was expecting great things from this show because i really liked the concept and it lived up to my expectations...

After 3 seasons.. this season is still keeping up the suspense and wit. i find the new season and the out of prison setting actually fresh.

After 3 seasons.. this season is still keeping up the suspense and wit. i find the new season and the out of prison setting actually fresh. enjoying this show alot. two thumbs up.

…

Expand

I thought that "Prison Break: Season 4" was better than Season 3. You really cannot trust any of the characters here. You think they're on the

I thought that "Prison Break: Season 4" was better than Season 3. You really cannot trust any of the characters here. You think they're on the good side, but it turns out you're wrong. And Sarah's back! Don't worry, that's not a spoiler, she gets introduced in the first episode.

…

Expand

Sure, it's not the most intellectual show on TV, but it's fun. I was entertained the entire time despite the suspension of

Sure, it's not the most intellectual show on TV, but it's fun. I was entertained the entire time despite the suspension of disbelief required. Far easier to watch than last season, I'll tune in next week.

…

Expand

Prison Break has always had a very fragile premise. The goal of the main characters is, by definition, extremely improbable. A million little

Prison Break has always had a very fragile premise. The goal of the main characters is, by definition, extremely improbable. A million little things have to fall in place every time for the plot to go on. At least previously they had been able to keep appearances, well enough for the average non-critic not to be upset. But this season has gone insane. The writers no longer care about justifying any of the events or even build up to them. They just throw as much as they can at you. The amount of twists and backstabs in here makes my head spin. What used to be a band of criminals is now the best covert ops group in the world, pulling multiple Mission Impossible's (c) per episode and randomly navigating through a web of confusing conspiracies.

The execution is still good though, if you can get past the fact that the writers are on cocaine.

…

Expand

I cannot say how stupid the story line is, and how they dont even pretend to try to have to make the remotest possible sense. i am forced to

I cannot say how stupid the story line is, and how they dont even pretend to try to have to make the remotest possible sense. i am forced to watch because i have to finish what i start but this is possibly the worst storyline I have seen in a decade. the hammy romantic scenes... the same music that always accompanies any scene where sarah tancredi's face happens to appear by chance.. somebody shoot me.

…

Expand