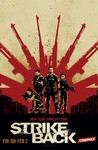 Starring:

Rhona Mitra

,

Rhashan Stone

,

Liam Garrigan

Summary:

Damien Scott (Sullivan Stapleton) is in Kenya and Michael Stonebridge (Philip Winchester) is training recruits before getting the call to return to Section 20 in the second season of the action series.

[In the United Kingdom, this is the third series and called Strike Back: Vengeance]

Genre(s):

Drama

,

Action & Adventure
Season 2 premiere date:

Aug 17, 2012

Episode Length:

60
Where it truly excels is in showing the emotional costs paid by the super soldiers doing their jobs and by the witnesses and/or victims of all the mayhem.

If it were just a collection of well-choreographed explosions and gunfire, it would still be an entertaining watch. But there's a genuine effort made to show the impact of all this mayhem on both the men perpetuating it and the people who are witnesses and/or victims to it.

Lots of location shots give Strike Back an unusually acute sense of realism, and the show wisely spends more time with the boys in the field than with the command unit back home.

Fun even when it's ludicrous, forgivable when the clichés fly.

It's the absurdly over-the-top machismo of countless firefights and explosions and high-body-count carnage that makes Strike Back such a cheese-tastic guilty pleasure.

Its hasty pace frequently muddles precisely who's who where, when or why. Even the zippy sex scenes play like another gratuitous burst of firepower.
Excellent start to the season. The addition of Rhona Mitra is already paying off. I honestly don't get where some reviewers are calling this

Excellent start to the season. The addition of Rhona Mitra is already paying off. I honestly don't get where some reviewers are calling this show a "guilty pleasure". Just because it's an action series doesn't make it any less credible, I guess you'd say, than something like Breaking Bad or Mad Men. If those shows could get away with what Cinemax can I bet they would be...

…

Expand

I Love Strike Back and will always, The 1st season was kick ass and so is the highly anticipated 2nd season, I am already for the 3rd season,

I Love Strike Back and will always, The 1st season was kick ass and so is the highly anticipated 2nd season, I am already for the 3rd season, I wish there were more tv series like this one. Keep on truckin Strike Back.

…

Expand

This is an overlooked gem of a show with great action. The fire fights are often better than what you see in big budget movies, and it's not

This is an overlooked gem of a show with great action. The fire fights are often better than what you see in big budget movies, and it's not so PC that it turns all the terrorists into blue eyed neo-nazis. Unfortunately, it's still got some "Skinemax" stink on it. They awkwardly shoehorn in soft core porn scenes straight out of Red Shoe Diaries. Who needs this cheesy crap? Real porn is readily available to anyone who wants it.

…

Expand

It's like Call of Duty: Black Ops meets your favorite buddy cop show. Surprisingly well put together and high budget action drama with an

It's like Call of Duty: Black Ops meets your favorite buddy cop show. Surprisingly well put together and high budget action drama with an extended mag of guns, explosions, adult language and a sidearm of sauce. The international flavor is particularly enjoyable with its mix of quality American and Brit actors (spot the Medic from Band of Brothers) and South African production base which allows for some believable and visually rich location shoots. The intense gun play and set pieces seem tactically correct and believable enough for us special sofa forces. There's a decent back story and the friendship between the two male leads keeps it interesting. It's fun watching them collect more scratches and bruises each episode.

…

Collapse