Network:

FOX

Series Premiere Date:

Sep 10, 2017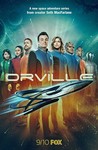 Starring:

Scott Grimes

,

Penny Johnson Jerald

,

Seth MacFarlane

Summary:

Set 300 years, Captain Ed Mercer (Seth MacFarlane) of the U.S.S. Orville and his crew -- that includes his ex-wife (Adrianne Palicki) and best friend (Scott Grimes) -- explore space and deal with life on a spaceship in Seth MacFarlane's sci-fi dramedy.

Genre(s):

Comedy

,

Drama

,

Science Fiction
Creator:

Seth MacFarlane

Season 1 premiere date:

Sep 10, 2017

Episode Length:

60
Please enter your birth date to watch this video:
You are not allowed to view this material at this time.
While the series is initially disjointed, by episode three I had gained some insight into what MacFarlane was striving for with The Orville.

The humor is more throwaway and often falls flat while a lot of the drama can become stiffly serious. It's not that the series is badly made. The action and effects are decent. The cast is fine, though the characters are still mostly unformed. ... Viewers may find the tone of series perplexing.

It's got top-notch special effects and terrific makeup (for its space-alien characters). But it just doesn't quite gel. At least not yet, anyway.

While The Orville clearly demonstrates its fondness for a show that promised to boldly go where others hadn't, it feels like MacFarlane and his crew are taking a sizable step backwards.

It's almost impossible to know whether there are too many jokes in The Orville or too few, both because the show doesn't seem at all confident in whether it should even be making jokes at all, and because the jokes that are in the show are bad.

At times, Orville feels like an uncomplicated paean to the original "Star Trek." There are a few moments of humor, but they feel half-hearted, almost as though someone said, "Hey, you created 'Family Guy.' Write something funny." At other times, the show wants to make social commentary.

An air of self-congratulation hangs over the entire hour, as if MacFarlane, who wrote it, couldn't get over his awe at his own bravery in engaging with a difficult, complex topic.
This show did its intended job ... it was funny & entertaining. The cast, set, and story line were spot on. The "pro critics" should either

This show did its intended job ... it was funny & entertaining. The cast, set, and story line were spot on. The "pro critics" should either get new jobs or stop reviewing shows of the genre. Generally speaking, pro critics know nothing about entertainment. Fire them all.

…

Expand

As a Star Trek devotee, from way back with the original series (born in early 60's) and having watched all the series and movies, I really

As a Star Trek devotee, from way back with the original series (born in early 60's) and having watched all the series and movies, I really love this show. It's funny and can be serious as well. Seth McFarland makes a great captain,

…

Expand

this is what Star Trek: Discovery was supposed to be. This is Star Trek in all its forms, it also has hilarious moments, granted, some fall a

this is what Star Trek: Discovery was supposed to be. This is Star Trek in all its forms, it also has hilarious moments, granted, some fall a bit short, but it is a great TV show!

…

Expand

If you're looking for the next generation of Star Trek - that's actually palatable - this is it. Modern, comedic, intriguing with good

If you're looking for the next generation of Star Trek - that's actually palatable - this is it. Modern, comedic, intriguing with good writing.

There are no political undertones or motives, just good new fashioned sci-fi. I hope there's many seasons to come.

…

Expand

Based on the Star Trek reddit, if you're a Trek fan, you'll probably like the show a lot. It's a great homage, which is why it's not super

Based on the Star Trek reddit, if you're a Trek fan, you'll probably like the show a lot. It's a great homage, which is why it's not super original. it's suppose to be derivative of Star Trek in addition to being satire. Those are my guesses why critics don't like the show.

Many critics, and negative reviews here are complaining the show doesn't know if it's a comedy or a drama. Does it have to fit in neatly into one genre? Another reviewer compared it to M*A*S*H, blending comedy and drama. I think it's a fair comparison (minus the laugh track).

he characters act or at least think more like real people around today than the culturally evolved Roddenberry Star Trek TNG characters. That seems to irk a lot of people, but who's to say human's are suppose to act that way in the future. Sure, they're a bit too quick with the humor to be realistic, but it's still comedic TV.

The plot of the pilot isn't super original, but the point of the pilot isn't the plot, but as an introduction to the show. It's arguably better than TNG's pilot episode.

Many feel the jokes fall flat, which is subjective. I don't enjoy Family Guy, but laughed at about half the jokes in this show. Others really loved it.

People who don't like the "dated" look of the show with it's non-gritty bright design aren't getting the Star Trek TNG roots of the show.

In summary, it's not super serious, but should be enjoyed by sci-fi fans, and Trek fans in particular.

…

Expand

With this first episode comes a surprisingly strong start to this sci-fi drama comedy. I watched with low expectations as Macfarlane's other

With this first episode comes a surprisingly strong start to this sci-fi drama comedy. I watched with low expectations as Macfarlane's other recent offerings have not been good. I liked early seasons of Family Guy and American Dad, but that's about it. With this show, I expected a more Galaxy Quest type parody of the classic trek format, but in reality this show is a true homage/love letter to classic TOS and TNG trek. The opening sizzle shots of the ship instantly reminded me of Star Trek: The Motion Picture and Encounter at Farpoint. The conflict and resolution to the first episode was clever and well written. The only thing it fell flat on was some of the humor. I could do without a penis joke. Everything else was almost perfect. A warm, optimistic sci-fi adventure show.

…

Expand

I've tried several times to watch this show and all I can do is laugh at its phony premise as being science fiction. This is more about Seth

I've tried several times to watch this show and all I can do is laugh at its phony premise as being science fiction. This is more about Seth McFarland than it is about telling a good story. Not only is the acting and the scripts terrible, it isn't even decent sci-fi. Forget it. YouTube has better stories than this junk.

…

Expand