Publisher:

EA Games

Release Date:

Sep 15, 2002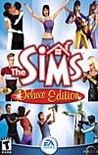 Summary:

The Sims Deluxe Edition combines into one premium edition the most popular PC game of all time The Sims as well as the top-selling Sims expansion pack, The Sims Livin' Large, and a host of all new exclusive features and content. [Electronic Arts]
Developer:

Maxis

Genre(s):

Miscellaneous

,

Virtual Life

,

Compilation

Cheats:

On GameFAQs

Rating:

T
If you haven't yet experienced the Sims phenomenon, the new Deluxe package is a great way to get your feet wet. Guiding your sims through their lives can be a very challenging and rewarding experience. It's also just plain fun.

The bottom line is that if you're buying The Sims for the first time, whether for yourself or for someone else, you should definitely choose The Sims Deluxe.

If this weren't a re-release or the Creator worked a little better I'd probably give it a 10.

If you haven't experienced The Sims before, now's your chance. This bundle will provide you with plenty of gameplay and introduce you to the enjoyable addiction that The Sims can be.

The added tools and features will give you a reason to dust off that sim family you may have forgotten about.
This game rocks!!!! The sims in general rocks all of the games. I LOVE making people then running their lives!!... it rocks

I Luv the SIMS! If u r goin 2 get any Sims game, get the Deluxe Edition! It's the bomb!

This game is totally awesome! It's the bomb!

This game is a perfect game for any one who's looking for a fun and exciting game to keep them busy.

Si tu primera toma de contacto fue con esta edición felicidades, es lo que le hacía falta a la pobre falta de contenido de la versión

Si tu primera toma de contacto fue con esta edición felicidades, es lo que le hacía falta a la pobre falta de contenido de la versión original. Muchos de los añadidos que trae esta versión son de lo mejor del primer juego emblemático de Maxis, y el precio al que se lanzó fue el mismo que el de la versión original. Una forma de permanecer en el mercado, pero bueno, ofrece contenido aplaudible.

…

Expand