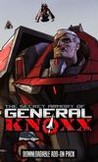 Summary:

(Downloadable Content) Borderlands goes to ELEVEN! You may have seen some games raise their level cap by 5, or maybe even 10, but with The Crimson Lance Assassination Squads wreaking havoc and Crawmerax the Invincible being all invulnerable and stuff we knew you'd need more than just 10.

(Downloadable Content) Borderlands goes to ELEVEN! You may have seen some games raise their level cap by 5, or maybe even 10, but with The Crimson Lance Assassination Squads wreaking havoc and Crawmerax the Invincible being all invulnerable and stuff we knew you'd need more than just 10. And that's why Borderlands goes to ELEVEN! The Secret Armory of General Knoxx is an add-on pack for Borderlands that adds new guns, new Class Mods, new vehicles, new missions, new enemy types, and increases the level cap to 61. [Xbox.com]

…

Expand
Developer:

Gearbox Software

Genre(s):

Action

,

Shooter

,

Shooter

,

First-Person

,

Sci-Fi

,

Sci-Fi

,

Arcade

Cheats:

On GameFAQs

Rating:

M
Please enter your birth date to watch this video:
You are not allowed to view this material at this time.
Borderlands: Claptrap's New Robot Revolution Official Trailer
Easily the best piece of DLC we've seen this year. [Issue#191, p.92]

The new content makes the game feel fresh once again, and the size and scope are absolutely amazing when you consider this is a download-only expansion. It is sad that this may in fact be the final DLC for the game, but if it is, what an incredible way to go out.

The truth is, when it comes to DLC, nobody is doing this stuff as well as Gearbox's team at the moment.

The best DLC available for Borderlands - An absolute must-buy for fans. [May 2010, p.83]

The Secret Armory of General Knoxx does a great job of both extending the Borderlands gameplay and bringing new elements like creatures, weapons and the new level cap.

General Knoxx may suffer some as a result of all of the fiddling, but in the missteps you can see the start of something bigger than what Borderlands was originally intended to be.

It is funny, but the fact that it is so big makes large portions of the game seem like a boring chore.
By far the best out of the three DLC packs. Higher level cap, new enemies, a HUGE new world to explore, what else could you ask for, a

By far the best out of the three DLC packs. Higher level cap, new enemies, a HUGE new world to explore, what else could you ask for, a million dollars? To say that this DLC pack needed anything else would be being extremely greedy in my eyes. Perfect. 10/10

…

Expand

There's alot of fun to be had with this DLC. New cars. New guns (pearlecent). New enemies. NPCs are funnier than before and better developed.

There's alot of fun to be had with this DLC. New cars. New guns (pearlecent). New enemies. NPCs are funnier than before and better developed. Level cap to 61 is a good addition. Worth a try.

…

Expand