Publisher:

Ubisoft

Release Date:

Dec 5, 2006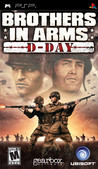 Summary:

Experience the intensity of WWII through the stories of Sergeants Baker and Hartsock and your squad of paratroopers during the Normandy invasion. Brothers In Arms D-Day brings players the best of the Brothers In Arms franchise in a handheld gaming system. Players experience D-Day as a

Experience the intensity of WWII through the stories of Sergeants Baker and Hartsock and your squad of paratroopers during the Normandy invasion. Brothers In Arms D-Day brings players the best of the Brothers In Arms franchise in a handheld gaming system. Players experience D-Day as a Screaming Eagle with more tactics and action exclusive to the PSP system. Now players can surprise the enemy for the ultimate advantage in firefights, leading a fire team throughout the entire Normandy campaign. For the first time, players will also be able to lead a bazooka team, order their squad on an MG42, or fire mortar rounds. An enhanced co-op mode (Skirmish) offers players a 12-mission campaign. Co-op multiplayer (Skirmish mode): Play with a friend over ad hoc (wireless) through 12 different Skirmish missions in four different game modes through the co-op campaign. [Ubisoft]

…

Expand
Developer:

Ubisoft Shanghai

Genre(s):

Action

,

Shooter

,

Shooter

,

First-Person

,

Historic

,

Historic

,

Arcade

# of players:

1-2

Cheats:

On GameFAQs

Rating:

M
Please enter your birth date to watch this video:
You are not allowed to view this material at this time.
Brothers in Arms D-Day Gameplay Movie 1
The levels themselves are a combination of some from past games and new ones, so it's not massively fresh for players of previous games. That aside, this is top strategic shooting stuff. [Feb 2007, p.65]

Though it has some faults, Brothers in Arms: D-Day retains the heart of what made the console versions stand out, and it's an excellent choice for tactical war game fans looking to exercise their brains as much as their trigger fingers.

This is quite long and has stacks of replay value with the multiplayer. That multiplayer mode will be hugely satisfying to anyone who happens to know someone else with a PSP (gasp!) and it represents further evidence that 2006 is the year of co-op gaming.

Sloppy controls and a few AI issues sabotage much of the fun. That aside, a little spit and polish would have gone a very long way.

Official Playstation 2 Magazine UK

A solid attempt to bring the gritty realism of war to handheld, but shooter-nuts are better off sticking with "Medal of Honor Heroes." [Jan 2007, p.88]

Dodgy controls and poor AI ruin what should have been a belter. [Feb 2007, p.74]

D-Day's strategic undertones are welcome, but overall the game is too drawn out and generally lacking in tension to truly captivate, other than in short sporadic bursts.
This is by far the best WW2 FPS available on PSP. I also have Call of Duty Roads to Victory and this game is superior. The graphics are

This is by far the best WW2 FPS available on PSP. I also have Call of Duty Roads to Victory and this game is superior. The graphics are simply stunning, better than the Brothers in Arms PS2 versions, and I find the control is ironically even better than the PC BIA versions - on the PSP you can actually hit head shots at long range with the iron sights! Plus all the best missions from the first two BIA are in this plus skirmish mode so it is a massive game that gives you value for your money. The fun co-op alone makes this a must buy.

…

Expand

Looks good from pics and sounds cool, should be brilliant if it is like the other2 games.

Wow is this game great. I got it a couple days ago and it turned out that it was great. The controls were no problem, the graphics were

Wow is this game great. I got it a couple days ago and it turned out that it was great. The controls were no problem, the graphics were beautiful, the game was around 10 HOURS long! That is extremely long for a PSP shooter. I am ready to play the story mode around 10 more times, because it is soooo fun.

…

Expand

This is a port of the console game, and remarkably well-done at that. The tactical element is dumbed down, but the fps elements are

This is a port of the console game, and remarkably well-done at that. The tactical element is dumbed down, but the fps elements are alarmingly on the mark. The main problem with the game is a complicated control scheme (not for the new player or casual gamer) and the fact that you will regularly be shooting at nazis you can't even see.....but of course they can see you while you squint at the screen to figure out who keep killing you. Not bad.....but I found MoH Heroes a better WWII portable game, more "tiny screen friendly."

…

Expand

This game is confused, the fps element is bad, the tactics part rocks. Its misadvertised, but the controls are for tactics. If your looking

This game is confused, the fps element is bad, the tactics part rocks. Its misadvertised, but the controls are for tactics. If your looking for a great fps for the psp, get medal of honor, if your looking for an awesome brain game, buy this, because you ant just charge your enemy, you need to use the environment to your advantage, so don't expect Halo or Call of Duty, expect tactics with a bit of action.

…

Expand
| | |
| --- | --- |
| 79 | |
| 41 | #41 Most Discussed PSP Game of 2006 |
| 44 | #44 Most Shared PSP Game of 2006 |