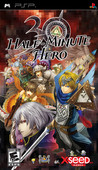 Summary:
As the last wandering sage and final hope for humanity, it is up to the protagonist to somehow transcend time and death to unite these legends and their unique powers in one last battle against the ultimate evil lord. Fast-paced Action for Instant Gratification - A fresh new way to play games, clearing stages in 30-second intervals. Four Completely Different and Unique Game Play Modes - Four distinct storylines and modes that encompass an action RPG, a shooter, an escort mission, and a strategy game, keep the gameplay fresh and varied. [Xseed]
| | |
| --- | --- |
| Rating: | E10+ |
| Official Site: | http://www.halfminutehero.com/ |
| Developer: | Opus |
| Genre(s): | Role-Playing, General, General |
| ESRB Descriptors: | Animated Blood Language Mild Fantasy Violence Mild Suggestive Themes |
Designer/Producer/Programmer credits provided by
GameFAQs
.
If you contributed to this game and feel you should be credited, please read our
FAQ
.
| | |
| --- | --- |
| 6 | |
| 21 | #21 Most Discussed PSP Game of 2009 |
| 21 | #21 Most Shared PSP Game of 2009 |