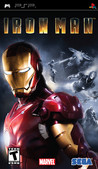 Summary:

Iron Man, an explosive third-person action shooter game that pits one of the world's most renowned Super Heroes against unspeakable odds, draws its story from the upcoming movie while also incorporating story elements from original Iron Man comic books. Using the advanced technology in Iron

Iron Man, an explosive third-person action shooter game that pits one of the world's most renowned Super Heroes against unspeakable odds, draws its story from the upcoming movie while also incorporating story elements from original Iron Man comic books. Using the advanced technology in Iron Man's suits of armour, gamers can take advantage of the wide array of high-impact weapons to strategically annihilate any enemy force standing in their way. Before tackling stunning and immense open battlefields, players can customise their armour suit as they encounter progressively more vicious enemies, and fight in epic battles that could challenge even the toughest Super Heroes. [Sega]

…

Expand
Developer:

Artificial Mind and Movement

Genre(s):

Action

,

General

,

General

# of players:

No Online Multiplayer

Cheats:

On GameFAQs

Rating:

T
The levels are linear, the visuals are ho-hum, the story is lame and the cutscenes are bad. This game doesn't excel at anything.

Visually disappointing, lacking in challenge and generally not that much fun, Iron Man singularly fails to communicate the excitement found in its big screen counterpart.

Enough effort was put into the gameplay and graphical design to keep it from crashing and burning, but not enough to inject it with any sort of life or appeal.

The majority of missions have you destroying weapons and taking down terrorists. The bonus levels are just rehashes of things from single-player. There's little to hold your attention for very long.

In case you're not interested in Tony Stark's adventures, there are much better games.

A by-the-numbers affair unlikely to rouse most action fans. Maybe you won't toss your controller in a fit of rage (unlike the frustrating PS3/360 games), but with gameplay and presentation this uninteresting, do you even need pick it up to begin with?

In the end, there's no real reason to play this game. Combat is dull and unchallenging and the flying mechanics are twitchy and unresponsive.
Give the controls some time and this game rewards you in spades! Completed this on formidable, died a few times until I sussed out the best

Give the controls some time and this game rewards you in spades! Completed this on formidable, died a few times until I sussed out the best armour configuration for my style of play. Wading into a fortified area is no problem as long as you keep on your toes. Just remember to use chaff often (as in every 5 seconds over a base with AAAs) and 'rapid fire unibeam' the helicopters/jets.

…

Expand

Let me start by saying the controls are fantastic I was amazed how well the controls work, the sound is also very impressive, the graphics are

Let me start by saying the controls are fantastic I was amazed how well the controls work, the sound is also very impressive, the graphics are great during the cutscenes and pretty good the rest of the game, it's a blast to play, it has some great things to unlock like artwork and other costumes, my only complaints are that it's a little too easy there was really only one hard part, and it's hard to control yourself when your using the maximum speed, other than that it's a fun game that I would highly recommend to a PSP owner.

…

Expand

I'm no fan of video games based on movies as much as the next guy, but surprisingly, I kinda enjoyed this game. Sure the graphics could've

I'm no fan of video games based on movies as much as the next guy, but surprisingly, I kinda enjoyed this game. Sure the graphics could've been better, but overall, I still enjoyed it.

…

Expand

this game is fun to begin with but only has 13 missions and I promise you that its so easy you are not gonna lose one life, really. The

this game is fun to begin with but only has 13 missions and I promise you that its so easy you are not gonna lose one life, really. The graphics are good for the psp. Gameplay is also nice. But what I hate about this game is the camera angles. I mean its so hard to aim your repulsors or your missiles at the enemy. But overall its a great game. There are a lot of bonuses and unlockable clip arts. You can upgrade your suit with better weapons and armor. And You can also unlock other Ironman Costumes like the stealth costume and the mark 1 , and etc. So if you love Ironman and you have a psp you should buy this game.

…

Expand

By far the worst game I have ever played on psp. Horrible graphics, uninteresting game play, repetitive music, and way too easy, even on hard

By far the worst game I have ever played on psp. Horrible graphics, uninteresting game play, repetitive music, and way too easy, even on hard mode. It was so bad, that after 6 levels I traded my game back in!!!!

…

Expand

What a lousy game. Poor introduction. Poor graphics. Gameplay is totally unfriendly. 1 word it sucks....Better saves the money for other big

What a lousy game. Poor introduction. Poor graphics. Gameplay is totally unfriendly. 1 word it sucks....Better saves the money for other big titles than choosing this game. Poor!!! Very very Poor!!!!

…

Expand
| | |
| --- | --- |
| 48 | |
| 12 | #12 Most Discussed PSP Game of 2008 |