Publisher:

THQ

Release Date:

Jun 28, 2006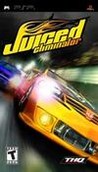 Summary:

Juiced: Eliminator captures the look and feel of Juiced while building on its success with the addition of new cars, tracks, characters and game modes. The built-in wireless connectivity on the PSP lends itself to expanding the multi-player options, including multiplayer crew races, pink

Juiced: Eliminator captures the look and feel of Juiced while building on its success with the addition of new cars, tracks, characters and game modes. The built-in wireless connectivity on the PSP lends itself to expanding the multi-player options, including multiplayer crew races, pink slip racing and the all new 'Eliminator' mode where the slowest driver per lap is removed from the competition, and the winner is the last one left in the race. Key features include: All new 'ad-hoc' multiplayer games, 8 new characters and crews, 2 new locations each with 8 unique tracks, 9 new cars with over 100 new body-kit components, new single player game modes, re-styled menus, improved career mode progression, and all-new full-screen post-race movies. [THQ]

…

Expand
Developer:

Juice Games

Genre(s):

Driving

,

Racing

,

Simulation

,

GT / Street

,

GT / Street

,

Automobile

# of players:

1-6

Cheats:

On GameFAQs

Rating:

T
The engine could do with some extra juice, but this is still a vastly rewarding racer. [Aug 2006, p.80]

The controls are a little unresponsive and it all becomes a bit painful after a while. [Sept 2006, p.84]

Juiced is an underrated gem of a racer that gives you a completely different take on the overcrowded street racing market... on the PS2. On the PSP, this core is still there, but it's so rough around the edges that it's trumped by less ambitious racers.

The generic tracks and emphasis on controlled racing really drains the excitement out of the title, making it a hard sell to any but the most hardcore of tuner fans.

It's too bad the core driving model is so flawed, since Juiced could have been a lot more fun with either tighter handling or more spacious course designs.

It's a content-packed, well-produced handheld game - they can put that on the box if they want - but the racing's a bit boring, the load-delays are too regular and too long, it's very punishing when you start getting somewhere, and the lack of online options hurts it.

Juiced: Eliminator isn't bottom of the barrel, but it comes in at a distant third when the underground racing genre has already gone well into its life span, and that's not good news.
Its an ok racer, the Steering feels well dodgy to start and you can find yourself going all over the place, but after a while you sort of get

Its an ok racer, the Steering feels well dodgy to start and you can find yourself going all over the place, but after a while you sort of get the hang of it. I didn't much like this on me PS2, but it seems to work better on the PSP. If you want a racer though, spend your cash on Race Driver 2006, or Burnout Legends, they be much better. But if you see it going cheap its worth a look, just not a stare.

…

Expand
| | |
| --- | --- |
| 81 | |
| 86 | #86 Most Shared PSP Game of 2006 |