Publisher:

Konami

Release Date:

Jun 8, 2010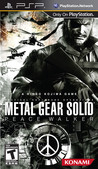 Summary:

METAL GEAR SOLID: PEACE WALKER takes the series in an exciting new direction with incredible visuals, as it sheds new light on well-known adversaries and allies, along with a wealth of new characters. In true METAL GEAR SOLID tradition, METAL GEAR SOLID: PEACE WALKER drops the player into a

METAL GEAR SOLID: PEACE WALKER takes the series in an exciting new direction with incredible visuals, as it sheds new light on well-known adversaries and allies, along with a wealth of new characters. In true METAL GEAR SOLID tradition, METAL GEAR SOLID: PEACE WALKER drops the player into a series of hostile scenarios, as a terrible plan for world domination is revealed. In addition to solo operations, players can team up via the game's multi-player CO-OPS (CO-operative OPerationS) mode. This extends to key gameplay advances, with players administering medical help to colleagues, sharing munitions, or providing cover for each other using the Snake formation to cover each other's blind spots. [Konami]

…

Expand
Developer:

Kojima Productions

Genre(s):

Action Adventure

,

Modern

,

General

,

Modern

# of players:

No Online Multiplayer

Cheats:

On GameFAQs

Rating:

T
Please enter your birth date to watch this video:
You are not allowed to view this material at this time.
Metal Gear Solid: Peace Walker Paradise Trailer
There is so much here to play; it's very much two games in one. Not only do you have the single player campaign to play through, which can also be done via adhoc Co-Op, but there's also a 6 player competitive mode like Metal Gear Online.

Fans of the series will like this installment and newcomers to Metal Gear Solid like me will enjoy it as well.

A masterclass in how to make a game truly suited to the PSP. [Issue#193, p.82]

Playstation: The Official Magazine (US)

Kojima's team did the best they could and it's more than good enough to call Peace Walker a genuine Metal Gear Solid 5. [Aug 2010, p.76]

Metal Gear Solid: Peace Walker is as ambitious PSP game, and a worthy follow-up to previous entries. Snake is back, and with Hideo Kojima exploiting our political apprehension and love for espionage thrillers, Peace Walker easily offers one of the best experiences on Sony's handheld.

Metal Gear Solid: Peace Walker has something for everyone. From its dynamically rich presentation and narrative, to its slowed down creeping gameplay, Peace Walker is a full Metal Gear Solid game in every sense.

Horrendous difficulty spikes aside, Peace Walker is great. It has all the blisteringly beautiful visuals, impressive production values and rewarding stealth gameplay you expect from a Metal Gear game.
oh my god... this game has sooo much content... like 80 hr of content.... its all great, more of a console game than a handheld game. the most

oh my god... this game has sooo much content... like 80 hr of content.... its all great, more of a console game than a handheld game. the most bang for your buck. the only problem is initially overcoming the controls, once u get used to them tho its all amazing. teh best psp game avaliable

…

Expand

Are you blind people? this games only 8.7 ? 9.0 this is real score for this masterpiece ,much more better story than boring Death Stranding

Are you blind people? this games only 8.7 ? 9.0 this is real score for this masterpiece ,much more better story than boring Death Stranding HALO PEOPLE WAKE up and high score this brilliant game.

…

Expand

I spent 57:28 hours playing this beautiful game. That's something to tell about this game.

It is a great nostalgic journey through MGS folklore. By far the best game on the psp. A 9/10 taking into consideration the limitations of the

It is a great nostalgic journey through MGS folklore. By far the best game on the psp. A 9/10 taking into consideration the limitations of the psp. Its intelligent design using limited resources. A real old school approach. And if youre not dancing along to the music during THAT fight then you have no soul.

…

Expand

In the final days of the PSP, this masterpiece came about. This game is the ending fanfare to the great (albeit flawed) PSP.

Can youIn the final days of the PSP, this masterpiece came about. This game is the ending fanfare to the great (albeit flawed) PSP.

Can you believe that the biggest MGS game is on the small PSP? And yes, this is everything you'd expect from an MGS game. The biggest addition is the management of your base. You may spent 60% of your time here, but trust me, it's FUN. You can also capture enemy soldiers and recruit them (yep, just like Portable Ops). The story is also quite emotional. You however should play MGS3 before playing this, as the story is heavily based on it. See how Big Boss deals with and confronts his past, and how he created Outer Heaven.

If you have a PSP, get it. If you don't have a PSP, then it's on the MGS Collection for PS3 and 360, so you have no excuse. That said, get the PS3/360 version as the controls are better.

…

Expand

Pretty good. Although it took me until the Xbox 360 and PS3 version to make me decide "this game is massive and brilliant!" It was mainly

Pretty good. Although it took me until the Xbox 360 and PS3 version to make me decide "this game is massive and brilliant!" It was mainly because of controls. Regardless, this is a great game despite some big flaws.

…

Expand

This game should be called SNAKE'S REVENGE 2: Big Boss Revenge, because this is game as bad as 1st version of Metal Gear 2, known as Snake's

This game should be called SNAKE'S REVENGE 2: Big Boss Revenge, because this is game as bad as 1st version of Metal Gear 2, known as Snake's revenge was.
Before blind fanboys started to drop bricks out of their body and yelling that im not a fan of MGS and should GTFO let me introduce myself: I played Metal Gear since 1990 year, when most of you, kids, not even existed in this word, i started from both Metal Gear and Metal Gear 2: Solid Snake on MSX, and i played every freaking game of series on every platform during 22 years, i know every detail about story better than Kojima knows his story, in Russian fan community im a well known as "alive walking bipedal MGS encyclopedia" and i could tell you whole story better than MGS database or wikia, in addition to this im admin and co-owner of most popular russian MGS community site and biggest social network group dedicated to Metal Gear series and Hideo Kojima... but im not a fan, I am a true connoisseur of Metal Gear series (some people call us hardcore orthodox fans), and i hate been called a fan. Because there is a difference - fan is usually a blind brainless zombie who will buy and love automatically everything with favorite title on the box, and true connoisseur have brains, not blind, can see whats good and whats bad in fav ttitle, and isnt tied to title, but tied to the core of awesomeness of this title and do not accept everything with title, especially if this everything have nothing else but title, and the core of awesomeness of original is lost.
This is what happened to Snake Revenge and BigBoss Revenge aka PeaceWalker - despite this game have Metal Gear Solid title and shares some character and tries to glue MGS3 and MG1, its lost core of awesomeness of original MG and MGS, and its totally not acceptable as MGS game!
Why? 1st the story (MINOR SPOILERS AHEAD) - its adds nothing but a nonsense far-fetched slapstick in best tradition of the cheapest and most stupid commercial anime, whole Outer-Heaven and Patriots idea was already explained in Portable ops, and back then it was more like a traditional MGS game story-wise, not its explains unnecessary things so stupid way so it adds nothing but frustration and ocean of plot-holes. Metal Gears in 1974 have AI that sings a songs, and they looks tech-more advance than any metal gear from 1995-2015 era (MG1-MGS4 - why the heck the pilot needed for it they had AI in 1974?), add to this stupidity of Boss ghost in this machine, loli-teen-super-double-agent-girl Paz, gay looking Miller with wrong age and face of Liquid (while in MG2 he was asian brunet), and more stupid RETCONs, metacritic dont have enough of space to explain this full... but trust me this game story should be totally retconed out of MGS timeline and forgotten just like Snake's Revenge.
Not gameplay: THIS IS ISNT STEALTH GAME! AI is dumber than in original MGS1 on PSone, they are blind, deaf, stupid and rushing like tanks, u cant crawl anymore, cant move when pushed yourself to wall, cant move bodies, instead you can shoot stupid baloons into their asses so they can fly high through the ceiling like some ghost (how come Kojima could not prevent usage of fulton indoors?), stupid love, tank, ambulance and other weird boxes, stupid motherbase managment, tinny boring levels, awful controls (which was much better in portable ops btw), terrible frustrating akwardk, clunky and fuzzy action oriented gameplay, totally unrealistic and too conditional gameplay (oh lets pretend that this heavy-armored Snake is silent and invisible like a ninja ghost! lets pretend nobody hear they heli when we use fultons, lets pretend nobody hear sound of explosion, lets pretend you cant crawl and do most of things you was able to do since Metal Gear 2) - after Splinter Cell, Hitman, Riddick and Thief - this utter crap doesnt even smell like stealth and makes me want to puke and burn PW UMD (btw google for it, we actually going to burn PeaceWalker disk in fire for all the frustration it gave us)... this game lost everything good most of us love MG1-2 and MGS1-2 for! This is poorly designed, poorly written awkward unnecessary sequel to a finished Metal Gear story (which also screws up storyline pretty bad by many plot holes and stupidity that should not be in MGS time line) by a tired Kojima, who already jumped the shark and really needs to stop making unwanted MGS sequels after MGS 4 and should move on to something else. Konami gone Activision and turned MGS into their Call of Duty and milking that dead cow every year now, and this milk smells and tastes more and more like a rotten dead body, which should have been buried few years ago and rest in peace now, instead of peace walking . And Peace walker is that poisonous milk that makes me sick and forces me to puke!
MGS & MGS 2 was real masterpieces, while PeaceWalker exploits their success just like Snake's Revenge and casts the shadow of shame on entire series, it should not exist at all as well as MGS 5!

…

Expand
| | |
| --- | --- |
| 2 | |
| 1 | #1 Most Discussed PSP Game of 2010 |
| 4 | #4 Most Shared PSP Game of 2010 |