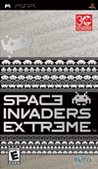 Summary:
New Look: The classic design of the original SPACE INVADERS, now with revamped graphics and new background movies that add to the game's excitement. New Music: Get in the groove with up-beat techno tunes that are synched to gameplay. New Mini-Games: Experience varied gameplay with mini-games (Rounds) that are launched mid-game – they add to the fun, and are a good way to rack up points. New Twists: Discover exciting twists to the classic game that provide swift, fast-paced game play. New Multiplayer Element: Battle against a friend with the all-new multiplayer element, available on both platforms. [Taito]
| | |
| --- | --- |
| Rating: | E |
| Official Site: | http://www.taito.co.jp/english/csm/sie/ |
| Developer: | Taito Corporation |
| Genre(s): | Action, Shooter, Shooter, Static, Static, Shoot-'Em-Up, Vertical |
| Number of Players: | 1 Player |
| Connectivity: | Wi-Fi |
| Online Modes: | Competitive |
| Number of Online Players: | 2 Players Online |
Designer/Producer/Programmer credits provided by
GameFAQs
.
If you contributed to this game and feel you should be credited, please read our
FAQ
.
| | |
| --- | --- |
| 4 | |
| 13 | #13 Most Discussed PSP Game of 2008 |
| 22 | #22 Most Shared PSP Game of 2008 |