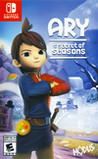 Summary:

Journey across the magnificent world of Valdi! Ary and the Secret of Seasons is an award-winning adventure game following a young girl named Aryelle, or Ary, as she journeys across the great world of Valdi. By becoming the Guardian of Winter, Ary gains the ability to manipulate the seasons

Journey across the magnificent world of Valdi! Ary and the Secret of Seasons is an award-winning adventure game following a young girl named Aryelle, or Ary, as she journeys across the great world of Valdi. By becoming the Guardian of Winter, Ary gains the ability to manipulate the seasons around her. Ary will learn to control the seasons and use them to defeat enemies, overcome obstacles, and solve complex puzzles on her adventure across Valdi. Long ago, the world of Valdi was threatened by an evil mage. After a great struggle, he was defeated by the Legendary Warrior and sealed inside the Vault, imprisoned for all eternity. To ensure the mage's imprisonment, four great sages swore to keep watch and protect the Vault. They formed the original Guardians of Seasons, a secretive organization now steeped in history and legend. After a mysterious force throws the seasons of Valdi into disarray, Ary decides to assist the Guardians of Seasons and sets out to find the source of the mayhem. Using her wits and courage, Ary will have to overcome monstrous enemies, secret plots, and stuffy traditions to save Valdi and bring balance to the world once more.

…

Expand
Developer:

Exiin

Genre(s):

Action Adventure

,

General

# of players:

No Online Multiplayer

Cheats:

On GameFAQs

Available On:

Stadia

Rating:

E10+
Personally, I thought Ary and the Secret of Seasons was worth it, but you'd be well within your rights to figure it's more trouble than it's worth, and look elsewhere for your Zelda-like needs.

Ary and the Secret of Seasons has an original concept and an appealing look to it. The game lets you control the seasons to create platforms or open up other ways to progress. In the open world you can find a lot of things to do which keep you busy for hours. There is simply a lot to discover in the game. But unfortunately there are a lot of flaws. The game has tons of glitches, a faulty camera and crashes sometimes. Thanks to this the great concept turned out to be a mediocre title, even for 40 euros.

The graphics are average at best and don't look anywhere near as good as its PS4/Xbox One counterpart, and the number of bugs becomes a bit exasperating after a while. Regardless, Ary and the Secret of Seasons makes up for this with a well-told story, a fantastic gameplay mechanic centred around seasons, and a well-realised world filled with unique characters. It's not a game we'd urge you to rush out and purchase immediately, but if you're after an action-adventure fix, you could do a lot worse.

Nintendo Force Magazine

Apr 28, 2021

Let's chalk this one up to a fairly young development team biting off a bit more than they can chew and hope that their next effort is a little less ambitious and a lot more polished. [Issue #49 – November/December 2020, p. 73]

Ary and the Secret of Seasons is a flawed game in any form, but the Switch version's particular failings will likely push it over the edge for many. There is a fascinating and fun concept at its core that is executed well, however its surrounding elements just aren't all there. The world isn't fun to explore and large gaps of emptiness can be found throughout. Glitches and performance problems abound, especially when playing docked. All that being said, I can't completely write it off in general. There are the bones of a fun and inventive game here. I had a blast playing an earlier demo on PC but the Switch just isn't able to deliver that. While I can't recommend the Switch version, this may still be worth checking out in some other form.

Ary and the Secret of Seasons really just needed a little more time in the oven. The foundations are there: solid dungeon design, a clean and colourful aesthetic, and a robust combat system. It just needs a little more though - something extra to do in the open world, some more finely tuned pacing and progression, and most importantly a proper QA run to make sure that everything actually functions. I can't recommend you go visit the land of Valdi in its current state, but hopefully the developers can tweak some code and make this fairly competent adventure playable.

It's clear that Ary and the Secret of Seasons has very good ideas and a concept behind it that took a lot of work. At the same time, the game suffers from obvious technical issues that keep it from achieving its full potential. While the audio component might be a bliss, the game's excessively long and frequent loading times, its inconsistent visual performance and an unbalanced pace will make the players feel like their experience is being harmed or disrupted, which is a clear loss for a game that had a lot of elements that could deliver a memorable, exquisite gameplay.
I've played many games over the years that could be charitably described as "Zelda Clones", games like Okami, Beyond Good and Evil and even

I've played many games over the years that could be charitably described as "Zelda Clones", games like Okami, Beyond Good and Evil and even Darksiders were heavily influenced by the long running series. But in those cases the games at least changed up the formula enough to make it their own, Ary and the Secret of Seasons however doesn't feel like a clone, it just feels like a Zelda Knockoff. Something you'd find at a Kmart in generic brand packaging.

Ary is a young girl from the village of Yule where she lives with her parents, her brother has gone missing and is feared dead and her mourning father is unable to hold his duty as the Guardian of Winter. In this world, all four seasons are protected over by Guardians and crystals, until the entire balance is thrown off by giant red crystals that fall from the sky and change the weather and an army of hyenas.

Ary is determined to take responsibility as guardian and hopefully find her brother as well, at first her mum is like "I can't lose another child" but 5 minutes and a haircut later she's all hugging and "make me proud", I find it very frustrating when characters will just do a complete 180 at a drop of the hat with no build-up, But I find it more annoying when we bring in characters with no introduction whatsoever. As we start on our journey we meet a Panda Sensei and travelling merchant with no understanding who they are or how they know Ary.

The main feature of Ary is the ability to change seasons, usually, it will just appear as a small orb around you. But you are able to expand your powers thanks to monoliths around the area. This helps to create platforms out of ice or even walking underwater. The concept is actually pretty brilliant to be honest and its really cool seeing a winter wonderland suddenly turn into the middle of the Sahara at the press of a button.

However, while the main mechanic is undoubtedly interesting at its core, everything else feels like an unfinished mess. There are some well-designed towns to visit, but none of the buildings can be entered and people just stand like statues so they just feel like placeholders. All of the supporting cast feel incredibly wooden and two dimensional, the other guardians lose their season crystals after getting drunk on fruit juice at the meeting and forgive me for spoiling but we are introduced to a prince character who looks like a complete jerk but acts like a real sweetheart, until he suddenly turns on Ary and betrays her and I felt my intelligence be greatly insulted.

Combat isn't too bad, but if NPCs stood around too still than the enemies are even worse. They always stand in the same formation and there is barely any variety, most of the time it is the same enemies in the exact same location. You are supposed to use the season powers but there seems to be a slight delay which can make combat fairly hard to control. Another bizarre discrepancy is the lack of any death animations, if you run out of hearts or fall into a trap the screen just goes back and takes you to your previous checkpoint, while it's nice to quickly get back into action its also just another way this game feels incomplete. Also Ary, I don't care how many times you say it "Son of a Cow" is never gonna become a thing.

Graphically is another area where Ary falls flat, it's clear they want to go for a Breath of the Wild meets Windwaker art style here. But it just lacks the graphical prowess to achieve that and ends up looking like an episode of Miraculous Ladybug, with just as much character. At the beginning of the game, Ary receives a scar on her cheek from a wayward hyena soldier, and yeah I'm still perplexed over that in itself, but the scar is so important that it is featured on the game's boxart. But just a few hours in it's upped and vanished on us and I honestly can't tell if it's on purpose or not

With some more time in the oven. Ary and the Secret of Seasons could be a stellar Zelda Clone. The dungeons offer some decent challenge with the seasonal powers and later on you get access to a seasonal slingshot which helps with strategies. But that doesn't change how the game feels soulless, characters frozen like it's winter everywhere, the sounds characters make during conversations, even things like the choice of font, the objectives hanging on screen all the time, even just Ary's reactions to new tasks feel empty. There is definitely some potential here, just some polish could make this game really shine.

…

Expand

What I have done to buy this game for 40$ ! It not worthy as it prices! This game even have not gyro aiming with nintendo switch console! And

What I have done to buy this game for 40$ ! It not worthy as it prices! This game even have not gyro aiming with nintendo switch console! And when you play for one and a half hour and it tolds me I have done a quarter of main game! it means this game only have 8 ~ 10 hours time content but it cost you 40$ to buy! It is amazing ! By the way , this game have terrible enemy settings and a bad upgrades , with no supply until you play 25% of the game.

…

Expand