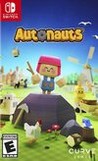 Summary:

Travel the universe colonising uninhabited planets with the sole goal of setting worlds in motion through the power of automation.

Fresh from your spaceship you must harvest stick and stone and begin your colonisation efforts. Create rudimentary crafting items from blueprints and slowlyTravel the universe colonising uninhabited planets with the sole goal of setting worlds in motion through the power of automation.

Fresh from your spaceship you must harvest stick and stone and begin your colonisation efforts. Create rudimentary crafting items from blueprints and slowly build a number of workerbots to aid in your efforts. Teach and shape their artificial intelligence with a visual programming language, then instruct them to begin the formation of your colony. Marvel as a planet you've shaped becomes home to a civilisation of workerbots, happy to do your bidding!

Expand further with the creation of colonists; beings that require your assistance to survive. Push your workerbots further by introducing fishing, cooking, housing, and tailoring and help the colonists into a state of transcendence.

…

Expand
Developer:

Denki

Genre(s):

Strategy

,

Management

,

Government

# of players:

No Online Multiplayer

Cheats:

On GameFAQs

Rating:

E
I'm amazed at how well Autonauts' many elements come together to form a simulation experience that manages to be as satisfying as it is open-ended. Throw in an adorable presentation and a well-executed campaign and you're left with one great sim game.

I found Autonauts to be tedious at first, then really fun, then exhausting. It's a fun challenge, but in the end, I just wanted to build a robot to tell all the others what to do so I could sit down and read a book.

It is a shame that Autonauts has a notable bug that rapidly reduced enjoyment and led to a premature end of the game. The style and concept are well executed, allowing many approaches to completing progression goals that are so numerous completionists will be in heaven. Creating and replacing tools as they break is an acceptable part of the game, but constantly having to stop and start robots in their actions because of an inexplicable error loses the whole automated process that is central to Autonauts' functionality.
Game's broken (2 game breaking bugs once you get into the swing of things) and the devs abandon it. It's a rushed cash grab of a port. Even on

Game's broken (2 game breaking bugs once you get into the swing of things) and the devs abandon it. It's a rushed cash grab of a port. Even on the sale I got it for, it's not worth anything. Whata shame. Avoid!

…

Expand