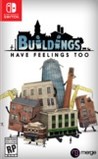 Summary:

Discover and equip a wide range of businesses from the Victorian era right through to the modern day.
Buildings Have Feelings Too! is a different management video game, which presents buildings as main elements and which focuses more on our ability to make combinations than on the management options themselves.

Buildings Have Feelings Too! stands on its own in terms of a city management game of this style, and it's that uniqueness that makes it something worth taking a look at. Some performance issues in load times and frame rate dips are an annoyance, but otherwise if you're someone who likes the strategy of city management titles, but are looking for a less serious experience, then this is definitely right up your alley.

In the end, as much as I tried to get into BHFT!, I soon found that my will to keep playing had evaporated. The text was too small, the controls were too clunky, and the mistakes too punitive. A patch or two could fix these issues and turn Buildings Have Feelings Too! into a quirky winner, but nothing has materialized so far. In light of this, I can only recommend it to puzzle lovers people who would be willing to overlook its issues. I might feel sympathetic to these poor, sad buildings in search of happiness, but not sympathetic enough to suffer through this.

Buildings Have Feelings Too! is an incredibly quaint and gorgeous game that also fills you with absolute rage, which is honestly quite a feat. The confusing connection between whimsy and frustration doesn't entirely feel like the desired intention of the creators. This game has amazing potential to be a unique and engaging building management simulator but instead falls short, burdened by its own rules and regulations that rival the dullest of body corporate committees. Go in expecting great dialogue, visuals and sound, but be aware, there is little room for management and experimentation here due to the tight constraints and restrictive solutions to the puzzles.

In an ideal world, Buildings Have Feelings Too! would have found a way to couple its inventive premise and fun aesthetic with equally enjoyable gameplay. As it stands, however, there's just too great a disconnect between the two to make the game worth your while.
Featuring anthropomorphic buildings who have many of the same quirks, cliques, and pet peeves that their human occupants do, there's no doubt

Featuring anthropomorphic buildings who have many of the same quirks, cliques, and pet peeves that their human occupants do, there's no doubt Buildings Have Feelings Too is a bit odd. Playing out somewhere between a building sim, strategy title, and a puzzle game your key to success is in understanding how to look at what each building wants and needs and then reorganizing and developing what you have to work with into a smashing success. The tricky part is trying to divine what you need to do at times, navigating through the various screens that can feel a bit cumbersome with the controller to determine a course of action. Where it feels like it falls down a bit is where it feels like the road to success is often a predetermined one, not one you'll have the option to work out with a style all your own. Even so, the charm and personality of the game's writing and quirky style help to at least make it a reasonably entertaining title for strategy fans who are looking for something a bit off the beaten path.

https://www.nindiespotlight.com/2021/04/mini-reviews-april-27th-edition.html

…

Expand

Born dead. Boring, frustrating, difficult and unforgiving. Bad realization of an interesting idea, bad promotion. Noone cares.