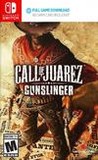 Summary:

From the dust of a gold mine to the dirt of a saloon, Call of Juarez Gunslinger is a real homage to the Wild West tales. Live the epic and violent journey of a ruthless bounty hunter onto the trail of the West's most notorious outlaws. Blurring the lines between man and myth, this adventure

From the dust of a gold mine to the dirt of a saloon, Call of Juarez Gunslinger is a real homage to the Wild West tales. Live the epic and violent journey of a ruthless bounty hunter onto the trail of the West's most notorious outlaws. Blurring the lines between man and myth, this adventure made of memorable encounters unveils the untold truth behind some of the greatest legends of the Old West.

…

Expand
Developer:

Techland

Genre(s):

Action

,

Shooter

,

First-Person

,

Arcade

# of players:

No Online Multiplayer

Cheats:

On GameFAQs

Rating:

M
Call of Juarez: Gunslinger may not be a forgotten classic, but it is pretty darn fun, and that's more than enough to make it worth checking out.

Call of Juarez: Gunslinger takes you on an exciting journey back into the heart of the Wild West. Whether there's any truth to what Silas Greaves is telling his listeners or if he's simply lying through his teeth, I had a great time shooting my way through the winding story he wove and taking down legendary bandits along the way.

Call of Juarez: Gunslinger passed by me in the last generation, but I'm happy to say the Switch port is an excellent way to experience the series for the first time, and the addition of motion controls make it worth considering a return to the American Frontier.

Call of Juarez: Gunslinger is as solid a shooter as the Nintendo Switch has gotten in some time. Even though its age comes through in its graphics and linear level design, this title offers an interesting western for you to play through with some seriously satisfying gunplay.

Call of Juarez: Gunslinger is an absolute diamond in the rough. The motion-comic cut-scenes get the job done, but are otherwise unimpressive to look at. The frame-rate can get really rocky when there are tons of lawmen about, firing rifles or revolvers from all over a town, as Silas darts from cover to cover. The overall concept and execution on the other hand is pure genius and fully takes advantage of the historical setting, flawlessly weaving it into the gameplay. John Cygan as Silas Greaves is an utter joy to listen to, as he gradually succumbs to a hilarious stupor. The arcade-like structure makes Gunslinger a natural fit for the Nintendo Switch's portable mode, so that chunks of the game are easily digested and completed while on the go.

The Switch port of Call of Juarez: Gunslinger is well worth a look. The gyro controls are implemented well, and the game often defies its age to be a fun little shooter.

Call of Juarez: Gunslinger is a six year old game that is showing signs of its age, and has not been brought in the modern generation gracefully. The visuals are often ugly, and the gunplay is below the standard seen on Nintendo Switch or anywhere else. For your money, you can play a much better game on this console. I could only possibly recommend this game for people nostalgic for the game, but even then it's likely to ruin those rose-tinted memories.
Call of Juarez: Gunslinger is definitely the best Western action game on Nintendo Switch and my number ONE shooter on this platform. The

Call of Juarez: Gunslinger is definitely the best Western action game on Nintendo Switch and my number ONE shooter on this platform. The action is thrilling, story is smart, and graphics are really great. I was surprised by how smoothly it runs. Definitely a must buy!

…

Expand

The funniest shooter on the switch, straightforward action with beautiful storytelling in great western atmosphere.

I loved it on PC and it's just perfect on Switch. Call of Juarez: Gunslinger is one of the best (if not the best) shooters on Nintendo Switch

Nice shooter. Great graphics for the switch. Good port. Some frustrating difficulty and poor design at places though, like the duels and

Nice shooter. Great graphics for the switch. Good port. Some frustrating difficulty and poor design at places though, like the duels and platforming parts. But the game is a lot of fun, if very linear and lacking depth and collectables and anything of interest other than a shooter on rails. But it is great at what it does, with a well-made world and is very satisfying racking up those kills.

…

Expand

Shooters range from nostalgic little retrogames with low production values to big AAA titles with oodles of content. Call of Juarez:

Shooters range from nostalgic little retrogames with low production values to big AAA titles with oodles of content. Call of Juarez: Gunslinger sits comfortably in the middle, and it's all the better for it. It doesn't provide 30 hours of gameplay, or dozens of weapons. Its chapters are short and varied, perfect for consuming on the go. And the game is perfectly happy with being derivative–but it hits a perfect note with its spaghetti western tone, tempering the violence with a constant tongue-in-cheek attitude.

Just when it seems that CoJ:Gunslinger is about to run out of wild west cliches, it hits the spot again with a running train sequence, a mexican stand-off, or an indian attack. And then, when its inspiration is finally exhausted, it ends on yet another high note, without overstaying its welcome.

You can look at CoJ:Gunslinger as a small game–but it's better described as a game that knows its scope and manages it perfectly. And most importantly, it's good mindless fun all the way through.

…

Expand

The shooting dynamics are good. The setting, characters, voice acting, and storytelling are good. But they made terribly stupid decisions for

The shooting dynamics are good. The setting, characters, voice acting, and storytelling are good. But they made terribly stupid decisions for the boss fights. The main part of the level will be fun and then end with you stuck in a low spot with enemies all around and above you. He can't jump well at all so you're stuck in that absurd situation until beating the enemies and some magical path opens up. I hated every single one of those fights, complete garbage design choices on top of an otherwise great game. The dorector of this was a moron.

…

Expand