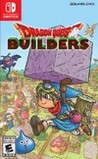 Summary:

Generations ago, the realm of Alefgard was plunged into darkness by the terrible and treacherous Dragonlord, ruller of all monsters. Mankind was robbed of the power to build and forced to wander the ruins of their former home, scrounging and scavenging in the dust to survive.

Now its upGenerations ago, the realm of Alefgard was plunged into darkness by the terrible and treacherous Dragonlord, ruller of all monsters. Mankind was robbed of the power to build and forced to wander the ruins of their former home, scrounging and scavenging in the dust to survive.

Now its up to you, a Legendary Builder chosen by the Goddess herself, to return the power of creation to the people and rebuild Alefgard. Only when the wonder of imagination has been returned will mankind be able to overthrow the evil Dragonlord once and for all!

…

Expand
Developer:

Square Enix

Genre(s):

Action Adventure

,

Sandbox

# of players:

No Online Multiplayer

Cheats:

On GameFAQs

Rating:

E10+
Nintendo Force Magazine

Feb 26, 2018

Any Minecraft-minded players out there will love it. [Issue #32 – March/April 2018, p. 73]

The gravest mistake that could be made regarding Dragon Quest Builders would be to liken it to "yet-another-Minecraft-clone." That could not be farther from the truth as, while of course the similarities are undeniable, this game is its own thing altogether and does some things better than Minecraft, and vice versa. Both may well appeal to the same kind of audience when it comes to broad-minded players, while maybe both being so different will make Minecraft purists detest it and Minecraft detractors absolutely love it. At any rate, it is a solid experience faithful to the Dragon Quest franchise that suffers only from very minor gripes with the gameplay and comes highly recommended for anyone who sees in there something that tickles their fancy.

Dragon Quest Builders is a motivating game that skilfully combines block building with RPG elements.

In case you missed the chance to discover Alefgard on PS4, this re-release for Nintendo Switch could be for you.

It's easy to have a love/hate relationship with Dragon Quest Builders. Mechanically, it's a brilliant experience, with some of the best gameplay and aesthetics of any game in the genre. But the decision to break the game up into four separate parts with no sense of progression between them is jarring at its best, and downright frustrating at its worst. It could have been so much more, but what's here is worth celebrating too. It might not be perfect, but it's fun, there's a tonne of content, and most importantly, the monsters are cute as heck.

The Switch-exclusive features--limited to the free-building non-story mode--add another layer of endearment to a game already brimming with charm.

Beyond the obvious Minecraft inspiration, Dragon Quest Builders is based on a solid, subtly ironic narrative which creates not only reason for these building tasks, but also life into this 3D rendition of Alefgard. And it gets sharper on Nintendo Switch with the Great Sabrecub that literally cuts through the potentially more pixel arted Terra Incognita mode, even if such retro nostalgic additions can't counterbalance the limited sharing options and the lack of multi player, thus consolidating this fundamentally solitary experience as a whole.
A very good game to play! The game offers a variety of different options to build. The graphic is cute and the NPC's are unique in its own

A very good game to play! The game offers a variety of different options to build. The graphic is cute and the NPC's are unique in its own way. With the new version on the switch, We are now able to play on the go and this game is pretty relaxing to play on public transport and such as it is very casual and easy.

It allows you to do a lot of things and the features for building is just great. I would highly recommend this game to others.

…

Expand

My favourite game on the Switch. I used to love LEGO as a child, but this is the ultimate way to build. The controls are superb, I can't

My favourite game on the Switch. I used to love LEGO as a child, but this is the ultimate way to build. The controls are superb, I can't stress this enough. The game plays like a dream. I never expected to like this game at all before Wood from BeatEmUps made a video about it. I thought it wasn't for me as I don't like minecraft, but this game got me hooked. I'm now 290 hours in and I'm just replaying all the chapters while continuing to build in the free build mode Terra Incognita to my hearts content. The possibilities are endless there, and gathering the materials is so much fun.

I do recommend completing all the chapters (story mode) first though, so you can unlock all the equipment and building materials.

There are four chapters. Each one separate, in that you start from scratch with every new chapter, but you are free to revisit old chapters and continue to build there if you really want to.

When I first started playing the game, I thought I had beaten the game when I finished the first chapter, feeling quite satisfied... Little did I know there was so much more!

Also, the music is brilliant, just like in the other Dragon Quest games. I find myself humming the tunes all the time. Across the board 10/10 from me.

…

Expand

The perfect game that combines the Minecraft style with the classic JRPGs from Square Enix. Highly recommended.

A very refreshing and welcome take on a RPG! The building aspect and mechanics are awesome. Ensuring that every game-through by every player

A very refreshing and welcome take on a RPG! The building aspect and mechanics are awesome. Ensuring that every game-through by every player will be different from each other. Story is quite interesting. A little voice over will make this game even more awesome. One of my favorite parts where from Chapter 3. Because... Bodybuilders. LOL! Recommended to those who haven't played it. I'm looking forward for the sequel.

…

Expand

Great game.

Visually it is very beautiful, playably it has its improvements but it fulfills very well, the story is very good, withoutGreat game.

Visually it is very beautiful, playably it has its improvements but it fulfills very well, the story is very good, without being outstanding, but it also hooks you, especially on the part of discovering new areas, worlds, objects, constructions ... If you like to build you will spend many hours here.

Bosses are a challenge, it's not just hitting the button, you have to think about it well.

Music faithful to the saga, as it should be.

…

Expand

Muy buen juego en el que puedes pasar horas creativas con muy interesante historia. No pongo mejor nota debido al lag que muchas veces

Muy buen juego en el que puedes pasar horas creativas con muy interesante historia. No pongo mejor nota debido al lag que muchas veces fastidia la partida.

…

Expand

This review contains spoilers

, click expand to view

.

This game couldn't more clearly project "We didn't listen to our QA testers" than if you'd told me the developer was Square Enix. While there's lots to have fun with here, a lot of the good items in the open world option are locked behind just an awful story mode. The villagers don't help you rebuild after an attack is the most grievous issue. I'm sure would say that's part of the fun, but even Square disagrees: the *MUCH* better sequel fixes this issue. In fact, DQ Builders 1 feels like a game designed to make us the QA testers for the *real* game, and they charged us sixty bucks for both. The absolute worst comes near the end of the third chapter, when a secret weapon you've spent all chapter seeking out turns out to not only be useless but a detriment and hazard to your health. It's a *vehicle* that controls like it drove through Wet Platinum and forgot turning until the last pieces were in place. Given the "jumpiness" of the control stick in this game, aiming at the main enemy while charging up in place is just luck (getting hit takes you out of the vehicle, with lots of methods of damage going off everywhere). It's the only way to damage the boss, in case that wasn't obvious. It's little things like this that plague the entire game; it appears polished but rub even one spot a tiny bit and the imperfections come hemorrhaging out. I'd suggest trying before you buy. Or better yet: Pretend this one doesn't exist and just get part 2. It's an easy 9/10. Giving this a 4 is the most generous thing I've done this year.

…

Expand