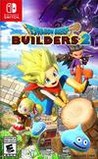 Summary:

To stop the worshippers of an ancient evil, you must join forces with the mysterious Malroth and build a ravaged world into the realm of your dreams. In this RPG adventure, you'll explore huge islands, gather and craft with materials, design towns, level them up, and defend them from

To stop the worshippers of an ancient evil, you must join forces with the mysterious Malroth and build a ravaged world into the realm of your dreams. In this RPG adventure, you'll explore huge islands, gather and craft with materials, design towns, level them up, and defend them from monsters and bosses alongside townspeople. As you progress, you'll unearth crafting and building recipes. Dash, glide, explore underwater, fast travel, and play in optional first-person perspective as you try to find them all. In the Isle of Awakening, you and up to three other Builders can explore together in local wireless*; or play online** together too.

…

Expand
Developer:

Square Enix

Genre(s):

Role-Playing

,

General

,

Action Adventure

,

Sandbox

# of players:

Up to 4

Cheats:

On GameFAQs

Rating:

E10+
Please enter your birth date to watch this video:
You are not allowed to view this material at this time.
Dragon Quest Builders 2 - 'A Day In The Life Of A Builder' Official Gameplay Trailer
Dragon Quest Builders 2 is the perfect sequel. The kind that improves on every aspect of the original, adding more meaningful content to the mix, quality of life fixes and throwing some interesting new aspects at players, whilst maintaining that core that made the first game so enjoyable in the first place.

Dragon Quest Builders 2 features solid controls, attractive presentation, online multiplayer and limitless charm, but these don't tell the whole story. Each element of the experience on its own would be less than impressive, but like a pile of wood, bricks, mortar, and steel before its shaped by human hands, the sum of its parts culminate in an impressive and memorable architecture.

It was hard for me to imagine a way to expand on a game that was already so god but Dragon Quest Builders 2 has managed to do just that. A bigger story, new things to build, multi-player and more make this an absolutely jam-packed experience. Building game enthusiasts will love the blend of crafting and survival management, while Dragon Quest fans are sure to love the unique spin on the long-running JRPG franchise, and if you're a fan of both? Well, Dragon Quest Builders 2 is the must have game of 2019.

Dragon Quest Builders 2 takes the original game's qualities and improves on them to deliver a vast, open world with more possibilities when it comes to progression, city-building and interaction with the other characters. A marvelous game that should, without hesitation, be sought by not just fans of its predecessor and of the Dragon Quest series but by everyone who enjoys spending long, involving hours building the perfect city.

The slow pace and relatively easy combat make for a great game to relax with, which fits the Switch perfectly.

Edge Magazine

Aug 15, 2019

The essence of the classic JRPG distilled into an unlikely form. [Issue#336, p.114]

Dragon Quest Builders 2 is a sequel in every level: wider, deeper but also way more talkative than the original, the game sticks to the original formula, adding a new multiplayer mode and a first person view. Needless to say, every fan of the Dragon Quest franchise will be pleased by this vast spin-off, but Square Enix should have tried a tiny bit more to make it appealing to all the other players.
This game is so much fun. I've never played any of the dragon quest games before and figured i'd give this one a shot, I was instantly hooked.

This game is so much fun. I've never played any of the dragon quest games before and figured i'd give this one a shot, I was instantly hooked. I saw a review complaining about the game teaching you how to play which I don't think is a good enough reason to leave a negative review. If those tutorials weren't there I wouldn't know how to play the game.... This game is a mixture of minecraft but with a story and fun fighting mechanics. I would highly recommend it.

…

Expand

This game expands and improves on the first game in every way. Think Minecraft meets old school Legend of Zelda with a Dragon Quest skin. So

This game expands and improves on the first game in every way. Think Minecraft meets old school Legend of Zelda with a Dragon Quest skin. So many islands to explore and you are always adding something to the adventure or building experience. Only down side (if it's a downside for you) is that you have to earn all the building supplies for "creative" mode and you don't start with it. This is not a negative for me but I think it will be for some people.

…

Expand

She's a beauty! If you give it some time you'll be hooked before you know it. I just can't seem to put the game down.

Perfect game....a mix of Minecraft, Haverst Moon, Animal Crossing, Breath Of The Wild on a Dragon Quest adventure / world. I can't stop

Perfect game....a mix of Minecraft, Haverst Moon, Animal Crossing, Breath Of The Wild on a Dragon Quest adventure / world. I can't stop playing, I'm dreaming of the world and characters of Furrowfield . . . my mind keeps working on next quest, next exploration or next mindblowing idea I can build, create . . . I'm new to the universe of Dragon Quest, wauvv.....I think it's an amazing game......a bit intimidating in the start.....chapter 1 is a BIG tutorial, which is good even it feels slow at times.
It's gonna be the perfect couple game, my wife is as addicted as I am....so we'll work together on our Isle of Awaking in co-op online (we have a Switch each).
PS. I'm not much into Minecraft / crafting games, BUT DQB2 are total different, thanks to the Animal Crossing, Breath of The Wild aspects + exploration mix trough cool DQ RPG!

…

Expand

Having never played dragon quest builders 1, I'm impressed by the perfect balance of building and RPG elements this game brings. It feels like

Having never played dragon quest builders 1, I'm impressed by the perfect balance of building and RPG elements this game brings. It feels like a real dragon quest, story driven experience, with really slick and fun building mechanics worked in.

It's a testament to the developers that they've managed to make building so satisfying. The decision to directly tie building quests into the mainline narrative is something, that in my opinion, makes for a more robust and satisfying building experience than Minecraft or any other crafting/building game for that matter. If you love JRPG's and you find the gentle, slow paced nature of building simulators satisfying, then I highly recommended this game for you. Just beware this is mainly a single player experience. While you can join up with friends and make endless creations (much like Minecraft) you cannot co op the mainline story.

Also, the switch version mostly runs smoothly, with only a few slow downs here and there when things get busy on screen. The game looks clean, crisp and sharp thanks to the excellent art direction and the performance did not negatively impact my enjoyment of the game at all. In fact, playing this game in hand held mode was amazing and I loved it.

…

Expand

Great game even though the story is pretty dull and the fighting mechanics need improvements.
The game shines thanks to its MinecraftGreat game even though the story is pretty dull and the fighting mechanics need improvements.
The game shines thanks to its Minecraft inspired building system. It is easy to build what is in your mind and it gives you plenty of tools to do it. The music is great but none of it is memorable.

In the end I enjoyed building towns and monuments with my friends online but it is a shame we can't play it on the same station with a split screen.

…

Expand

Instead of letting you play the game your way and discovering things as you go the game is locked behind an endless amount of tedious side

Instead of letting you play the game your way and discovering things as you go the game is locked behind an endless amount of tedious side quests. On the first island I finished the main mission but it wouldn't let me continue until I ran all around the map completing tedious side quests to get items I already had to complete the big mission that I already had completed. In other words, there's no point to exploring ahead because the side quests will just guide you there anyways and you have to do them. ALL of them. The harvest festival quest wouldn't trigger for me because I hadn't killed 10 bodkins, something entirely unrelated to the plot. I can't play a game that holds your hand so much.

…

Expand