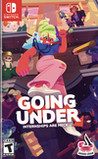 Summary:

Going Under is a satirical dungeon crawler about exploring the cursed ruins of failed tech startups.

As an unpaid intern in the dystopian city of Neo-Cascadia, you'll wield office junk as weaponry as you make your way through the offbeat procedural dungeons beneath your company campus.Going Under is a satirical dungeon crawler about exploring the cursed ruins of failed tech startups.

As an unpaid intern in the dystopian city of Neo-Cascadia, you'll wield office junk as weaponry as you make your way through the offbeat procedural dungeons beneath your company campus.

[The Future is Wack]

Failed businesses no longer just cease to exist--they sink beneath the earth, and their employees are cursed to wander the halls for eternity as monsters. It's your duty to put these monsters out of their misery and repossess their assets--so that your boss can afford a new car, or something.

[Not All Heroes Get Paychecks]

Battle through the remains of failed startups themed off of gig workers, dating sites, and cryptocurrency. Uncover the true motives of your employer, a carbonated drink startup known as Fizzle, and their parent company, a subscription box manufacturer with an army of helpful shipping drones. Make friends with your co-workers! Hire a freelance goblin! Date a slime! Invest in crypto! Set a rideshare on fire!

[Fight Flexibly]

In the dungeons of Going Under, almost everything can be used as a weapon, from laptops to brooms to body pillows. Proper weapons can be found as well, but even they can break at a moment's notice if you aren't careful. Playing cautiously and picking the right weapon for the situation are musts if you intend on surviving your internship.

…

Expand
Developer:

AggroCrab

Genre(s):

Action Adventure

,

General

# of players:

No Online Multiplayer

Cheats:

On GameFAQs

Rating:

T
Going Under starts off looking like a goofy, chaotic rogue-lite parodying company culture, and ends looking like one, too. The huge variety in weapons and skills will keep you improvising and adapting on every run. While the story is entirely ridiculous and doesn't take itself seriously for most of its runtime, the loveable characters - both Jackie and her colleagues - will keep you invested (haha) the whole way through. Couple that with a masterfully crafted finale and you get one of the most satisfying, and overall best, games of 2020.

Going Under succeeds in crafting an addictive, hack-and-slash type of experience, and just when it seems like it might be over, it takes another step for those who really want a serious challenge.

With plenty of humour and weapon variety, Going Under is a charming, vibrant dungeon crawler/roguelike that never gets old. If your current working environment feels strange, try this weird and wonderful one out for size.

It would be easy to say that Going Under's witty characters and fantastic presentation carry it, but underneath its sarcastic surface there's a great rogue-like that's entirely worth checking out all on its own. Don't let it go under your radar.

If you're looking for a roguelike with personality and wit, Going Under may surprise you. Mechanically, it won't blow you away, but with so much character on display, this is one internship worth taking.

Going Under is as refreshing and addicting as it is demanding.

Going Under makes for an excellent debut from Aggro Crab. Though the humour won't be to everyone's taste, it brings us a corporate satire which hits closer to home than most, and by doing so consistently, never feels ham-fisted in its execution. This isn't the longest experience you can find on Switch – taking around 10 hours to fully complete including side tasks – but it provides an entertaining story, and one that's filled with great combat and high replayability. Keeping you hooked until the end, this dungeon crawler comes with a modest recommendation.
One of the best roguelikes games. Isn't to long so it doesn't get boring. Story is funny and graphic style is gorgeous

This is a fun game with some clever ideas and LOTS of cool weapons to try out. I enjoyed the first 6 or 7 hours of play but it seems like the

This is a fun game with some clever ideas and LOTS of cool weapons to try out. I enjoyed the first 6 or 7 hours of play but it seems like the second half of the game is going to be much more difficult to get through than the first half. The music and sound effects are pleasant enough and the controls are responsive. I also really enjoy the fact that the runs are quite short and there is some story progression as you complete certain milestones. I personally dislike the art style used throughout, and the load times seem a bit long between levels, but overall I think most people will have a good time with this. Note: there is the option to make the game significantly easier in the later stages. This is an awesome feature as it gives me the opportunity to finish the game without the frustration of dying over and over again in failed runs!

…

Expand

Ever wanted to vent your frustration at the corporate world? This is the game for you.

The Good: Everything is as comedic as it gets.Ever wanted to vent your frustration at the corporate world? This is the game for you.

The Good:
Everything is as comedic as it gets.
Deadly office supplies are satisfying to use.
Goblin + Job = Joblin. This is important.
The array of support options offers everything from more invincibility frames and extra health to weapons lasting long and enemies dying faster. All in a customizable way to get the help you need tailor made for you.
Just one more?

The Bad:
Short.
Length comes from being really hard later down the line.
You probably won't get what you need, when you need it in these cramped and short dungeons.
Missions feel luck based at times. Others don't explain themselves well enough.
I broke the Joblin boss cutscene and now it doesn't work at all.
Hard to determine what's a weapon sometimes.

Details:
A short and sweet dungeon crawler that features a colorful cast of characters and a colorful array of monsters to fight. Loads of jokes on our corporate society and offering a fresh coat of paint on the genre help it to stand out amongst it's peers. Just be aware that later on the game starts to get really difficult(sometimes to the point of feeling outright unfair and brutal). But smacking goblins with tablet pens is too good to pass up. I recommend the Steam version if you can get it. It updates sooner and already has a content pack the Switch version lacks.

Verdict:
Art: B+
Gameplay: A
Corporate rage: A
Comedy: A
Red Staplers: Yes

Good for dipping into the rouglike genre, though it pays to have experience in Zelda games. Be aware of the game's difficulty spike and everything should be fine. I suggest grabbing it when you can.

…

Expand

Lovely little roguelike hack-and-slash with a pretty art style, good music and clever humor. Great value for money.

An original, lovely built actional roguelite. Also a scathing satire of the world of technological startups.

PROS: - UNIQUE GRAPHICS ANDAn original, lovely built actional roguelite. Also a scathing satire of the world of technological startups.

PROS:

- UNIQUE GRAPHICS AND STYLE: Primary colors and characters that look like inflatables. Love it or hate it, no other game looks quite like this.

- THE SATIRE IS SPOT-ON: The social commentary and smartly designed characters start strong, and they only get better until the end. From cryptocurrency freaks to annoying founders, no one is safe from this game's scathing sarcasm.

- PLENTY OF CONTENT: The game is longer than you'd expect. Just when you think you're hitting the end of a short game, you realize that you're barely halfway through.

- MADE WITH LOVE: This is the first game from this team, and it's surprisingly good for a debut. After seeing how much care and love went into Going Under, I'm looking forward to the next work from Aggro Crab.

CONS:

- MAYBE A BIT *TOO MUCH* CONTENT: Even if Going Under tries to keep things fresh, it's still a roguelite. Only the best in the genre manage not to overstay their welcome–and Going Under isn't quite up there with the best. At times, the game feels like it was padded with narrative tricks to force you to play through similar levels multiple times.

- THE MECHANICS AREN'T QUITE UP TO THE TASK: This is by far Going Under's biggest shortcoming. It's an action game, but the fighting mechanics aren't good enough to stay fun until you hit the final credits. The fighting isn't exactly bad, but it does feel a bit sloppy. In particular, the fact that you must commit to your moves and cannot interrupt them results in a game that feels unresponsive. I lost count of how many times I lost a run because my rolls couldn't interrupt my swings. I completed Going Under, but I didn't always enjoy the experience.

…

Expand

This review contains spoilers

, click expand to view

. Story

You will play as Jackie, a new intern at Fizzle, which is a startup at the verge of failure. It is the same as any other normal internship where you get assignments from your boss and seniors except they ask you to get rid of monsters!

Gameplay

Going Under is a roguelite dungeon crawler, meaning you will be tasked to explore procedurally generated areas. Some of your seniors will assign you to kill monsters, while some will ask you to complete a certain task like destroy 15 laptops or buy an expresso machine and so on. You can use almost everything in your office as weapon, ranging from a sword to literally a stapler!

You can also choose one of the seniors at a time to be your mentor. Doing that will grant you different skill and ability sets, which can be useful for your job. To complete a certain task, you will probably need to shuffle your mentors.

Sounds

The music is unique and very quirky and I find it most fitting in this satire internship thing. There are no voice actings, though. And it doesn't need one either.

Conclusion

There are too many roguelike/lite games on Nintendo eShop already. However, Going Under is still able to distinguish itself from the crowd. It has Rouge elements, quirky humour and music, and a fresh concept. It doesn't feel like 'ah, just another roguelike game'. For me, it's a 7/10 game.

…

Expand

I really liked this game. lots of silly fun. I did find the fighting a bit cumbersome, and that could probably be improved a bit.... But

I really liked this game. lots of silly fun. I did find the fighting a bit cumbersome, and that could probably be improved a bit.... But overall it was very enjoyable and I would have said totally worth getting.

Biggest issue is the BUGGYNESS towards the end. It played great to start but at one point near the end had an error dialog that killed the game, and I had to restart... And now in the final battle, I get REPEATED freezes that kill the game.... and it's really hard to even GET to that battle (I only got there twice) then the game goes and ruins that battle. and freezes completely (last time it froze with the vibration running!) totally dead. no response from the game... but home button gets me to the basic switch menu where I can either go back to my frozen game (doesn't fix anything) or kill the game and lose all the progress in the last level up to the final boss... anyway. So, buggyness has totally ruined this game for me. it sucks and its such a ripoff that whoever made this couldn't even make a game that lets you play through to the end. Absolute broken trash, I want my money back.

…

Expand