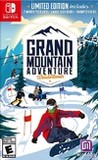 Summary:

Grand Mountain Adventure: Wonderlands is a beautiful open-world skiing & snowboarding game where you get to explore entire mountains filled with hundreds of challenges to discover and compete in. So strap on your skis or board and prepare for a great adventure in the snowy mountains.

Grand Mountain Adventure: Wonderlands is a beautiful open-world skiing & snowboarding game where you get to explore entire mountains filled with hundreds of challenges to discover and compete in. So strap on your skis or board and prepare for a great adventure in the snowy mountains. Originally released on mobile in 2019, with 8 million+ downloads under its belt, the game will now be released on Steam and Nintendo Switch. This expanded, reworked and improved version will feature significantly enhanced graphics, local multiplayer, new mountains, and much more.

…

Expand
Developer:

Toppluva AB

Genre(s):

Sports

,

Individual

,

Ski / Snowboard

# of players:

No Online Multiplayer

Cheats:

On GameFAQs

Rating:

E
There's lots of events, a nice variety of hills, and, as I said, the presentation is so gorgeous you'll be lulled into a zen state. Even if you're not a fan of skiing, it's one of those games that's so pleasant, it's impossible to resist.

Grand Mountain Adventure Wonderlands is one of those indies that's far better than you'd imagine. With an open-ended campaign that you'll relish exploring while finding the next suitable challenge, the hours will pass on by as your skills become better and better.

It may be a little uneven at times, but even at its worst, Grand Mountain Adventure: Wonderlands is still a whole lot of fun. When all the pieces come together, though? When pure adrenaline and absolute serenity find just the right balance, and don't just coexist but reinforce one another? In those moments, it's sublime.

With its zen approach and unique style, Grand Mountain Adventure: Wonderlands is a beautiful immersion on snowy mountains, letting us breathe that atmosphere. As a game it has some flaws, that its price makes it hard to overcome, but this is a peculiar and fascinating experience.
Beautiful, relaxing and challenging at the same time. I love it. 60fps is the icing on the cake

Great game. A bit expansive but the content is there. Lot of maps, hidden things and challenges.
Really good sensations when playing, youGreat game. A bit expansive but the content is there. Lot of maps, hidden things and challenges.
Really good sensations when playing, you feel in the mountains. Tricks could be improved or better explained. Loved it.

…

Expand

Very inaccurate ratings on here lately. The game is okay, maybe a $10ca game. It's a mobile game also available for $5 for phones. I mainly

Very inaccurate ratings on here lately. The game is okay, maybe a $10ca game. It's a mobile game also available for $5 for phones. I mainly just play this game while I'm on the train for 5-10min at a time. It's a very simple game that you basically just explore a range of ski slopes, do tricks and compete in a few different event types. The riding mechanics are fine, but it's really nothing amazing or mind blowing, at all. There's a 'zen' mode which makes all the arrows and races disappear so you can get a chill exploration experience. But the ski runs are so annoyingly short I have to keep flipping open the map to travel back up to a new spot after around 15 sec. The Zen experience would be better if there was an endless run option so I can actually get relaxed. The focus is on collecting frustrating little tokens that litter the map and you must collect in order to unlock all the new maps. Very grindy gameplay style that forces you to search maps you may not enjoy just to unlock other maps in hard to reach jumps and spaces just to see any of the other maps. It's an annoying way to add 'hours of content' that I feel is misleading, very much like the price tag that makes me feel this game has extremely poor value for money and I feel ripped off tbh.

Probably only worth $10, the game is incredibly overpriced and definitely not worth the $40ca I paid. If you have heaps of spare cash and want a fairly relaxing, nice feeling mobile game for your daily commute or something, maybe you would enjoy this game.

…

Expand