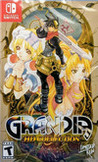 Summary:

Grandia and Grandia 2, a pair of games originally released on Sega's Saturn and Dreamcast consoles, respectively, are coming to Nintendo Switch. Both games feature newly retouched details for the user interface, sprites, and textures, enhanced cinematics, Japanese and English audio tracks,

Grandia and Grandia 2, a pair of games originally released on Sega's Saturn and Dreamcast consoles, respectively, are coming to Nintendo Switch. Both games feature newly retouched details for the user interface, sprites, and textures, enhanced cinematics, Japanese and English audio tracks, and Japanese and English language support along with new French and German translations.

…

Expand
Developer:

GungHo

Genre(s):

Role-Playing

,

Miscellaneous

,

Compilation

,

Japanese-Style

# of players:

No Online Multiplayer

Cheats:

On GameFAQs

Rating:

T
For the awesome games alone, Grandia HD Collection is worth checking out for any RPG fan. Although it could use a lot more content, fine-tuning, and options to reward long-time fans such as myself, what's here is still a treasure trove of delightful RPG goodness.

While problems with this port and a lack of modernized tweaks make Grandia less of a slam dunk to recommend, this is still a relatively hidden gem from the late '90s that is worth trying or rediscovering. The graphics might not be as pleasant, the writing might have some cringey moments, and odds are you'll come across a few out-of-place bugs, but Grandia's battle system helps to overcome those drawbacks alongside its endearing characters and world. At the very least, Grandia stands tall next to its other late '90s contemporaries. So much so that I can envision the plucky star Justin trying to convince Cloud and Barrett from Final Fantasy VII that he's an adventurer who rightfully deserves a seat at their theoretical table of classic, genre-defining RPGs.

While a little pricey and devoid of extras, GRANDIA HD Collection nonetheless means you have two excellent classic JRPGs that gives its unrivaled battle system another chance to shine.

The Grandia HD Collection contains an awesome soundtrack, fair visuals, and fairly decent story. Both games combat is very fluid and has that something that newer games are missing with their combat system I think.

Both Grandia games deserved a much better treatment than the one GungHo gave them, and we really hope the publisher will support the game in the coming weeks, but the sheer value of the titles inside this package is enough to recommend a buy nonetheless for any Switch owner.

Grandia HD Collection is a wonderful entry point into a criminally under-discussed JRPG series. Both games are absolute classics, featuring wonderful characters, inventive gameplay and really astounding writing. Die-hard fans might take issue with the updated nature of the sprites in Grandia 1. Every player out there, meanwhile, is likely to be turned off by the constant performance issues of Grandia 2. This isn't a perfect release, but the pros still far outweigh the cons when it comes to having an accessible way to play these old-school gems.

It both succeeds and fails for entirely different reasons. The timeless quality and fun factor of the two games included make it unfair to give this one a low score, yet the shoddy work done on the porting and remastering holds it back from being worthy of a high one. On the whole, we'd give Grandia HD Collection a light recommendation, as it's a great way both for newcomers to see what the fuss is about and for veterans to take a trip down memory lane. However, we say this with the caveat that you should probably wait for a sale and for the developers to deploy some patches to fix all the broken parts. The Grandia games deserve a much better remastering treatment than they've been given here, but Grandia HD Collection is nonetheless a respectable release.
You pretty much get exacty what you'd expect. It's a faithful port of 2 games with high-res sprites. Worth the money if you're a fan of the

You pretty much get exacty what you'd expect. It's a faithful port of 2 games with high-res sprites. Worth the money if you're a fan of the series or 90's rpg's in general.

…

Expand

I bought this collection JUST to play Grandia (1997) for the first time.
A masterpiece of a game.
I'm not always happy with my life. I'mI bought this collection JUST to play Grandia (1997) for the first time.
A masterpiece of a game.

I'm not always happy with my life. I'm in college at the age of 24. I don't have an interesting routine. But for the most part, I breathe in oxygen and breathe out CO2. Super fun.
It took me one month to beat this game, and it has been the greatest month in a long time. I'm not an unhappy person, I'm just so damn tired of not being where I wanted to be in life. That's life though.

For two hours a day, everyday. I was somebody else. I was enthralled by the characters, stories and places. Mesmerized by what Grandia had to offer. A rich and intentional story. Memorable experiences and feelings. Characters that I would instantly fall in love with, that would grow and shape into who they become. For two hours a day, everyday, I was somewhere else; Somewhere adventurous and exciting. This game enriched me in a way no other game could. Instead of being complicated and convoluted, Grandia knew what it wanted to be. Like a good cup of java, I enjoyed every sip.

Story 10/10:
A couple of strange moments in the story that need clarification. Otherwise, its an easy to follow and satisfying plot. I got emotional, and even teared up from time to time. A story that truly gets you emotionally involved.

Graphics 9/10
Let players experience the pixel art of the game untainted by the rather lazy filter. It doesn't look bad, but sometimes it blends things it shouldn't. Like Character's tears, and some details on their clothing.
otherwise, it looked great on my 4K 70in TV. No staircase effect on the final image, backgrounds and foliage looked amazing with the filter used. All of the CG animations and cutscenes were an absolute delight to watch. Since I was on the Switch, the game looked gorgeous on the 720p screen, at times it looked a little more crisp on the smaller display.

Combat 10/10
You choose what skills/magic you want to improve per character. It's as easy as using the spell/special art to improve it; heal can be leveled up outside of combat which is a big convenience.
This is a simple combat system that you can master, and you can behold the results. There is a choice for auto combat, yet it is severely inferior to the player manually taking control of each character, as the A.I. is un-coordinated. The system is still essential since it is extremely convenient for grinding quickly.

Exploration 10/10:
The rotating isometric camera can make an environment look totally different. I was always trying to find things in the game, very rarely getting lazy. I would grab any items I would see on the map, and I would do my best to solve the puzzles and beat the bonus dungeons. Exploration is extremely rewarding, and is an essential element to the game.

Don't miss this experience.

…

Expand

Very good remaster. Yes it's missing some of the Saturn effects, but why is everybody rating this a 1 and turning away people that have never

Very good remaster. Yes it's missing some of the Saturn effects, but why is everybody rating this a 1 and turning away people that have never played the games? Especially when you dont on the remaster and are rating it a 1. All because you dont like the HD effects and are sour over the price? These games are must get for any RPG fan. Stop rating the games

…

Expand

Fantastic game, the visuals, the sound, everything was updated. I'm glad to play this game in a 65" tv and having this wonderful time! :)

This game takes two fantastic classics and makes them playable on current technology. Grandia itself is the weak link in this collection but

This game takes two fantastic classics and makes them playable on current technology. Grandia itself is the weak link in this collection but that is not saying a lot for the small upgrade it received the real gem is grandia 2 which has upgraded character models and some redone music for ones that where lost I am having a blast and hope everyone's gives this game a fair chance a 100 plus hours of gameplay for less than a full price game even if a bit dated still worth it in my opinion.

…

Expand

Great ports of amazing & timeless games. Though seemingly pricey, there's 100's of hours of content. Physical edition would be nice, however.

Great games, grandia 1 is a lazy port of the ps1 port of the saturn original. Grandia 2 is grandia 2 anniversary edition with widescreen

Great games, grandia 1 is a lazy port of the ps1 port of the saturn original. Grandia 2 is grandia 2 anniversary edition with widescreen support. Avoid these ports on switch. The modding community might eventually be able to salvage these abominations on steam but for now it's a hard no.

…

Expand