Publisher:

Sega

Release Date:

May 15, 2020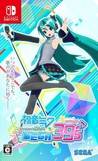 Summary:

[Also known as "Hatsune Miku Project Diva Mega39"] Based on the popular Hatsune Miku: Project DIVA Future Tone, Hatsune Miku: Project DIVA Mega Mix takes the series to a new dimension on the Nintendo Switch, giving both new fans and Project DIVA veterans ways to play at home or on the go.

[Also known as "Hatsune Miku Project Diva Mega39"] Based on the popular Hatsune Miku: Project DIVA Future Tone, Hatsune Miku: Project DIVA Mega Mix takes the series to a new dimension on the Nintendo Switch, giving both new fans and Project DIVA veterans ways to play at home or on the go. Rhythm game modes features both traditional button controls, as well as a new game mode exclusive to the unique functions of the Nintendo Switch.

…

Expand
Developer:

Sega AM2

Genre(s):

Action

,

Rhythm

,

Music

# of players:

No Online Multiplayer

Cheats:

On GameFAQs

Rating:

T
In the end, Mega 39 does one, very special thing: it takes the incredible Hatsune Miku Project Diva Future Tone, and makes it portable. You can bellyache all you like about a relatively thin tracklist, but "relatively thin" to the ridiculous bloat of Future Tone isn't really a fault. Not when what is in the pack is still more than any other rhythm game on the Switch, and with the optional DLC to come. Most importantly of all, however, is that Mega39 is a celebration of the world's greatest digital idol, and a digital celebrity I truly care a great deal about. As such, it fills a major gap in something that I've wanted on my Switch since the day it released. I am now fully on board with the Nintendo Switch being the greatest console ever.

It's hard to go wrong with Hatsune Miku and all the other Vocaloids in one of the most enjoyable rhythm titles on Switch. Although everything about how to play is simple at face value, it gets more challenging the higher the difficulty goes and constantly challenges one's rhythm and ability to be alert without getting distracted. Anyone who enjoys the style of music and keeping up with a beat will enjoy the latest in the Project Diva series, as Mega Mix delivers on being a fantastic time. The new mega mix mode is an awesome addition that gives more ways to enjoy all the songs and move to the beat the entire time. There's a reason Hatsune Miku is so popular and Project Diva Mega Mix further proves she'll be here to last for a good long time.

Minor shortcomings aside, Project DIVA MegaMix is a wonderful representation of why so many of us cherish Vocaloid-based music and, by extension, these rhythm games starring Hatsune Miku and friends. Sure, there might be a silly aspect to personifying virtualized characters like pop idols, but the music behind it is very real. Vocaloid has given a voice to the voiceless, letting incredible multi-instrumentalists create songs with actual lyrics even if they themselves don't have the ability to sing. And those of us who don't have their level of talent can at least take part in playing some of their best songs through the Project DIVA rhythm games, which now lives on Switch in excellent form.

Project DIVA MegaMix feels very much in line with Project DIVA Future Tone. It's all about the sheer amount of songs and costumes, while avoiding any semblance of a campaign. Players will have to make their own path and enjoy the songs on their own terms. The brand new Mix mode is delightful once you get past the initial learning curve and the tried and true Arcade mode is what we've come to love about these games. A solid rhythm game through and through, Project DIVA MegaMix returns the series back to its portable roots.

Hatsune Miku Project DIVA Mega Mix is a great opportunity for all people who have never played a Hatsune Miku title. But if you are already familiar with the saga, here you will only find a somewhat limited port of what you have previously played.

Hatsune Miku: Project DIVA Mega Mix isn't as fully featured as some previous games, but the DNA is still decidedly Miku.

Project Diva Mega Mix is a welcome return to Nintendo's portable platform for the rhythm game series. While it doesn't scale well to portable and its Joy-Con motion control mode is a dud, the main mode remains as brutally satisfying as ever. Whether a diehard Miku fan or just a rhythm game enthusiast, Hatsune Miku: Project Diva Mega Mix is yet another great entry in the series.
Almost a Future Tone port with different tone shades that gives it a more anime feel. It does have new songs and new game modes with the joy

Almost a Future Tone port with different tone shades that gives it a more anime feel. It does have new songs and new game modes with the joy cons and even touch screen mode. All in all its Hatsune Miku so I'll buy it anyways.

…

Expand

For the first project diva in switch, this game would be great but we need all-new project diva

Project Diva Megamix is, at its core, a port of the FutureTone game with a little less content. However, the ability to take such a fun and

Project Diva Megamix is, at its core, a port of the FutureTone game with a little less content. However, the ability to take such a fun and addictive rhythm arcade game on the go makes up for it. Megamix, if purchased with all available DLC, delivers around 141 songs to jam with anytime, anywhere on your Nintendo Switch. There are a lot of the more popular songs from FutureTone here, with a somewhat sad small selection of brand new tracks - but enough to feel fresh enough.

Gameplay wise, the regular arcade mode is just as solid as before and operates fine. The new "mix mode," which utilizes motion controls, is rather on the jank side unfortunately. I can't tell if it is the game or the Switch that can't barely detect the right joy-con's position - when I tried playing it was almost impossible because it seems like it never reads the position of the right joy-con. But that's fine, as I will keep sticking to the arcade mode.

Performance wise: Megamix runs at least at 30FPS, which is fine as the notes overlay (the part that matters) doesn't ever seem to dip or fall out of place with the song. In docked, the game can obviously handle running a little extra details, but it runs perfectly functional in handheld mode as well - but that's for the gameplay portions. The videos on the other hand, are a different story. You can tell which videos were made for this new hardware and which ones were ported. Videos for the new songs are clean, sharp and colorful with fluid animation. VIdeos for the old and returning songs, while some aren't noticeable, a LOT of them look muddled down, and I've even had a couple drop frames in its performance (did not affect gameplay). The look of these videos are probably the biggest problem this game could have.

My last issue with megamix is the initial offering of songs for those who bought the base version. There are 5 or 6 dlc packs upon release, which you can get all of with the deluxe version for $60, but sadly these DLC packs are all just songs already in FutureTone (some DLC for that game, the rest its base pack songs). It's a little disappointing as I'd much rather have seen a push of DLC for new songs in the Vocaloid industry. In fact, Megamix is more of a port, as previously mentioned, because besides a new T-shirt editor and gameplay mode, it doesn't do too much to change things up. It brings the extremely fun PS4/Arcade game to your Switch for portable fun - which is a major selling port here - while bringing some newer vocaloid favorites into the mix. But it still relies on the same old library of tried and trued Vocaloid songs, and an abundance of those songs were DLC purchases to boot. Groove Coaster's vocaloid mix is so much more dynamic and fulfilling at this point. Regardless, Megamix is still a great buy for die-hard Vocaloid fans. All of the classics plus some hot new hits are all here to play whenever you want to test your rhythm and jam. Only slightly held back in its content offerings and some videos not looking so hot, Megamix is an overall good rhythm game that you should add to your Switch library.

…

Expand

So this game would be higher if the models didn't conflict with the music videos... they kinda stand out and are too shiny. Not only that but

So this game would be higher if the models didn't conflict with the music videos... they kinda stand out and are too shiny. Not only that but there is not as much music as one could hope for compared to the PS4 game Future Tone.

…

Expand