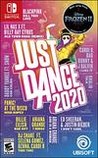 Summary:

Gather your friends and family and Just Dance like nobody's watching with Just Dance 2020! The 1 Music Video Game Franchise of All Time, with over 67 million units sold, is back this Fall. The newest, freshest Just Dance celebrates 10 years of bringing people together with 40 new hot tracks,

Gather your friends and family and Just Dance like nobody's watching with Just Dance 2020! The 1 Music Video Game Franchise of All Time, with over 67 million units sold, is back this Fall. The newest, freshest Just Dance celebrates 10 years of bringing people together with 40 new hot tracks, more stunning universes and exclusive surprises for the players to discover!

Join a community of more than 120 million players around the world and get ready to set the dancefloor on fire. Whether there's something to celebrate or for no reason at all, Just Dance is there for every occasion! Fan favourite features are back in Just Dance 2020, along with 40 new songs from the top of the charts for the whole family to enjoy!

Features:

* From chart-topping hits to family favourites, viral internet sensations, and the latest emerging artists, there is something for everyone to have fun in Just Dance.

* Enjoy a wide range of creative universes, created using new production techniques, never before seen in Just Dance.

* Track your calories burnt, time spent dancing, and keep yourself motivated while having fun with the fan favourite Sweat mode!

…

Expand
Developer:

Ubisoft Paris

Genre(s):

Action

,

Rhythm

,

Dancing

# of players:

Up to 6

Cheats:

On GameFAQs

Rating:

E10+
Just Dance 2020 is better than previous games in the franchise and does not disappoint. It offers what fans are looking for: new songs to dance. All of them are accompanied by a wide variety of options and modes that are enjoyed especially in the company of friends and family. However, the fact that our stats and data are recorded also encourages us to challenge ourselves.

If you're looking for a fun party game or just want to improve your dance skills – Just Dance 2020 is a must-own. My kids and I had a ton of fun with Just Dance 2020. If you're a parent like me looking for a video game solution that gets your kids off their butts and moving, I highly recommend Just Dance 2020.

Just Dance 2020 is a celebration of the series' tenth anniversary in more ways than one, with years' worth of releases all leading up to a formula that has truly been perfected and a decent new song list to boot. You'll want to be subscribed to Just Dance Unlimited to get the most out of your purchase, however, and a combination of your needs, budget and access to previous titles makes the decision much more difficult than it should be. Newcomers to the series won't find a better experience out there, but seasoned players might want to think about saving some cash and sticking with their current setup.

Is Just Dance 2020 "the ultimate dance game"? Probably not; while an improvement over last year, there are better entries in the series. But it still offers fun exercise and enjoyable family entertainment. Just be sure to be subscribed to Just Dance Unlimited as that's what will keep you dancing beyond the first month. Happy anniversary, Just Dance.
Just Dance 2019 n'offrait pas de nouveautés en comparaison de la version de 2018. De ce côté là, Just Dance 2020 fête les 10 ans de la licence

Just Dance 2019 n'offrait pas de nouveautés en comparaison de la version de 2018. De ce côté là, Just Dance 2020 fête les 10 ans de la licence avec quelques petites nouveautés intéressantes, notamment le mode All Stars qui nous rappel de très bons souvenirs. Le choix des nouvelles chanson peut être discuté mais de toute façon, le catalogue énorme de Just Dance Unlimited mettra tout le monde d'accord. De toute façon, Just Dance 2020 a toujours le même gameplay et c'est pour ça qu'on l'aime. Il améliore même un petit peu la reconnaissance de mouvements aux Joy-Con et est plus que jamais la référence et la valeur sûre des jeux de dance et de rythme compétitifs. Un très bon Just Dance pour cette année!

…

Expand