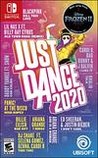 Summary:

Gather your friends and family and Just Dance like nobody's watching with Just Dance 2020! The 1 Music Video Game Franchise of All Time, with over 67 million units sold, is back this Fall. The newest, freshest Just Dance celebrates 10 years of bringing people together with 40 new hot tracks,

Gather your friends and family and Just Dance like nobody's watching with Just Dance 2020! The 1 Music Video Game Franchise of All Time, with over 67 million units sold, is back this Fall. The newest, freshest Just Dance celebrates 10 years of bringing people together with 40 new hot tracks, more stunning universes and exclusive surprises for the players to discover!

Join a community of more than 120 million players around the world and get ready to set the dancefloor on fire. Whether there's something to celebrate or for no reason at all, Just Dance is there for every occasion! Fan favourite features are back in Just Dance 2020, along with 40 new songs from the top of the charts for the whole family to enjoy!

Features:

* From chart-topping hits to family favourites, viral internet sensations, and the latest emerging artists, there is something for everyone to have fun in Just Dance.

* Enjoy a wide range of creative universes, created using new production techniques, never before seen in Just Dance.

* Track your calories burnt, time spent dancing, and keep yourself motivated while having fun with the fan favourite Sweat mode!

…

Expand
Developer:

Ubisoft Paris

Genre(s):

Action

,

Rhythm

,

Dancing

# of players:

Up to 6

Cheats:

On GameFAQs

Available On:

Stadia

Rating:

E10+
Overall, this latest game is unlikely to disappoint fans of the rhythm genre and this series in particular. It has a good selection of songs, the control system is spot on (presumably since the team has spent years refining it), and there are some nice returns with great new features.

Just Dance 2020 is better than previous games in the franchise and does not disappoint. It offers what fans are looking for: new songs to dance. All of them are accompanied by a wide variety of options and modes that are enjoyed especially in the company of friends and family. However, the fact that our stats and data are recorded also encourages us to challenge ourselves.

If you're looking for a fun party game or just want to improve your dance skills – Just Dance 2020 is a must-own. My kids and I had a ton of fun with Just Dance 2020. If you're a parent like me looking for a video game solution that gets your kids off their butts and moving, I highly recommend Just Dance 2020.

Is Just Dance 2020 "the ultimate dance game"? Probably not; while an improvement over last year, there are better entries in the series. But it still offers fun exercise and enjoyable family entertainment. Just be sure to be subscribed to Just Dance Unlimited as that's what will keep you dancing beyond the first month. Happy anniversary, Just Dance.

Perhaps this is, at least for a newcomer, a bit like showing up halfway through a movie and complaining about it, out loud, to absolutely no one's interest. There's something genuinely fun about playing Just Dance 2020, and while there's nothing surprising, there really doesn't need to be. As a product, this works. However, it doesn't always feel like a game. It feels, at times, like interactive marketing, and while that may be fine for some, it's hard to believe no one out there is going to look at this and feel like it's anything more than a commercial you can play.

As a ten-year celebration for the franchise, Just Dance 2020 is mostly the same, for better or for worse. While it strips some of the innovative features of past entries, the eclectic and energetic songlist will get any party pumped up all night. Just make sure you get Just Dance Unlimited for a better time.

Just Dance 2020 keeps the formula of the Just Dance series that so many people love and that's the game's main asset. It's also its biggest liability, as the game shows too little in terms of new, relevant content to stand out compared to its closest predecessors. This is a very fun game with new, updated tracks but for those who subscribe to the Just Dance Unlimited service, owning Just Dance 2020 will turn out to be redundant.
es la mejor versión de just dance comparada con la de 2021 y las anteriores esta es la mejor por su modo historia y grandes títulos musicales

My 3 kids love it and it's way better than watching (stupid) Youtube videos. At least some sort of exercise when it's rainy outside. Family

My 3 kids love it and it's way better than watching (stupid) Youtube videos. At least some sort of exercise when it's rainy outside. Family with kids? Enjoy!

…

Expand

Its a great and funny game, I havent played a rithm game since Dance Central, but Just Dance will be a really good gaming experience

It is surprisedly pretty fun. As a party game, it as the minimum needed, also it is a very good excuse for exercise

Being someone who really doesn't follow whatever songs are popular nowadays, I knew like 5 songs going into this game... mostly the songs

Being someone who really doesn't follow whatever songs are popular nowadays, I knew like 5 songs going into this game... mostly the songs written prior to 2010- BUT most of the songs they picked are extremely danceable, and I like how the roster is really multinational.
So like the visuals look great, it's fun to dance to, the interface is nice, clean, and bright... Why did I give it such a bad score? Well, have fun swimming through the constant advertisements for their subscription or whatever! I'm pretty sure I have to dismiss 3 messages just to get to the menus, and then you get more ads after every song you dance. Not cool, ubisoft, you just continue to disappoint me and I hate how you own nice IPs. If Just Dance keeps having this many ads, I might just... never buy another one, and I guess that's cool cuz this one is quite good, and hopefully I won't get tired between 2 games.
And also yes, what the literal hell is Baby Shark doing here?!? GET IT AWAY FROM ME. Guess you gotta include the kid specific content tho.................

…

Expand

I'd rather play Just Dance on the Wii. This game sucks.

First, it has stupid songs like "Baby Shark". The song selection is garbage. TheI'd rather play Just Dance on the Wii. This game sucks.

First, it has stupid songs like "Baby Shark". The song selection is garbage. The game is $40 songs and comes with 15 songs. If you want more, you have to spend another $20 for the rest of the good songs. Not worth it.

Secondly, the game lags because it requires good internet connection, which I think shouldn't be necessary because the Wii games weren't like that. The game lags in the middle of the dance which takes away the fun. Sucks.

…

Expand

Off the bat this is the first and last i will ever buy a just dance game, this is just ridiculous you have to buy the game for £40 that gives

Off the bat this is the first and last i will ever buy a just dance game, this is just ridiculous you have to buy the game for £40 that gives you 20 song then you got to pay £20 per bloody a year to do all the other song they have. I cant believe I just paid for a half ass game, ubisoft stop being a corporate money hungry pig.

…

Expand