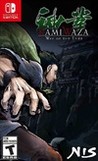 Summary:

On the streets of Mikado, only the tough survive. For one man, a heist gone wrong would change his life forever.

Set during the Edo period of Japan, Kamiwaza stars amateur thief Ebizo, who aspires to steal from the rich and give to the poor. During his first stint, however, he and hisOn the streets of Mikado, only the tough survive. For one man, a heist gone wrong would change his life forever.

Set during the Edo period of Japan, Kamiwaza stars amateur thief Ebizo, who aspires to steal from the rich and give to the poor. During his first stint, however, he and his mentor, Ainosuke, witness their own men take the lives of innocent civilians. Disillusioned by the horrific display of violence, Ainosuke advises Ebizo to escape with the only survivor - a lone girl.

A decade later, Ebizo has held fast to his morals, living an honest and fulfilling life with Suzuna, the young girl he took in as his own daughter. But the illusion of security is shattered once Suzuna falls ill. In order to buy the medicine she desperately needs, Ebizo is faced with a heavy financial burden. Conflicted, Ebizo is forced to return to the underbelly of Mikado, but vows only to steal for the sake of those less fortunate.

Will you walk the path of honor, even as a thief? The choice is yours to make.

…

Expand
Developer:

Acquire

Genre(s):

Action Adventure

,

General

# of players:

No Online Multiplayer

Cheats:

On GameFAQs

Rating:

T
Kamiwaza is, no doubt, going to be written up as a "product of its times," but I think that writing it off like that is missing the mark a little. It's true that even in this "remastered" state it looks like a PS2 game (excellent aesthetics, but primitive technical execution). However, Kamiwaza is an ambitious and boundary-pushing game. By turns surrealistic and funny, sincere and layered, it's one of the most eclectic and interesting titles you'll play this year, and it is a very good thing that it has finally been localised. You'll understand why it never managed to influence too many other developers, but without fascinating and experimental things like this, we'd live in a very boring world.

Don't take my score to mean this is an average game. It most decidedly is not. It's very niche in both its gameplay and appeal, and I think you'll have to be just the right person in just the right mood to enjoy it the way I did. There are probably more rough edges than smooth edges here, but if you're looking for a stealth game that does things very differently from the norm, this will certainly fit your needs. It even has a decent story attached. I'm glad this remake exists and I'm glad NISA localized it, even if I think it is going to struggle to find an audience even more than its stablemate Way of the Samurai.

Now sixteen years old, Kamiwaza needed modernization rather than a feature-for-feature remake. There's fun to be found, but at a $40 price, you might feel like a victim.

Kamiwaza: Way of the Thief feels like a product of its era. While seeing it try so many ideas is admirable, it ultimately falls flat in execution as the experience feels disjointed and messy. Although it presents a game world that feels alive and immersive, the primary gameplay loop lacks polish and practical implementation.