Publisher:

Nintendo

Release Date:

Jun 10, 2022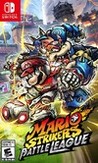 Summary:

[Also known as "Mario Strikers: Battle League Football"] Tackle, pass, and score in battle soccer with the Mushroom Kingdom gang. Introducing Strike, a 5-on-5, soccer-like sport with no rules—do whatever it takes to win! Get gritty and try to score the most goals by tackling enemies, using

[Also known as "Mario Strikers: Battle League Football"] Tackle, pass, and score in battle soccer with the Mushroom Kingdom gang. Introducing Strike, a 5-on-5, soccer-like sport with no rules—do whatever it takes to win! Get gritty and try to score the most goals by tackling enemies, using items, and pulling off score-boosting special shots. Super Mario series mainstays like Peach, Toad, and Yoshi put their cleats (and stats) to the pitch and will stop at nothing to score. Customize your characters with gear that can augment their stats and appearance. Take the carnage online* or pass the ball to players locally**—just look out for the electric fence.

Join an online club to push and shove your way up the ranks

Band together with up to 20 strikers online* and compete against other clubs for points. Find the right club for you, team up with friends, and bring your own striker style to the table. Strive to become the world's top club each season!

Pummel the pitch with up to 8 players

8 players can go for the goal on one Nintendo Switch system, with local wireless**, or online*. Bring along a secondary striker on the same system in online battles, too. Locally, 4 players on each team can go cleat-to-cleat in individual matches.


…

Expand
Please enter your birth date to watch this video:
You are not allowed to view this material at this time.
Mario Strikers: Battle League - So Much Fun It Hurts
It's nowhere near as complex as Fifa, none of it is, but this game knows its strength is in the moment-to-moment arcade action and really wants you involved in that as much as possible with little distraction. For footie fans, this is a bit of a no-brainer. It's very much a crazy Nintendo version of that sport.

Mario Strikers: Battle League is an over-the-top soccer game that's wildly fun, even though it does very little new.

Mario Strikers: Battle League is a great game that suffers the same fate as its Switch sports brethren. It plays great, looks outstanding, but simply lacks content. I truly hope we see more characters, stadiums, and modes as the game goes on. There is a lot here to love, but it feels shallow in the content department for sure. Still if you love the arcade mentality of Mario sports this game is a no-brainer and yet another exclusive gem for Nintendo's aging platform.

Mario Strikers Battle League is a game faithful to the term 'easy to learn, hard to master'. Everyone can enjoy it without any concerns due to its simple controls as well as the exciting visuals are easy on the eyes. However, the lack of game modes and characters can make the game easily tiresome for those who don't fancy sports that much.

Mario Strikers: Battle League is a fun game, with the fluidity and magical animations you'd expect from the plumber-turned-sportsman, and a remarkable depth despite its apparent simplicity. The Next Level Games project makes a strong commitment to the online world, where the main game mode lives, but on the other hand, it is too scarce in single-player content, an exchange that we didn't ask for. If we had to choose, we'd probably stick with the couch co-op, anyways.

Like every other Mario sports game, realism is thrown out the window in favor of ridiculous gameplay. The final product is mostly fun, but overcomplicated systems feel destined to frustrate casual players.

Mario Strikers: Battle League's hectic gameplay remains as fun as it was 15 years prior, however, its barebones package does very little else to justify its return, ultimately being another blight on the Mario sports catalogue for Switch.
AWESOME graphics. GODLIKE soundtrack. EXPRESSIVE animations in typical Next Level Games glory. Need I say more about this phenomenal game? BUY

AWESOME graphics. GODLIKE soundtrack. EXPRESSIVE animations in typical Next Level Games glory. Need I say more about this phenomenal game? BUY IT. NOW.

…

Expand

Gameplay is very fun. Animations are amazing. Only minus for me is online u can only play with 1 friend on the same console:(

It's definitely better than i expected. the only problem with it is that there is no single player mode.

Another unfinished game by Nintendo, again. The game has absolutely no content. As soon as the online game ends, nothing will remain of this

Another unfinished game by Nintendo, again. The game has absolutely no content. As soon as the online game ends, nothing will remain of this empty shell. The gameplay is good, but is not enough to mask the abyssal vacuum of the cartridge.

…

Expand

fun to play in local with friend but other than that it's really not as good as mario striker charged. The game has no personality, poor

fun to play in local with friend but other than that it's really not as good as mario striker charged. The game has no personality, poor gameplay customization ,no content and terrible teammate Ai .

…

Expand

Good animations and online but you can't have three of your friends on your team. Only ten charters and little to no 1p content. And free DLC

Good animations and online but you can't have three of your friends on your team. Only ten charters and little to no 1p content. And free DLC aka the game released unfinished. Lost all the charm the older ones had. Good animations and graphics can't save a game. In only five stages which all act the same

…

Expand

Annoying gameplay, small fields, and very few characters. It would also have been great if you could assign your team's positions like the

Annoying gameplay, small fields, and very few characters. It would also have been great if you could assign your team's positions like the previous one.

…

Expand