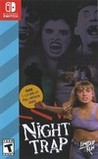 Summary:

Originally developed by Digital Pictures in 1987 and released in 1992, Night Trap has been completely rebuilt, bringing it to a level of video quality never before seen.

Night Trap tells the story of five teenage girls spending the weekend at the Martin home. As a member of the SpecialOriginally developed by Digital Pictures in 1987 and released in 1992, Night Trap has been completely rebuilt, bringing it to a level of video quality never before seen.

Night Trap tells the story of five teenage girls spending the weekend at the Martin home. As a member of the Special Control Attack Team, your job is to monitor the home and protect the girls using an intricate system of cameras and traps as it is being invaded by vampires.

Night Trap - 25th Anniversary Edition also includes new features such as deleted scenes, two documentaries, the all-new Theater that allows you to watch all story-related videos uninterrupted, a new mode with online functionality called Survivor that will test your skills at trapping intruders and behind the scenes production images. For the first time ever, the unreleased prototype Scene Of The Crime will be fully playable and included with Night Trap - 25th Anniversary Edition.

…

Expand
Developer:

Digital Pictures, Screaming Villains

Genre(s):

Action

,

General

# of players:

No Online Multiplayer

Cheats:

On GameFAQs

Rating:

T
Consider picking up Night Trap as a novelty for an afternoon or evening when you have friends over. [Issue #37 – January/February 2019, p. 22]

If you have no interest in retro gaming and aren't willing to look past its limitations, Night Trap's repetitive nature is likely to confuse and irritate you. Come at it with an open mind and an enthusiasm to discover (or relive) the brief period when we all foolishly thought FMV was the future, and you'll find a charmingly silly game accompanied by a host of wonderful features that elevate it to more than just a remaster, but a digital museum piece commemorating a unique time in gaming history.

Night Trap is no masterpiece. As a game, it's not wonderful – its plot is nigh-on impossible to follow and you have to replay the game over and over until you figure out what to do. However, you need to play it because of its historical significance.
Going in to "Night Trap" you need to know what to expect. If you do you will find a charming, silly and entertaining little slice of video

Going in to "Night Trap" you need to know what to expect. If you do you will find a charming, silly and entertaining little slice of video game history. Essentialy only a movie with quick time events it also helps if you, like me, have a penchant for B-movie horror and weird cult cinema.

…

Expand