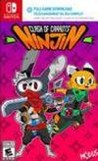 Summary:

An anime-inspired beat-'em-up with a gaggle of varied enemies, deep customization…and ninjas! Play through side-scrolling worlds consisting of multiple stages and collect carrots stolen by the evil Shogun Moe.
Please enter your birth date to watch this video:
You are not allowed to view this material at this time.
Ninjin: Clash of Carrots - Official Announcement Trailer
Ninjin was a surprise title that I had a great time with. Both local and online coop modes will allow more people to join in on this adventure and win back their carrots from the Mole Shogun. If you are looking for a fun game with silly humor and quick gameplay, give Ninjin a shot.

Ninjin: Clash of Carrots is surprisingly great, which made me smile to the point of disbelieving. The mix of a Runner type of game with a beat them up was successful and with a lot of gameplay variety, detailed and fluid graphics make the game stand out from other Indies. The game has a few issues, but nothing that can break the great experience it gives. The single player and local multiplayer work very well, which will keep players busy, especially if they go for 100%.

A quirky and charming beat-em-up with plenty of variety, strategy and humour. If the challenge doesn't put you off, you'll find yourself having having a great time.

Ninjin: Clash of Carrots takes the most standard aspects from the beat 'em up genre and adds its own twists by putting your characters on a non-stop run. Despite its short length, it's an entertaining adventure with lots of replayability for those who are completionists.

Ninjin: Clash of Carrots brings the beat'em-up genre back to the mainstream in a comical and frantic effort that features enjoyable attack combinations and several customization choices. Ninjin fails to become a contemporary classic, however, as the game can get too repetitive and too soon and some aspects of the characters' controls need to improve.
This game genuinely seems to be criminally underrated. This game is great, more people need to play it. If you've ever enjoyed a beat-em-up or

This game genuinely seems to be criminally underrated. This game is great, more people need to play it. If you've ever enjoyed a beat-em-up or a runner, you will likely enjoy this. It's a fast paced beat-em-up type game with minor RPG elements which has you constantly running through wave after wave of enemies, either slashing them with your swords or throwing your ninja stars at them. The visuals are bright and cheerful, and the cast of characters are just as enjoyable. There is a HUGE variety in equipment, the selection of different weapons and passive abilities to use and experiment with is huge, and it will all genuinely affect how you play and require some strategy in how you plan your character. The different enemies are all so creative and require varying strategies from one another to defeat. Different combinations of enemies prove to consistently be challenging and interesting to fight throughout the entire game as well. The game paces its difficulty extremely well and the later stages are genuinely really difficult even in co-op. The co-op itself is integrated into the game so well, both online and local co-op is quick and easy to use - and playing in co-op doesn't make the game that much easier surprisingly - it is very well balanced. The game would be a blast with or without a buddy to play with, I think it might work best with two players however. The game has a really nice and crisp pixel art style with some retro-inspired music to accompany it which is just so great to listen to while playing. It's a really neat, simple little game which tries to be nothing except fun, and it is, it is really fun. The asking price for it is honestly a steal, I did two playthroughs of the game almost back to back with one another, and had a great experience both times.

…

Expand

good for $.99 on eshop now. Quality for a dollar what more can you ask for. little boring, simple gameplay.